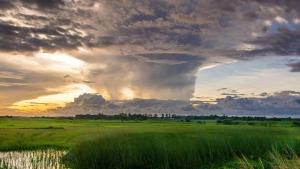 What a Day It Has Been!
Did you ever find yourself with so much to do, working tirelessly, and not accomplishing a thing? Here I sit, wallowing in those waters and feeling sorry for myself. I find myself revisiting something I wrote several years ago in my devotional Refill My Cup (Ichthus Publications, 2019). I believed it then, and I believe it now. Maybe it will help you, as well:
"What a week it has been! My usually easy and pleasant job was full of moments of pressure and stress, family members were sick, I cracked a tooth and couldn't get in to see a dentist for days, and my basement flooded! What's going on? Where are You, God? Have You forgotten me or are You angry with me?
In Low Places
"We all have those times, don't we? Unfortunately, we live in a fallen world where troubles abound, and sometimes, the troubles are ours to bear. Sometimes those troubles are the result of our own poor choices, and sometimes they just happen. Yes, I'm a Christian. That is not (let me say it again), not the ticket to a trouble-free life. I had a bookmark with a poem on it when I was in high school and I still remember those words of wisdom penned for a hymn by Annie Johnson Flint:
God hath not promised skies always blue, 
Flower-strewn pathways all our lives through; 
God hath not promised sun without rain, 
Joy without sorrow, peace without pain. 
But God has promised strength for the day, 
Rest for the labor, light for the way, 
Grace for the trials, help from above, 
Unfailing sympathy, undying love.
Friends in High Places
"Jesus Himself promised, 'In this world you will have trouble. But take heart! I have overcome the world' (John 16:33). All this is very comforting where the big picture is concerned. However, job, family, finances, expectations, guilt, pressure, fear, stress, anger, and all the everyday junk that comes with life can drain even the strongest person.
The book of Hebrews tells us, 'Therefore, since we have a great high priest who has ascended into heaven, Jesus the Son of God, let us hold firmly to the faith we profess. For we do not have a high priest who is unable to empathize with our weaknesses, but we have one who has been tempted in every way, just as we are—yet He did not sin. Let us then approach God's throne of grace with confidence, so that we may receive mercy and find grace to help us in our time of need' (4:14–16). 
"That means that when I am at the very end of my strength, I have an open invitation to go to Him and talk—about anything. He is not shocked by my circumstances. He is not upset by my emotions. He is not put off by my tears. He is Abba Father, and He invites me to pull up a chair with Him. He already knows my needs, but He welcomes my conversation. I can bring to Him my empty cup, and He fills it and refills it as often as I come. The Father tells me to 'ask and it will be given; seek and you will find; knock and the door will be opened' (Matt. 7:7)." Sometimes, I find that He does not give me specifically what I ask; always, I find that he gives me exactly what I need.
Breathe!
Yesterday, as I stressfully searched for something I had lost, I pulled a piece of paper out of my Bible. Strangely, I don't remember writing the message, but it was in my handwriting. It said: "STOP. BREATH SLOWLY. You need the Pneuma, the life-giving breath of the Holy Spirit. Instead, you are gasping in the hurricane, and that is destructive. It is deadly. Stop now and breathe the breath that leads to life." I needed that good word, and today I am breathing more slowly. My Father is refilling my cup.
Breathe! Maybe it's the word you need, too.
God bless you, and may your day be stress free.