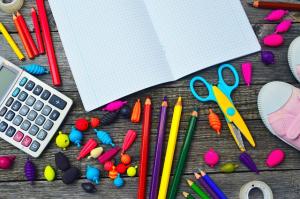 image from adonyig at pixabayI'm going to begin with a disclaimer: the essay you are about to read applies to some Christian schools and some teachers employed in them, not to every school and every teacher.
One Teacher's View from the Auditorium
Last week I attended the Distinctive Teaching and Learning Conference in Gastonia, North Carolina. It is a yearly event for teachers in Christian schools to gather to gain new insights and inspiration for the coming school year and to earn professional Continuing Education Units. Probably because of the conference, my mind has been camping out with the concept of Christian education and why it is important.
Before I launch into the conference lessons that I took away, let me offer my perspective on Christian schools in general:
One Teacher's View
I do not comment here lightly or from a lack of experience. I have been blessed to teach in Christian schools for most of my 45 years in education, the first eighteen as a pre-K and Kindergarten teacher, and then in middle school, junior high, high school, and junior college. I hold a B.S. in Secondary Education/Language Arts, and a M.A. in English. The only grade from pre-K to college sophomores that I have never taught is fifth. I began teaching in Georgia, then moved to Alabama, then to Ohio. I have taught in traditional Protestant, Pentecostal, and Catholic schools. There have been some hard days, and even a hard year or two, but I never, never regretted the fact that I was working in a Christian school where I was not only allowed, but expected to teach from a Biblical worldview. 
The Negatives
In some arenas, Christian schools have gained a reputation for being inadequate, either because the faculty doesn't meet public school standards, or because the curriculum is not up to grade level, or because there is not enough money to pour into a state-of-the-art facility. Sports programs and extra-curricular activities are often limited. It may be true that in these difficult and  dangerous times, parents enroll their children in smaller, out-of-the-way places such as Christian schools for safety's sake instead of for the gospel's sake. Unfortunately, it is even sometimes true that students are enrolled in Christian schools after, for whatever reason, they have worn out their public school options.
Another pitfall for Christian schools is that very often parents enroll their children believing that they will be protected from all the world. Where this is true on some levels, realistically speaking, children in Christian schools are still children. They are not always sitting at desks with hands folded and both feet on the floor facing forward and reciting scripture. They may fight, play pranks, call names, cheat, steal, bully. Children are just children and have lessons to learn. People at any age are not Jesus.
The Positives
The biggest difference between Christian schools and public schools is the ability and willingness of faculty and administrators to present the gospel of Christ as curriculum, to live it openly in front of the students, and to pray publicly for and with the students, parents, and other faculty members.
There is usually a dedicated group of professional people who are willing to wear many hats in a day,  to teach for a fraction of the salary public school teachers are offered, and to live a life open to the scrutiny of parents and public.
In addition, it is true that classes are often smaller than in public schools. This enables students to get more personal attention in the classroom.
All Schools Are Different
Christian Schools can be as different from one another as public schools. There is not one singular cape to don, other than the gospel of Jesus Christ. Are there "wolves" out there outfitted as "sheep"? Certainly. Christian schools should be inspected and researched the same as any other school, public or private, before one enrolls a child. 
May I also acknowledge that there are many, many dedicated, qualified, caring, Christian teachers who are teaching in public schools. They are very important to the kingdom of heaven. However, that is a different topic for a different day.
"Follow Me and I Will Make You Fishers of Men"
So back to the conference: Our first keynote speaker was Dr. Annie Gallagher. She spoke about the goal of Christian education compared to the purpose of Jesus–to develop "fishers of men." He stepped out into His ministry calling to fishermen, "Follow me, and I will make you fishers of men." 
"Follow Me"
First of all, Jesus did not just say "listen to me," or "pay attention to what I say," but He said "Follow me"–walk beside me, eat with me, work with me, be involved in what I am doing. He offered the disciples a relationship with Him. His intent and purpose was to pass that relationship along through the disciples and all who would come after. Jesus said, "Follow me," and He commissions us as Christian educators to also say to our students, "Follow me." In the words of Dr. Gallagher, "We need to walk correctly with Christ, then walk with [our students]."
"Fishers of Men"
Second, Jesus said He would make them "fishers of men." To go from fishers of fish to fishers of men requires spiritual development. That development came from the disciples leaving everything behind to immerse themselves entirely in the words and actions of Jesus. Their focus was shifted from the natural to the supernatural; from the carnal to the spiritual. The gospel was spread, and is still spread, by fishers of men.
"Go and Make Disciples"
Jesus even repeated His invitation after the crucifixion and resurrection. Before He was caught up into heaven, Jesus said, "Therefore go and make disciples of all nations, baptizing them in the name of the Father and of the Son and of the Holy Spirit, and teaching them to obey everything I have commanded you. And surely I am with you always, to the very end of the age" (Matthew 28:19-20).
Taking it to the Classroom
There is our purpose, but how do we walk it out? We have been told over the years to teach and operate our classrooms from a Biblical worldview. How do we take that call to follow Him and make the same appeal to our students? It is an awesome thing to contemplate. After all, the scripture tells us, "Not many of you should become teachers, my fellow believers, because you know that we who teach will be judged more strictly" (James 3:1). Hmmm … that means we're getting a report card, too. 
It's easy for a Christian teacher to add a prayer to the beginning of class and then teach on, maybe including a Bible verse for memorization if one can find a verse that "applies." Isn't that what the world expects from us? 
One Teacher's Observations
Honestly, Christian schools have the same trials and tribulations as many public schools. Not everyone who attends a Christian school is a Christian. Not everyone who attends has Christian parents. These are children, the same as all children, who struggle with growing up, who need not only reading and writing and history and math, but salvation and discipleship. It is the purpose and calling of the Christian educator, not only to teach their discipline with integrity ("So whether you eat or drink or whatever you do, do it all for the glory of God"–1 Corinthians 10:31), but to make the same offer as Jesus made: "Follow me, and I will make you fishers of men."
In this very mixed-up world, our students need truth. The Bible teaches truth. As Dr. Gallagher said, teaching from a biblical worldview is not integrating religion into education, but revealing the truth of God as it manifests in all subjects. I have never heard my purpose expressed so clearly before. It is so much more than adding a prayer and a Bible verse. As much as I may desire to do so, I can't save my students. I can pray for them. I can read to them from  the scriptures and encourage them to read for themselves, and I can, by the guidance of the Holy Spirit, discern and reveal the truth of God as it appears in the lessons I teach.
One Teacher's Conclusion
God is good, and He does not withhold Himself from those who seek Him. As Christian educators, we need to give the invitation as Christ did: "Follow me, and I will make you fishers of men." Christian parents and grandparents, we need your prayers. By His grace, many future leaders in our world will come from Christian schools, and we all want them to be prepared to carry the light of Christ into a world filled with darkness, in His name and for His sake.
God bless you, and please pray for us as we continue in His service.