"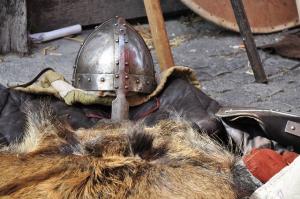 Put on the Full Armor of God
"Put on the full armor of God, so that you can take your stand against the devil's schemes. For our struggle is not against flesh and blood, but against the rulers, against the authorities, against the powers of this dark world and against the spiritual forces of evil in the heavenly realms.
"Therefore put on the full armor of God, so that when the day of evil comes, you may be able to stand your ground, and after you have done everything, to stand. Stand firm then, with the belt of truth buckled around your waist, with the breastplate of righteousness in place, and with your feet fitted with the readiness that comes from the gospel of peace. In addition to all this, take up the shield of faith, with which you can extinguish all the flaming arrows of the evil one. Take the helmet of salvation and the sword of the Spirit, which is the word of God."
Armoring Up the Children
When my children were very young I used to dress them this way in the morning. I would slip their shirts over their heads and say, "Here is your breastplate of righteousness;" I would pull their little pants around their waists and say, "Gird up your loins with the truth;" When I put their shoes on their feet I would tell them to "walk in the gospel of peace." Then I would kiss their hair and tell them it was their helmet of salvation, and we would high five on one hand for the shield of faith and the other for the sword of the spirit. It was fun for all of us, made getting them dressed in the morning easier, and taught them some important truths.
One day I was sick. I was exposed to strep throat at work and I began running a high fever and discovered the tell-tale marks on my sore throat. That evening after the children were put to bed, I was suffering in silence on the couch in the living room. I heard someone on the stairs and looked to see my five-year-old daughter coming back down.
"Mama," she said, "I'm gonna pray for you." And she began to touch each part of my body and "dress me" in the armor of God. Then she ordered, "Get out devil! Leave Mama alone. God's gonna throw you in the lake of fire and you're never gonna get out! Amen!" And just like that she went back upstairs and returned to her bed. Ahhh, the faith of a child. Miraculously, I fell asleep right there on the couch, and when I woke up the next morning, I was completely well! 
The Secrets Under the Armor
After that, I used the armor of God illustration for years, and I felt quite well-covered in my own armor. Then I attended graduate school and specialized in Anglo-Saxon and Medieval literature. To my surprise, I discovered something very cool about the attire of a warrior. Medieval knights often wore seventy to one-hundred pounds of armor on their bodies. That could make for a very uncomfortable situation, particularly in battle, so under the armor, they wore an important garment–the gambeson!
A gambeson was a long, linen, sometimes quilted, jacket-like top. It served as a source of padding. Worn under their armor of leather or metal plates, it protected the knight's body from uncomfortably rubbing and chafing during hours of movement and use. In fact, the knight wore linen underwear, as well. Oh no! I had been sending my children out without some very important pieces of clothing!
So just how did those garments fit in to the "full armor of God"? I found Colossians 3:12-14 which says, "Therefore, as God's chosen people, holy and dearly loved, clothe yourselves with compassion, kindness, humility, gentleness and patience. Bear with each other and forgive one another if any of you has a grievance against someone. Forgive as the Lord forgave you. And over all these virtues put on love, which binds them all together in perfect unity." 
Yes! In the Kingdom of God, before gearing up to fight, we need compassion, kindness, humility, gentleness, patience, forgiveness, and love–seven virtues. It's interesting that there are traditionally seven knightly virtues.
"Although there was no officially written code of chivalry, there were knightly virtues.
Courage. More than bravado or bluster, a knight must have the courage of the heart necessary to undertake tasks which are difficult, tedious or unglamorous, and to graciously accept the sacrifices involved. [accepting the sacrifice shows Gentleness]
Justice. A knight holds himself to the highest standard of behavior, and knows that "fudging" on the little rules weakens the fabric of society for everyone. [justice, at a point, demands Forgiveness]
Mercy. Words and attitudes can be painful weapons, which is why a knight exercises mercy in his or her dealings with others, creating a sense of peace and community, rather than engendering hostility and antagonism. [Compassion]
Generosity. Sharing what's valuable in life means not just giving away material goods, but also time, attention, wisdom and energy – the things that create a strong, rich and diverse community. [Kindness]
Faith. In the code of chivalry, "faith" means trust and integrity, and a knight is always faithful to his or her promises, no matter how big or small they may be. [sometmes that takes time–Patience]
Nobility. Although this word is sometimes confused with "entitlement" or "snobbishness," in the code of chivalry it conveys the importance of upholding one's convictions at all times, especially when no one else is watching. [Humility]
Hope. More than just a safety net in times of tragedy, hope is present every day in a knight's positive outlook and cheerful demeanor – the "shining armor" that shields him or her, and inspires people all around. [Love]"
Under and Over the Armor
Obviously, the brackets above are my application, and you may find it a stretch; however, the metaphorical gambeson is some pretty important clothing. In fact, there's a good bit of Under Armor on that list!
OK, yes, Colossians says,  "And over all these virtues put on love, which binds them all together in perfect unity." I have often pictured my gallant knight as wearing a white cape over the armor. If one were to say that the knight's attire should show the virtue of love on top of everything else, well, who could argue? "By this everyone will know that you are my disciples, if you love one another" (John 13:35).
Put on the full armor of God daily–it's important–essential. But please don't try to go naked under your armor. All that underwear can give you exactly what you need to confidently carry on the fight. So go get dressed, mighty warrior, and daily fight the good fight, in Jesus' name! You will be richly rewarded.
God bless you as you battle on in Jesus' name!