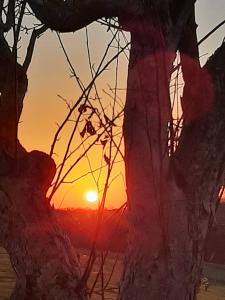 Yes, I still do literally chase sunsets. In my opinion, they are some of the most beautiful manifestations of God's natural world. I think God is pleased with sunsets, and sunrises, and the beauty of His creation. I really think He is pleased when we acknowledge that beauty.
My husband, sister-in-law, friend, and I have been walking for exercise in the afternoon after we finish working. We walk in the cemetery close to our homes. Several close relatives are buried there, but that's not the reason why we walk there. 
Holly Memorial is a lovely, peaceful place. There are meandering paths, hills and valleys, trees, flowers, and a pond. A lovely steepled chapel sits upon the highest point.
Many people enjoy walking there, and one becomes familiar with the smiling faces and nodding heads that assemble around the same time each day.
Evening Walks
My sister-in-law, friend, and I normally walk 10 laps around the pond, which is the lowest point in the cemetery. My husband, ex-military guy, walks the hills. One evening after we finished up and met back at the cars, he told me, "That was a stunning sunset."
I thought it might be. As we walked below, I could see clouds turning pink and a glow filling the western sky. I think I may have even made the comment, "Bet that's a pretty sunset. Tomorrow I'm going to go up the hill."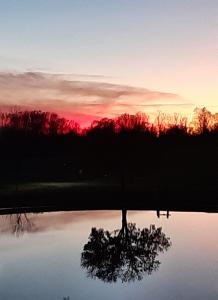 Meeting the Challenge
The next day came. I walked the first 2 laps with the ladies, then began to climb the hill to chase the sunset. The sun sank lower, rather quickly it seemed. My legs got tired; my breath came harder; my heart beat faster–"This is hard. Maybe I'll just go back down."
About that time, My husband crested the hill in front of me. The conversation went something like this:
"I'm gonna go across the lower path. My legs are spaghetti."
"Come on up. You're almost at the top."
"OK. I'll try. … Ummmm, we're still climbing …"
"You've got this. You'll be glad. It's gonna be beautiful"
*puff … puff … puff … puff … PUFF … *
Achieving the Goal
And there it was! Brilliant gold and orange ascending from the hillside and blending into the azure, cloudless sky! It was amazing (a totally inaccurate word)!
I forgot about my aching lungs and spaghetti legs and pulled out my camera and began snapping pictures. How great to have conquered the climb and then to see this miraculous sight!
Inspiration, Determination, and Exertion
(with a little encouragement)
My point: the sun rises and sets in the valley just the same as it does on the hilltop, but if you really want to see glory, you have to work for it. "But as for you, be strong and do not give up, for your work will be rewarded" (2 Chronicles 15:7). "I press on toward the goal to win the prize for which God has called me heavenward in Christ Jesus" (Philippians 3:14).
I'm thinking any goal, whether it be a spiritual goal, a career goal, a weight-loss goal, a relationship goal, a financial, family, or fitness goal (how 'bout that alliteration?), is achievable with some inspiration, determination, and exertion. Encouragement is a real plus: I would probably not have continued up the hill if my husband had not come along at the very moment I needed a push.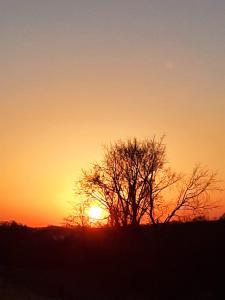 In the words of General George S. Patton, "Accept the challenges so that you can feel the exhilaration of victory."
I chase sunsets! May God bless you and give you strength for whatever you are chasing today.