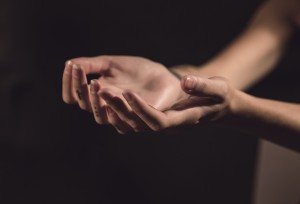 Not only Psalms, but also the Gospel is full of cries: of cripples, blind and mute persons (alas, these do not cry, they make gestures).
When the blind man goes to the Lord and Jesus asks him: "What do you want me to do for you?", he cries: "Let me recover my sight" Logical. What does a blind person want? And the answer is: "Go your way; your faith has made you well".

The same is true in saints' lives. There is an anecdote about Saint Thomas Aquinas, who one day put his head in the tabernacle praying: "If you want or not, you must grant me this grace!"
The Lord likes this kind of prayers.
We have to learn to pray in this way.
We answer with our trust's power to evil's power.
But if prayer is only a pious exercise, God does not take it seriously.
In a diocese in Tuscany, during the Second World War, a bishop was celebrating Lauds in the cathedral with his canons. Suddenly they heard the rumble of an airplane and understood that they were coming to drop bombs, so the alarmed bishop said: "We need to begin to pray, they are bombing us!"
But were they not already praying? They could say: let us pray more intensively! On the contrary they closed their breviary and began to supplicate desperately God to be saved from the bombardment. And they were reading these words: "Rescue me, Lord, from evildoers", "O Lord make haste to help us", "Lord, I trust in you".
If the prayer flows and says nothing, of course it says nothing also to God. If it is not interesting for us, why must it be interesting for God?
When Peter was sinking in the water, he said: "Lord, save me!"; that is the cry. Until that moment he spoke wonderful words, and now only three words come out from his mouth: "Lord, save me!". The Lord does not want our heroism, but our wish of Him.
When I become humble, the look of God is upon me, and even if I am the greatest sinner, finding me in this absolute prostration God forgives me.
(Translation by Marina Madeddu)