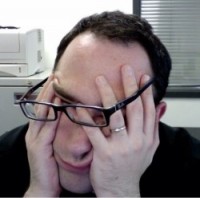 Your host, Paul Fidalgo, is a writer, actor, musician, press flack, and professional skepto-humanist.
Right now, he's proudly the communications director for the skeptic and humanist organization the Center for Inquiry, where he writes the daily news roundup The Morning Heresy, among a bazillion other things. Paul is also one of the few and proud who contribute to Friendly Atheist, here at Patheos.
He got his master's degree in political management from George Washington University, and has worked for companies and organizations such as ABC News, Hillary Clinton for President (2008), FairVote: The Center for Voting and Democracy, and the Secular Coalition for America. He also once sported an iconic blue T-shirt as a retail drone for a particular consumer electronics company with a bitten piece of fruit as its logo. The shirt suddenly turned red during the holidays.
Before all of that, Paul was a professional actor and musician, having spent five years performing with the American Shakespeare Center as a member of both its resident and touring troupes.
His original music, which is quirky and largely delightful, can be listened to free of charge at SoundCloud, and if you're feeling generous, it can be purchased at iTunes and Amazon.
Before coming over to Patheos, his blog was Near-Earth Object, which may or may not keep going in some form or another, which also boasted a very nice podcast called the Obcast.
He gives good tweet, and does so as @paulfidalgo, a lot.
He was born in Denver, grew up in New Jersey, spent a while in Virginia and DC, and now lives in Maine with his amazing wife and two dangerous kids.
This is important: The opinions expressed on this blog are personal to Paul and do not necessarily represent the views of the Center for Inquiry.