Our public discourse often sounds like a heap of judgment these days, as we cast stones from our respective sides. We're really good at calling out the unrighteousness of those on the other side but often our pointer fingers only work in one direction. Though our cries for justice may at times be noble, I wonder if in the midst of the accusations and insults, we've lost sight of the goal. Can we really help to heal and restore our broken world when we're holding daggers?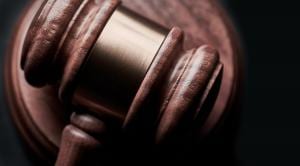 Jesus, the perfecter of our faith and the only one who is truly perfect, warned us not to judge others and then modeled what it looks like to fight for justice without condemnation. He had harsh words for those who allowed their pride to oppress others and yet he continued to share meals with the same people he rebuked. He refused to cast stones at a woman caught in adultery and led with grace as he communed with a tax collector. People from all "sides" were transformed by his love and led to repentance by his kindness. And even as he hung on the cross, he prayed for God to forgive those who put him there.
But we continue to cast our stones as we trade insults and "cancel" those with whom we disagree. We're not following Jesus' lead when we "unfollow" anyone who offers a different opinion and retreat to our echo chambers. I'm not saying that we should allow any "alternative facts" to settle, but there must be a way to speak truth without tearing apart those we contradict.
Jesus offers these words of admonishment in Matthew 7:1-5…
Do not judge, or you too will be judged. For in the same way you judge others, you will be judged, and with the measure you use, it will be measured to you. Why do you look at the speck of sawdust in your brother's eye and pay no attention to the plank in your own eye? How can you say to your brother, "Let me take the speck out of your eye," when all the time there is a plank in your own eye? You hypocrite, first take the plank out of your own eye, and then you will see clearly to remove the speck from your brother's eye.
Though I've never seen a plank hanging out of someone's eye, Jesus paints this picture of how our judgment clouds our vision. When we spend the majority of our time and effort railing about how others have gotten it wrong, we lose sight of what is going on in our own hearts. We fail to recognize our own faults, and the bitterness and pride only grow.
Scripture is referred to as a sword that penetrates the heart and judges our inmost thoughts and attitudes (Heb. 4:12), but it seems that we've confused that sword with a weapon to be used against others. We pull it out when we want to cut someone else down. But that sword is supposed to penetrate my own heart. It's supposed to convict me and remind me of who I was created to be and how I was created to live. As I study the words of truth that are buried in those pages, I should not become so hyper-focused on how others are coming up short. Instead, I need to examine my own heart and be honest about the ways that I have failed to uphold the values that I preach. Then, my heart will soften as I recognize my need for God's grace and humbly learn to see my neighbor as I see myself.
There is most certainly a need to call out evil and injustice, but my motives in doing so must be pure. As Jesus states at the beginning of his sermon that contains the admonishment above, it is those whose hearts are pure who will see God (Matt. 5:8). The state of our hearts affects how we see. It determines how we perceive God, how we perceive truth, how we perceive ourselves, and how we perceive others. We have to be honest about what's happening in our hearts when we call others out. Often, our motivation – even if it begins with seeking justice – becomes more about our own justification. We want to prove that we are right; we want to prove that we are better.
Brené Brown says that…
We're hard on each other because we're using each other as a launching pad out of our own perceived deficiency.
Tearing others down so that we might lift ourselves a little higher is never going to lead to the restoration that God desires. Instead, if we could focus our energy first and foremost on our brokenness while maintaining our knowledge of our belovedness, we would be able to experience the healing that God wants to do inside of us. Then, we might have pure and whole hearts to seek the restoration of others.
Our desire should be to reflect the heart of God, in which we see both anger toward injustice and the unending desire for restoration of his children. We see this throughout the scriptures, especially the prophets, as displayed here in Isaiah 1:15-20…
Your hands are full of blood; wash and make yourselves clean.

Take your evil deeds out of my sight!

Stop doing wrong, learn to do right!

Seek justice, rebuke the oppressor.

Defend the cause of the fatherless, plead the case of the widow.

"Come now, let us reason together," says the Lord.

"Though your sins are like scarlet, they shall be as white as snow;

Thought they are red as crimson, they shall be like wool.

If you are willing and obedient, you will eat the best from the land;

But if you resist and rebel, you will be devoured by the sword."

For the mouth of the Lord has spoken.
We have to learn to recognize the blood on our own hands. We have to allow God to lead us toward restoration. Then, we can learn to lead others toward that same restoration. That is God's heart. That is his kingdom.
Peacemaker and pastor Osheta Moore talks about calling others in, rather than calling them out. Our cries for justice must be more of an invitation to new reality rather than a condemnation. Oppression is not good for the oppressed or the oppressor. It destroys our humanity. It devours us all. We must stop fighting against each other and recognize the common enemy.
As Ephesians 6:12 says…
Our struggle is not against flesh and blood, but against the rulers, against the authorities, against the powers of this dark world and against the spiritual forces of evil in the heavenly realms.
We must stop seeking to destroy each other and turn our attention to defeating the systems and the lies that hold us all in bondage. We must reason together. We must carry each other's burdens. We must learn to walk alongside one another toward the vision of shalom that we saw in the very beginning of the biblical story and that Jesus modeled for us in his self-giving love.
I've been reflecting on this quote from Henri Nouwen about what it means for us to live as Christ followers in this world…
Receptivity and confrontation are the two inseparable sides of Christian witness. They have to remain in careful balance. Receptivity without confrontation leads to a bland neutrality that serves nobody. Confrontation without receptivity leads to an oppressive aggression which hurts everybody.
It's hard to maintain the balance of receptivity and confrontation. I recognize in myself the pull to either keep my mouth closed or jump to condemnation. Holding the tension is difficult. It's much easier to stay silent. It's much more fun to share the most piercing criticism and see the shares and likes rack up. But we are missing out on something much richer and more fulfilling. We are missing out on the Kingdom of God.
I don't want to put walls up around my heart. I don't want to be suspicious of strangers and even family and friends with whom I might disagree. I want my heart to remain open and receptive to the people around me even as I speak up and fight for my core convictions. I want to learn to confront the injustice without condemning my brothers and sisters.
I think that in order to hold the balance well, we must move from criticizing to critiquing. While criticizing looks like name calling and division and only focuses on the negative attributes of the other, critiquing is more balanced as it takes into account both strengths and weaknesses. It calls people to a higher standard rather than tearing them down, and it applies the same standard to all sides.
There will be those who don't want to hear or accept truth, no matter how we approach it. In those cases, we need to spend less time trying to convince them of what is right and more time working together with those who have ears to hear. I believe that this is what Jesus meant when he said at the end of his teaching on specks and planks…
Do not give dogs what is sacred; do not throw your pearls to pigs. If you do, they may trample them under their feet, and turn and tear you to pieces. – Matthew 7:6
We cannot expend all our energy on those who only want to tear us apart. They only serve as a distraction from the work that God has given us to do. And we're going to need all the spiritual strength we can muster to fight off the attacks of the spiritual forces.
As we move forward together in the work of restoration, I want to leave you with this prayer of confession and benediction…
Lord, we have lost sight of you. We have lost sight of truth. We have lost sight of our common humanity, which holds the tension of our intrinsic belovedness and our inevitable brokenness. We have lost sight of our common enemy, which is the spiritual forces that keep us divided and oppressed. We have lost sight of your mission of restoration of this broken world. God, purify our hearts and give us eyes to see.
---
This post contains an Amazon affiliate link. If you make a purchase from the link, I will receive a small commission.