It isn't even Halloween yet.
Last year Boca Raton middle school teacher Preston Smith erected a pentagram display in their local park's "free-expression zone". The monument was placed to express an alternative to the nativity scene set-up by a local christian denominations. It was then repeatedly vandalized including being torn down by pickup truck.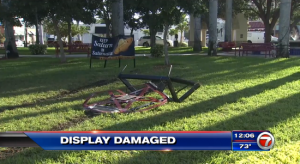 The nearby nativity scene of course, remained pristine and untouched.
This year Smith once again intends to put his (now charmingly distressed) display in the free-speech zone, along with a "Freedom from Religion Nativity Scene".  Smith's continued insistence on exercising his first amendment rights has angered local Christian Pastor Mark Boykin of Boca Raton's Church of All Nations. Boykin called the monument "reprehensible" and has vowed to vandalize Smith's pentagram yet again. 
"It's evil, it's the essence evil," said Boykin to CBS affiliate News 12  while brandishing a sledgehammer. "I will take the responsibility for taking this sledgehammer and knocking it down."
I'm no expert but it seems to me that announcing your intent to commit a crime to the media is a terrible idea. It's one thing if you're announcing a sit-in or something, but when it rises to the level of destruction of property that's a whole other brand of civil disobedience.
Of course, this whole mess could have been avoided. Last month the Boca Raton City Council rejected a proposal to ban all religious displays in the park, though some residents in attendance expressed a desire for heightened security measures.  "We cannot under the constitution and have not made distinctions based on content," City Attorney Diana Grub Fresier rightly stated at the time. The decision to leave the free-expression zone in place seems to suggest this argument will become something of an annual event in Florida for years to come.
Photo credit: screenshot via WSVN News 7