Ireland's anti-abortion laws could well be on the chopping block. The country will hold a referendum on constitutional changes that would relax the country's draconian ban on abortion in all cases except medically necessary interventions.
In an announcement on Tuesday Irish prime minister Leo Varadkar said that the vote could be held as early as May. Polling in the country suggests that it is unlikely to result in a complete repeal of anti-abortion laws but that the majority of the country supports relaxing current policy. Abortion has been effectively outlawed in Ireland by constitutional amendment since 1983.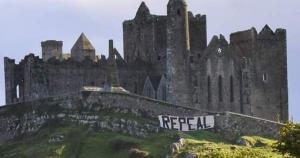 Women's Health At-Risk
The current push for change is largely driven by a 2012 case in which a 31 year old woman sought a medical abortion after learning her 17-week old fetus would not live to term. Despite being told that she was having a miscarriage and being in constant pain, Dr. Savita Halappanavar was told by doctors they could not perform an abortion and she had to wait until the fetus' heartbeat stopped. This lead to a three day delay in having the procedure, by which time she had contracted bacterial septicemia (blood poisoning) resulting in her death 4 days later.
Blasphemy Laws Also See Challenge
In addition, the announced referenda will include a vote later next year to unwind constitutional censorship provisions which outlaw "blasphemous, seditious, or indecent matter". These laws, while rarely enforced, have a chilling effect on speech and atheist activists within the Ireland have been working for years to bring this referendum to fruition. Full coverage over on Friendly Atheist.
I don't think I need to spell out that bodily autonomy and free expression are issues of particular import. It's nice to see Ireland finally coming around to try and update policies that infringe on the religious liberties of its people. I'm sure we'll hear much debate on these issues across the pond in coming months.