John Wilson, a Reverend at Liberty Pentecostal Church in West Yorkshire has been convicted on 18 counts of abuse including indecent assault, conspiracy to commit indecent assault, and sexual assault. His wife, and his assistant Pastor Laurence Peterson were also found guilty of aiding and abetting his crimes. The sentencing follows a six-week trial in which his victims recounted years of abuse under the guise of what Wilson called 'deliverances' or 'internal ministries'. At one point even telling police that the assaults were directed by god.
Abuse in the name of God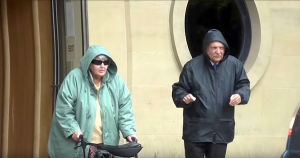 "He said he had to touch her wherever the evil spirit was and God would tell him where to touch," said prosecutor David McGonigal at trial. When victims tried to resist Wilson told them it was their evil spirits fighting him. Throughout the trial he maintained that the abuse was not for his own gratification, but directed by the 'holy spirit'. One victim, who came to his church as an orphaned teenager, said he held these 'internal ministries' with her every week for 10 years starting when she was 14 years old.
"You brainwashed them into the belief that they were possessed," said Judge David Hatton during the sentencing. "The three you abused frequently are likely to retain metaphorical scars for the rest of their lives. They are to be commended for exposing you as the charlatan you are and have been found to be."
The 'God Made Me Do It' Defense
Wilson is another in a long string of theists to personify their most base instincts then call them 'the holy spirit' to justify their crimes. It's never clear whether they honestly believe the crimes they commit are being commanded of them or whether they're just exploiting other's beliefs for their own purposes. Perhaps the most chilling thing about this particular breed of predator is their use of charismatic religious teachings to convince others to go along with their warped desires in the name of god. Thankfully, we separate religion and government so these 'divinely inspired' crimes can be brought to justice. But it's a stark reminder of the importance of not allowing religion to claim supremacy over the law because any faith that claims direct revelation is subject to these kinds of abuses.