Ok, this isn't really a huge thing, but this is my chapter and we busted our butts running around Phoenix and Tucson with collection boxes so I'm going to brag about us a little.
Local entertainment magazine Phoenix New Times announced it's annual 2017 Best of Phoenix awards. This year their award for Best Community Service Project has been awarded to The Satanic Temple Arizona Chapter's Menstruatin' with Satan Campaign which ran from April through July.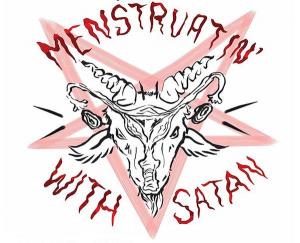 The campaign, in participation with the Young Women's Community Association's Project Period, asked local businesses to host donation boxes where patrons could drop off new-in-box hygiene products. TST-AZ then collected the donations and YWCA distributes them to women's shelters and community groups for people in need.
New Times writes:
"While reminding public officials about the separation of church and state is a worthy objective in its own right, the Satanists have recently been showing off their more philanthropic side with a campaign designed to make sure that disadvantaged women and girls have access to menstrual products. …The fact that many women can't afford to buy basic hygienic supplies is a glaring problem that's frequently overlooked by would-be do-gooders who are too squeamish to acknowledge the existence of menstrual blood, and it's one that we're glad to see our local band of civic-minded Satanists taking on."
TST-AZ also built YWCA a shed to store Project Period donations in:
I asked Michelle Shortt to comment upon notification of the Award:
"The Satanic Temple Arizona Chapter is honored to receive the Best Community Service Project Award on behalf of the Phoenix New Times. What began as a small charity campaign for TST's Boston chapter, has quickly grown and gained National recognition. Satanists are just as civic-minded and ready to make a positive impact within their communities, even as members from a commonly misunderstood and stigmatized religion. We are happy to break to misconceptions and create bridges to further help those who are in need. Arizona is happy to contribute their small part and bring awareness to an issue that simply does not get enough attention from the public. We hope to implement a second run for the Menstruatin with Satan campaign next year."- Michelle Shortt, Chapter Head, Satanic Temple-Arizona Chapter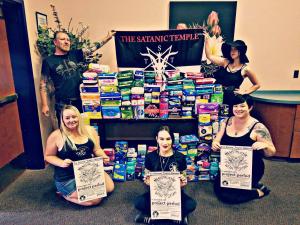 Twice in as Many Years
This is the second year in a row TST-AZ has been given recognition from the magazine. In 2016 New Times awarded the chapter "Best Political Stunt" for requesting to give a City Council invocation, resulting in the City of Phoenix being forced to change it's policy on prayers before meetings after a particularly outlandish public comment period.