The Satanic Temple (TST) garnered nationwide headlines in 2016 when chapters around the country began announcing their intention to offer After School Satan Club programs as an alternative to the Child Evangelism Fellowship's (CEF's) Good News Clubs (GNC). At the time, the project was spearheaded by individual chapters and only available in districts where The Satanic Temple has an organized membership. This year they'll be expanding their efforts and making curriculum available to volunteers throughout the country, promising that the campaign this year will be "even better and much bigger".
National Director for the After School Satan Clubs Chalice Blyth explains:
"Last year, the After School Satan Club curriculum was only offered in school districts where local chapters of The Satanic Temple could manage and maintain them. In that time, we received a flood of emails from parents, educators, and other qualified parties who were interested in operating After School Satan Clubs in schools near them."
Ms. Blythe also announced that the ASSC program curriculum has been "revised by qualified experts in education to provide a reason-based, fun alternative to the evangelical indoctrination clubs already present in the schools."
According the ASSC program volunteer handbook, individuals who would like to organize a TST after school program must pass a criminal background check and interview process, adhere to a code of conduct, complete a required training course, and demonstrate comprehension of the teaching materials to be used. Volunteers are not required to be a member of The Satanic Temple, or even a Satanist for that matter. Anyone whose school district has (or has had) a Good News Club and is interested in forming a science and reason based after school program as an alternative to biblically-based indoctrination programs will be able to apply.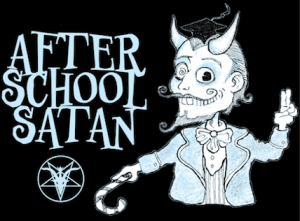 Program moves into 2nd year
As Friendly Atheist reported last year, the creation of the After School Satan Club program stems from the 1984 Equal Access Act and a subsequent 2001 Supreme Court decision which declare that public schools that allow privately organized extracurricular programs create a "limited public forum" and cannot discriminate against programs based on religion. This has lead to the CEF's Good News Clubs becoming increasingly pervasive in public schools. The Satanic Temple is just leveraging the same laws to offer a competing program based on free inquiry and rationalism.
Amusingly enough, when asked by the Washington Post last year about the ASSC program the Liberty Counsel's founder and chairman Mat Staver said:
"… I can't imagine there's going to be a lot of students participating in this. It's probably dust they're kicking up and is likely to fade away in the near future for lack of interest."
If this expansion of After School Satan Clubs to a volunteer network is any indication, Mr. Staver may find that he was sorely mistaken.