Along with running this blog I also do a podcast with Andy Hall from over at Laughing in Disbelief called Naked Diner. It isn't a Satanic themed show but when we do have a Satanic episode I'll be posting about it here too.
Last week I had the opportunity to sit down with the 3 co-hosts of the Black Mass Appeal podcast. The new bi-weekly Satanic San Francisco podcast hosted by Tabitha, Simone, and Daniel. They always seem to put together an enjoyable hour so it was great to have a chance to sit down and talk Satan. My normal co-host Andy was unable to make the taping. So pinch hitting in the co-host spot was my fellow Arizona TST member Wonka. That's five Satanists on one show! Andy will be back next week though.
You can check the full interview here: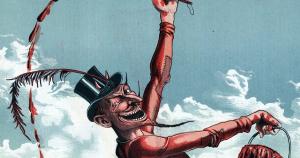 I haven't done a show with so many guests all at once in 3 or 4 years. It was a challenge to bring it all together, but I'm glad I did. We had a really enjoyable time discussing common exploits of reactions to Satanism, the trials of organizing Satanic events, conflicts between Satanic groups, and the catharsis of ritual. We had fun. Make sure to listen through the end of the episode to hear about Satanic San Francisco's upcoming events for the Halloween holiday season.
You can find Black Mass Appeal on all your favorite podcast services, or at their website satanicsf.com. They're also Blackmassappeal on facebook, twitter, and instagram.
You can find Wonka's cool gear at Lesser Key Clothing.
As for the Naked Diner Podcast, you can also find it on your favorite podcatchers like iTunes and Stitcher. Andy once again is usually next door at Laughing in Disbelief, and I of course can be found right here.