On Tuesday the Eighth Circuit Court of Appeals ruled on The Satanic Temple's appeal in their case to claim religious exemption from the state's informed consent and mandatory waiting period abortion restrictions. In a unanimous decision the court has overturned the case's dismissal and transferred the case to the Missouri Supreme Court.
"Ms. Doe's claims challenging the validity of certain sections of the Informed Consent Law under the Religion Clauses are real and substantial," wrote Judge Thomas Newton in the ruling's conclusion.
At issue in the case are the materials the state requires clinics to give women seeking an abortion. By law the materials declare that life begins at conception, which the lawsuit argues is a religious claim which Doe, as a member of TST rejects.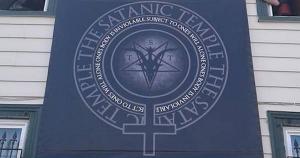 "The concept of saying that human life begins at conception is a religious belief," said Doe's Lawyer James MacNaughton in a statement to the St. Louis Dispatch.
The case also challenges Missouri's 72-hour waiting period on the procedure which they say is a substantial obstacle to a woman's free exercise. In earlier cases the court has ruled that a 24-hour waiting period doesn't constitute a substantial obstacle, but hasn't ruled on 72-hours. This problem is exacerbated by the dearth of clinics that can provide abortions in Missouri, causing many women to drive up to five hours to and from the clinic or spend days paying for a hotel room for a simple outpatient procedure.
In addition
Prior to The Doe v. Greitens appeal ruling, on Monday the 8th Circuit Court of Appeals declined to extend a court order that was preventing Planned Parenthood from seeking licensure in Missouri.
This gets slightly confusing so bear with me.
In April a U.S. District judge issued an order barring Missouri from enforcing state regulations that would require Planned Parenthood staff to have admitting privileges at nearby hospitals, as well as implementing several (seemingly punitive) facility standards. Then, in September, another judge placed a stay on that order basically blocking the blocking of the law. Allowing the stay to expire means the order goes back into effect, blocking the laws which means a Planned Parenthood in Kansas City can open. (Whew).