Well today is Friday and it has been a busy couple of weeks on the Satanism beat so lets do something a little more laid-back and fun today. It's October and the Satanic aesthetic is what it is, so many Satanists get very wrapped up in the pageantry of the Halloween season. Halloween is good fun. And because of Satanism's cultural association with Halloween's other symbols a lot of us like to take a small bit of symbolic ownership over this time of year, put on our Halloween best, and engage in some good old-fashioned spectacle.
This October is shaping up to be a banner year for anyone who is interested in this sort of thing and in the right city. Satanic events and rituals are happening all over, which is lovely and bound to ruffle some feathers of those who think we're hastening the end of the world by engaging in our blasphemous exhibitions. Too bad for them.
So think of today's post as something of an event calendar if you're looking to get your Satan on this month.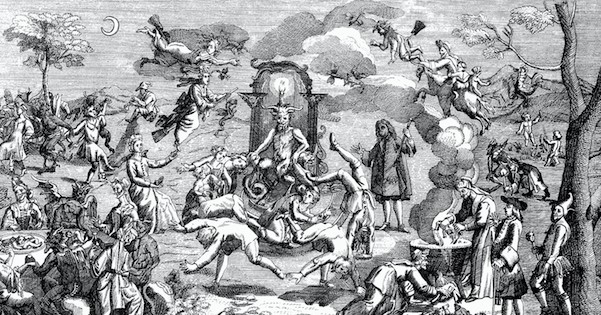 The Satanic Temple Headquarters is Going All Out
Much of the attention this year is of course focused on The Satanic Temple's monthlong string of back-to-back events at their headquarters in Salem MA. All month long at 2pm they're performing "Unholy Covenant" rituals, but for my two-cents the real fun kicks off starting tonight with a kickoff party for Jacqueline Frances and Kristen J. Sollee's Sex Witch Book Tour, followed the next night by Sollee giving a talk along the same lines (which will be available to stream on the TST-Salem Facebook page if you're interested).
Next weekend they'll be having a presentation by Boston chapter member Jill Rycerz to discuss the psychological benefits of ritual even if you don't believe in the supernatural, which sounds really interesting. Unfortunately I don't think that one is going to be streaming online. But fear not! She'll be a guest on a bonus show of the Naked Diner Podcast next week just ahead of the event (because I wouldn't want you missing out). Of course, the big fun is Halloween night where TST-Boston will be performing a 'traditional' Black Mass which promises to be "an act of liberation from stifling and oppressive superstitious precepts that were likely instilled at a young age". I've seen the script, and it sounds amazing. Unfortunately it's already sold out.
Satanic Events Everywhere
On the West coast Satanic San Francisco will be hosting a charity Black Mass followed by a movie screening of The VVitch to benefit St. James Infirmary, a San Francisco based Health and Safety clinic for sex workers. Then, a few nights later on Halloween proper TST-San Jose will be hosting a big Satanic circus themed party of their own.
Many other groups aren't going quite as all out, which is to be expected I guess but there are meet ups and dance parties and smaller rituals by various Satanic groups in places like Denver, New Orleans, Seattle, Portland, San Marcos, Utah, and even London, England. Depending on where you are it's probably easiest to just follow this link to a Facebook event search and see what is in your area.
That takes us through Halloween, but leaves my personal favorite for last where TST-Arizona wraps up the Autumn ritual season just ahead of Thanksgiving in Bisbee, AZ with their 2nd Annual ritual event which this year they're calling "Nihil Sanctum: A celebration of secular life over divine right". Now full disclosure, this is my chapter and all so I'm extremely biased, but I was at last year's event in Bisbee and it is one of the most fun things we do all year.
So, if you're really curious to delve into what all this Satanism stuff is all about, this is definitely the time of year to do it.