2017 has seen tremendous growth in interest on the topic of Satanism; that's part of why this blog even exists. It seems fitting as we wind down the year to take a look back at highlights that helped shape this renewed cultural interest.
Last Winter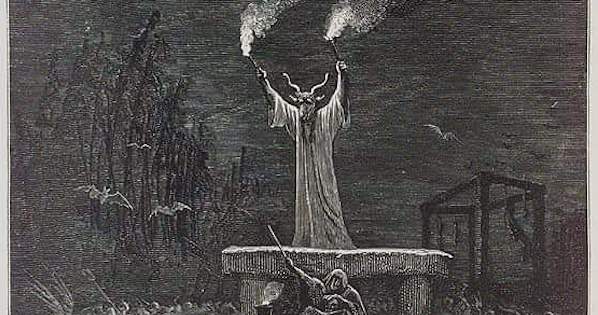 The first, and possibly most notable Satanic event (in that it set the tone for the year) of 2017 was The Satanic Temple-Los Angeles Chapter's January 14th event which the press billed as "the largest Satanic gathering in history." It was interesting to watch the press coverage of the event from an insider's perspective. There was a lot of focus on the spectacle of the event and considerably less on the actual content and meaning.
For example, much of the reporting was on the aesthetic culture of the event, lots of photos and very little text. What text there was tended to focus on the event's bloodletting ritual, because shock value sells I guess. Considerably under-reported was the event's destruction ritual, which almost anyone from The Satanic Temple (TST) who was there will tell you was the far more inspiring part of the event. It was important, in the narrative of 2017, because it signified a casting off of unnecessary hindrances. As an attendee, I met a lot of amazing people that day.
The sense we got out of it was a shot in the arm to the vibrancy of the community, and a spirit of cheery-playfulness in how Satanists conducted otherwise very serious campaigns. Opposition mounted as Arkansas changed their laws to try and block consideration of a Baphomet monument on its Capitol grounds, a church/state challenge that still remains unresolved and will be continuing into next year. Yet, TST members from all over the country came together in common belief of principle.
Meanwhile in Minnesota TST achieved a separate victory in gaining approval for a Veteran's memorial. That campaign resolved in the city of Belle Plaine eventually shutting down its monument park entirely. These events further validated TST's claims that theocrats would rather restrict free speech than allow Satanists to have an equal voice.
But undeterred by setbacks, as the weather warmed, Satanic activism campaigns surged.
Spring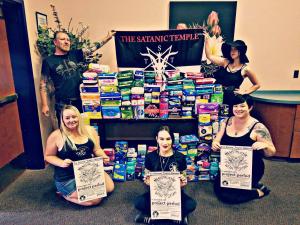 It was March of this year when The Satanic Temple erected its first Texas billboard in opposition to corporal punishment in schools. (You may recall the original installation lasted less than 24 hours before being torn down and requiring replacement.) Critics of TST very publicly denounced the idea that Satanists would ever oppose such abuses, but philosophically they had very few legs to stand on. Their claims were rooted in old Satanic Panic era biases. Satanists were lambasted by 'spare the rod' type bloggers and pundits of trying to undermine parental and administrative authority … which of course they were, but only because that authority was unjustified in the first place. The idea that someone should subject themselves to abuse just because of the source of that abuse is after all antithetical to Satanic ideology on a lot of levels. School focused controversy didn't stop there either.
That same month (by way of retaliation I suspect) right-wing groups began attacking After School Satan Club (ASSC) programs with nebulous accusations of IRS favoritism that the organization which pays those club's fees (Reason Alliance) had its non-profit status expedited. Those accusations were, of course, rubbish and the group had been non-profit for years before ASSC even existed. In response, local chapters largely ignored the controversy and focused on their own humanitarian efforts like collecting socks for the homeless in Florida or menstrual products for the impoverished in places like Arizona and Boston. Much to the chagrin of opponents, Satanic groups seemed to thrive and grow with each attempt to block their progress.
Summer
The now infamous initial installation of Arkansas' Ten Commandments monument was thought to have set the stage for a lawsuit before it was unceremoniously vandalized by a self-professed Christian, who drove into the statue with his car. Theocrats vowed to restore the monument and TST vowed to wait until it's re-installation until pursuing any kind of legal action. Meanwhile, Satanists continued to participate on independent public service projects and outreach like participating in Pride parades. Individual groups started hosting more speaking events, and there was a palpable sense that Satanists were tired of being accused of using Satan as a convenient political label.
Moving into fall this sense continued as group events refocused on the historical and literary underpinnings of what Satanism is and isn't. There was a marked desire among many to present a greater sense of religiosity in the face of theocratic over reach. The mood was one of a group that was tired of being pigeonholed by otherwise friendly groups as being contrived and politically expedient, which many opposing groups tried to capitalize on.
Above: TST-AZ presentation at Freethought Arizona
Autumn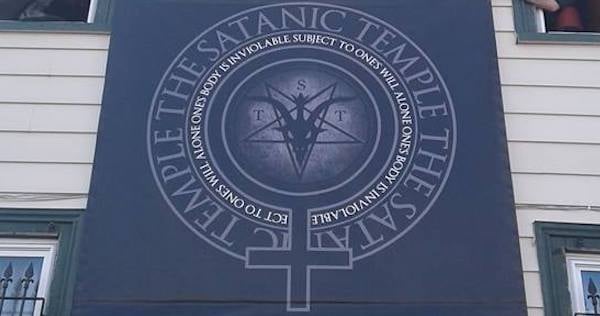 As if on cue, the culmination of summer event planning gave way to a fall where Satanic groups hosted what seemed like ritual event after ritual event in every corner of the country. These events seemed to both serve as a nose-thumbing reaction to the media narrative which questioned the validity of Satanism as a bona fide religious movement and as a revelrous celebration of a year of accomplishments. Setbacks were minimized as successes were celebrated. Rituals sought to both praise the work of many while steeling resolve for much of what is yet to come. New plans hatched, recognition given.
September also marked the first anniversary of The Satanic Temple having an official headquarters and art gallery in Salem, Massachusetts. The location has quickly grown into a space for increasingly visible speakers' series from TST members and allies, ritual events throughout Salem's famed Halloween season, and as a dedicated exploration space for Satanic and other occult artwork.
Looking forward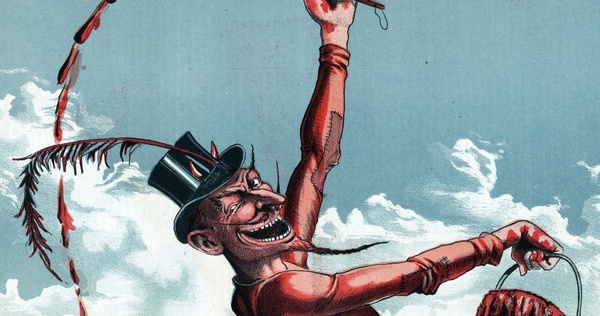 Next year is nebulous, I've written previously on much of what we're sure is going to happen. Pending legal battles and campaigns are sure to be many. Satanism and other Left-Hand path religions have always been a minority and I don't think anyone has any illusions of that changing; I don't really think any Satanist would really want that either. But as 2017 winds to a close one can't avoid noticing that for a movement which only began showing renewed interest less than half a decade ago Satanists have made substantial strides in garnering mainstream legitimacy. I think it's fair to say that considering the relatively small numbers of self-identified Satanists openly championing their beliefs one can't ignore what has clearly been an outsized impact on our culture and political narrative. 2018 should prove to continue, and perhaps even continue to expand on these trends with a number of pending lawsuits and continued activism across a wide range of social issues.
Here at least, we look forward to telling you all about it. So to quote one of the old greats "and that's the way it was". Happy New Year and Hail Satan.