It would appear that The Satanic Temple (TST) is not content to just wait on the pending Missouri Supreme Court's decision on women's reproductive autonomy.
On Thursday as part of their continuing Religious Reproductive Rights Campaign TST, on behalf of anonymous member 'Judy Doe', filed another suit in U.S. District Court against embattled Missouri governor Eric Greitens, Missouri Attorney General Josh Hawley, the Missouri Board of Registration for the Healing Arts, and two unnamed medical professionals.
New Client Raises New Challenge
Much like the case pending decision before the State Supreme Court, this case objects to Missouri's 'informed consent' laws. The new plaintiff, according to the filing, is still still currently pregnant and seeking a court order to declare the Missouri informed consent requirements null and void. The suit seeks enjoin two as yet unnamed medical professionals from attempting to comply with those laws.
As you may recall in the pending suit the original judge initially ruled the TST member "Mary's" standing moot after waiting for her to no longer be pregnant, a decision overturned on appeal and remanded the State Supreme Court.
In a press statement TST co-founder and spokesperson Lucien Greaves points out that by bringing another lawsuit TST is showing that the imposition of these 'informed consent' laws are not isolated incidents.
"With a new suit already filed while the state Supreme Court deliberates on our previous complaint, I believe we've effectively given the lie to the Attorney General's Office insinuations throughout the hearings thus far that this issue was an isolated affair insofar as The Satanic Temple membership's religious liberty is concerned. With a bald theocratic imposition of abortion restrictions into Missouri state law, and a continued expansion of religious privilege and exemption, Missouri lawmakers are going to be forced to accept that there are religious perspectives, just as deeply-held, that may directly contradict their own religious beliefs and directives."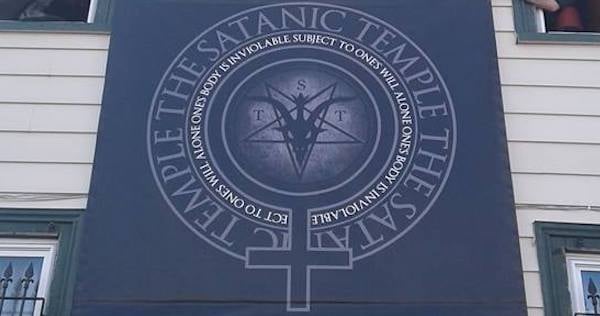 Judy Doe Cannot Exercise her Rights without Interference
This is an interesting strategy in the Missouri reproductive right struggle. In my 'not a lawyer' read of the the filing it looks to me like Judy Doe is actively saying that the Missouri rules are, in effect, preventing her from exercising her beliefs because they prevent her from obtaining an on-demand abortion. So asking the court for an immediate blockage of the laws could be a particularly time sensitive issue as the filing does not specify how many weeks into the pregnancy Judy is. It would seem they are asking for a summary decision to allow Judy to obtain her procedure, how long a decision by the court takes could very well materially effect her ability to seek the procedure.
Missouri's laws mandate that women seeking abortions be required to receive materials which, according to many, contain factually inaccurate information and designed to dissuade women from getting an abortion, as well as impose a mandatory 72-hour waiting period on obtaining the procedure. TST argues that these practices have no legitimate secular purpose and violate their First Amendment guarantee of religious free exercise.