When The Satanic Temple (TST) along with several other unaffiliated groups filed lawsuits in Missouri over the state's informed consent laws they named Governor Eric Greitens as a defendant in the suit because he signed the bill into law. As a staunch far-right conservative Greitens wore the accusation proudly.
Satanic Temple, Planned Parenthood, and the ACLU are suing Missouri because of our conservative reforms. We must be doing something right!

— Eric Greitens (@EricGreitens) October 16, 2017
The problem with presenting yourself as a character of unimpeachable morality is that narrative gets flimsy really quickly when you're accused of breaking the law.
A "Moral" Crusade … or amoral crusade
Greiten's political persona is pretty standard conservative fair. He's a retired Navy SEAL; he talks a lot about deregulation, cutting taxes, how guns are just the best, and how government needs to never overstep its mandate except when involving itself in what goes on inside of women's vaginas.
He also fancies himself a bit of a moral crusader who uses his religiosity to portray the image of a righteous and upstanding member of the community. The problem with acting like one of unimpeachable ethics, though, is that anyone who claims to be usually (if not always) isn't.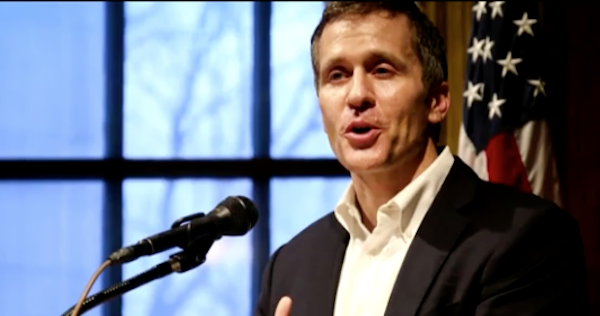 Felony Charges for Allegedly Being a Creep
In February, Greitens was indicted on a felony invasion of privacy charge for allegedly taking and transmitting a non-consensual photos during a brief extramarital affair shortly before his 2016 election campaign. In addition, he was accused of using said photo to blackmail his former lover into not going to the press with news of his infidelity, though that detail is left out of the complaint.
Greitens admitted the affair, but denied that anything non-consensual happened. Is it really a leap in logic to suggest that a man who doesn't respect the bodily autonomy of women might not respect their privacy either? I don't think so.
Oh April 19th Greitens' lawyers tried to have the case thrown out on a technicality by claiming improper handling of evidence by the plaintiff's legal team, but that didn't work.
A Second Felony Charge for Being Shady with Data
Yesterday (April 20th), on the heels of the bad news that his first indictment won't be thrown out, Greitens was again indicted on felony charges for computer data tampering.
The gist of this charge is that Greitens' campaign illegally obtained the donor list from his charity. Greitens founded a non-profit organization called The Mission Continues to support veterans affairs. The charge alleges that the list of donors for that nonprofit made its way to Greitens' campaign and was used to raise money for his gubernatorial run. The problem is, of course, that such donor lists are proprietary and 501(c)3s like The Mission Continues are banned from engaging in "political campaign activity".
So, another un-shocking case of a moral crusader allegedly being immoral. None of these felony charges have any effect on the informed consent lawsuits, but at current pace one has to wonder whether Eric Greitens will even still be Missouri's governor by the time any of TST's lawsuits finish playing out. State legislative leaders have called for Greitens to step down, which he refuses to do. But given current tensions with legislative members on both sides of the isle it's hard to imagine that impeachment proceedings are out of the question.