Let's dispense with all the Facebook drama about what organizations are affiliated with larger groups or not and just talk about Satanists in a non-denominational sense doing some charitable public outreach.
They Have Satanists Down There?
Of course they do! In point of fact Satanic New Zealand was originally founded as a chapter of The Satanic Temple, but they parted ways with the organization Now, a point needs to be made here about all the interpersonal drama surrounding a lot of the organizational shuffling that's been going on as of late. Most of these arguments devolved into personal attacks only after systemic issues were raised. Ultimately, when it comes to overseas organizations is that it just isn't very feasible for every Satanist everywhere to have a grip on the nuanced political workings of different countries; so it's not really a surprise that Satanists around the world would desire the autonomy to determine the issues and causes that are of import to them within their own countries and have more control over the direction of their projects. As I've said before, it really is a sign of vibrancy and growth. That being said, it has eaten up a lot of the bandwidth in Satanist groups for the last few months, which makes it a great time to start talking about what these other organizations are actually up to now that they've built a little bit of a local base underneath them.
Blood For Satan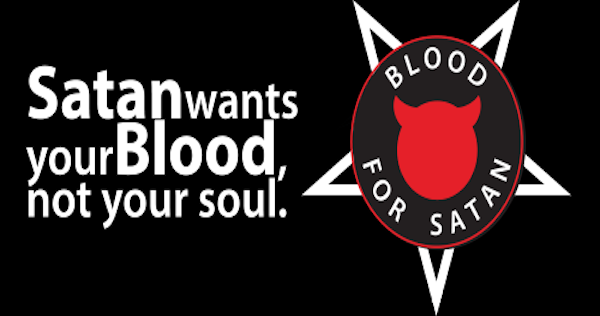 In an upcoming episode of the Naked Diner Podcast co-host Andy and I got a chance to ask the heads of Satanic Australia about the impetus for the groups' Blood for Satan campaigns and the growth of Satanic ideologies down under:
"We [Satanic Australia and Satanic New Zealand] sort of started to put our heads together and think 'well how can we do some sort of community involved activity that can potentially involve all of our members," says Satanic Australia Co-founder Caitlin in the upcoming interview. "So the thing about the blood drive that we thought would be inclusive for people no matter where they were they are."
Still Not a Campaign Without Issues
As much as the Blood for Satan campaign tries to be an inclusive activity to help draw local groups together, it's not without a bubbling undercurrent of politics, largely due to demographics and aesthetic that help make Satanism what it is. As modern Satanic philosophy tends to appeal disproportionately to members of the LGBTQ+ community and segments of the body modification community, some systemic hurdles to the blood drive effort exist. Which is to say: a lot of people otherwise willing to participate are legally barred from donating blood because of their sexual history, or even because they recently got a tattoo. The difficulty doesn't end there though, as the group's other co-founder Damian stated:
"In Australia we have a lot of ex-United Kingdom people. So there's a prohibition around anyone who has been in the UK between a certain period maybe infected with mad cow or be a carrier. I've been counting the clock down because my most recent tattoo was in February."
As a solution to these systemic problems, the groups are encouraging their membership who wish to participate but cannot donate to help spread drive awareness through social media and by donating (money or time) to their respective national Red Cross organizations.
Check out the full interview coming this Monday on the Naked Diner Podcast.