Amidst the recent media explosion over The Satanic Temple-Chicago chapter's Snaketivity display Illinois House Representatives Terri Bryant and Dave Severin (and while writing this a 3rd Representative, Joe Sosnowski has signed on as a co-sponsor) introduced H.R. 1355 to State's 100th General Assembly to condemn the statue. The bill singles out the Snaketivity display, now on view in the Illinois Capitol rotunda along with other displays in commemoration of the holiday season.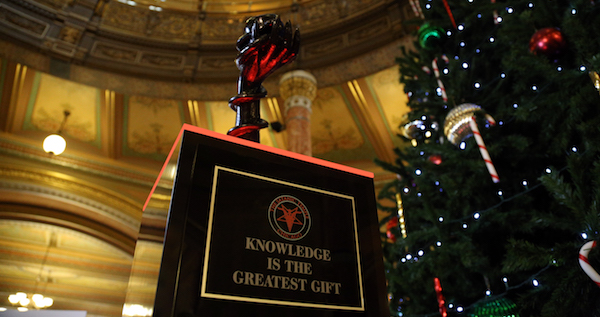 "This is insane." Said TST-Chicago Co-Chapterhead Lex Manticore in a standalone message late last night with a link to the pending legislation.
Happy Holidays, But Not for You
Ok, let's be honest right up front, this is a nothing of a pointless bill. It does not seek to remove The Satanic Temple's (TST) Snaketivity monument. At its most forceful it "urge[s] the Secretary of State to reject the Satanic display in the future". Which is to say, it does nothing and is only there for political posturing. 
A Bill to Nowhere
It's one of those do-nothing bills that representatives introduce sometimes to get it on record that they're opposed to something they can't do anything about. So, if it were to pass, the Illinois House of Representatives would "condemn in the strongest possible terms the decision of the Illinois Secretary of State to allow the Snaketivity display to remain in the Capitol rotunda".
"The strongest possible terms", in this case, amounts to sending a nasty letter to Secretary of State Jessie White saying they're very upset that he followed the law and did his job.
However, the implications are clear. The representatives in question do not believe in religious equality, liberty, or the freedom of speech enshrined in the First Amendment … unless you're Christian or Jewish.
Not Just an Issue for Satanists
Weaselly language in the bill is not just an insult to members of TST-Chicago, or TST nationally, or Satanists of any stripe. By condemning the decision to allow Snaketivity to be in the rotunda "during the Christmas and Hannukkah season" the bill, under the auspices of delegitimizing one minority faith, surreptitiously and subtly insults all minority beliefs by suggesting that of the plethora of holidays that take place during this time of year, only two of them are deemed 'appropriate' by these elected officials.
I asked The Satanic Temple legal counsel Stu De Haan for his impression of the bill. He said it's a disgrace.
"This is just another attempt by a would-be theocrat to undermine one of the very fundamental rights this country was founded on," said De Haan. "It is shameful that there is an increasing number of politicians who boast their support for the denial of freedoms to minority views while denigrating all religions to mere regional popularity contests. To call The Satanic Temple's holiday display divisive while making efforts to violate the Free Exercise and the Establishment Clause of the US constitution is as dishonest as it is illegal."
The bill alleges that TST's display is not properly religious enough because of "the[sic] Satanic Temple's description of itself as a non-theistic organization". So this is of issue to all non-theistic beliefs, attempting to put forward the spurious notion that belief is somehow superior to, and more worthy of recognition to non-belief and it tries to elevate the importance of theistic beliefs above the non-theistic beliefs of all other citizens.
We'll have to wait to see what happens with this bill, and if it were to pass there's no telling at this point what TST's response would be. But if past is prologue and representatives hope to campaign on their championing of this kind of divisive legislation I can think of a certain case working its way through the 9th circuit that might be an indication.