The trailer for the 'Hail Satan?' film documenting the rise of The Satanic Temple (TST) has been released to youtube and my, what fun.
Hail Satan? Theatrical Release Set for April 19th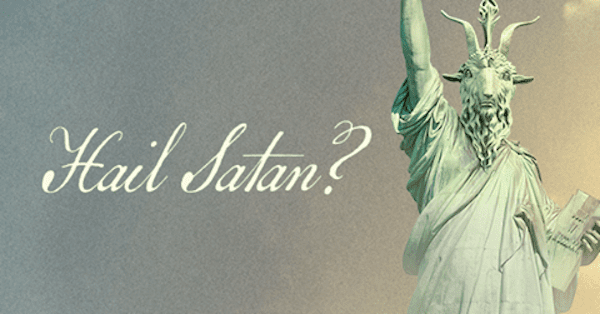 Now I'm sure there are a lot of Christians who will balk and find it disrespectful that Penny Lane's 'Hail Satan?' will see its theatrical debut on good Friday, but it's not like those of us who are excited for this movie have anything else going on that weekend anyway.
Listen, I'm just going to let the trailer speak for itself here. Lucien Greaves is a contributor here. Too many of my very good friends are in this trailer, even more of them are in the rest of the movie. I'm super excited to see the final product and everyone I've talked to who has seen it say it's great.
I'm not surprised it's great. Penny Lane and her producer Gabriel Sedgwick spent an extraordinary amount of time following The Satanic Temple around getting footage. I know that because we've been crossing paths at TST events and actions all over the country for years. In many ways, the story the documentary seeks to tell is the same story this blog has been trying to follow as well.
I will say, though, that the film's release signals a new era for TST. I hope it's release sheds a brighter light on how serious members of the organization are in their struggle against theocratic overreach and that it dispels the tedious notion that the group is just a collection of "atheist trolls".
There's a real sincerity members of TST have that is often minimized in the press, and a genuine belief in the principles on which the organization rests that (I'm told) really shines through in the documentary. Many chapters and groups of supporters will be having release-weekend parties or screenings. So anyone interested in seeing the film should keep an eye on your local listings and check-in with your friendly neighborhood Satanists to see if there is an event near you.
I have a Patreon! Please support my work and get cool extra content.