On Thursday, an Alabama grand jury dismissed a case of abuse against a Chilton County intermediate school principal accused of excessive corporal punishment.
Two Grown Adults Held Down a 9-Year-Old while Another Grown Adult Hit Him with What is Basically a Cricket Bat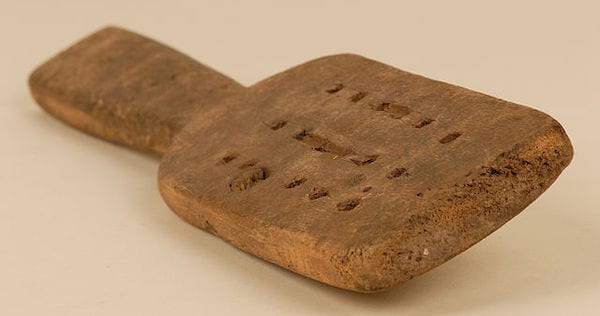 The principal, D.J. Nix, paddled a 9-year-old autistic boy after the child became distressed stemming from an incident in which a teacher confiscated the child's Pokemon card. While the child's mother says she gave Nix permission to administer corporal punishment, she was unaware of how violent the paddling would be and believes that Nix definitely crossed a line.
Two days later the mother, Melissa Dunaway, discovered 'significant bruising' and asked her son what happened. He told her that two teachers held him down while Nix paddled him five times "as hard as he could".
After the incident when Dunaway picked up her child from school he was asleep, but Nix informed her that the boy had tried to run.
Mother Plans to Appeal, "My Son was Beat"
"I feel like I don't understand why he hasn't been arrested," Dunaway told AL.com. "My son was beat, you should be taking care of the children first, not a principal that is paddle happy."

"I think that's a bunch of bull," Dunaway added. "How can you see those pictures and not press charges?"
Alabama law gives teachers the authority to "use appropriate means of discipline up to and including corporal punishment as may be prescribed by the local board of education." But the law does not say how much forces is excessive. It does, however, say that as long as teachers follow board policy while disciplining students, they "shall be immune from civil or criminal liability."
The School's handbook states that "The Board of Education permits reasonable corporal punishment," but fails to define what constitutes 'reasonable'. Only that "it should never be used as a first line of punishment" and that "it should never be used unless the student is informed beforehand that specific misbehavior could occasion its use."
Corporal Punishment Doesn't Work
While school corporal punishment remains legal in nineteen states (twelve of which are in the south), the practice has been banned in U.S. prisons, U.S. military training facilities, child care centers, residential treatment facilities, and juvenile detention facilities. So, Alabama is allowing a school principal to treat a 9-year-old autistic child worse than a violent criminal.
Alabama continues to allow the practice despite extensive research which demonstrates that corporal punishment is worse than useless as a method for teaching kids.
"Corporal punishment is not effective at increasing compliance in the short-term (Gershoff & Grogan-Kaylor, 2016) or at promoting long-term compliance and moral behavior (Regev, Gueron-Sela, & Atzaba-Poria, 2012). The more children receive corporal punishment, the more likely they are to be aggressive and to misbehave over time, over and above how aggressive or disobedient they are initially (Berlin et al., 2009; Gershoff, Lansford, Sexton, Davis-Kean, & Sameroff, 2012; Lee, Altschul, & Gershoff, 2013). Contrary to the arguments by defenders of school corporal punishment that banning it would result in an increase in misbehavior and delinquent activity (Dubanoski, Inaba, & Gerkewicz, 1983; Medway & Smircic, 1992), states that have banned corporal punishment from their schools have not seen a subsequent increase in juvenile crime over time (Gershoff et al., 2015). Therefore, no evidence exists that removing corporal punishment from schools creates a statewide permissive environment where youth fail to control their behavior."- National Institute of Health
In 2017 the Alabama Association of School Boards (AASB) voted to adopt a position statement that encouraged local school boards to prohibit corporal punishment. Such statements are policy recommendations, however, and do not require school boards to change their policies.
"We know there are challenges in disciplining children," then AASB Executive Director Sally Smith said at the time. "But the AASB position is against using physical punishment in the schools."
Unfortunately, Alabama legislature would need to act in order to ban the practice throughout the state.