Cathi Herrod, were it not for her organization, would be your fairly typical Scottsdale busybody who gets off on telling other people what they can and can't do with their lives.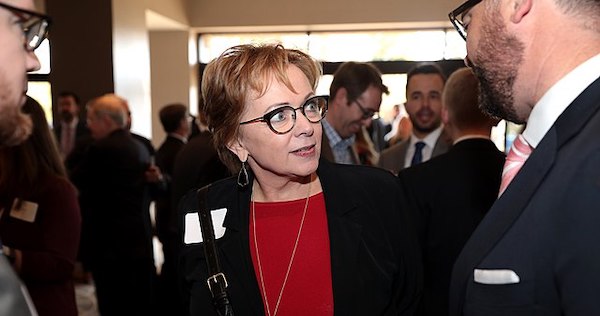 If it weren't for her Center for Arizona Policy I believe Cathi Herrod would probably be the kind of annoying neighbor that reports you to your HomeOwner's Association for painting your house a color that is slightly different than the HOA's approved palette or bringing in your trashcan an hour late. Instead, a group of other well-moneyed busybodies give her tax-exempt organization approximately 2 million dollars a year (more than $200,000 of which she pays directly to herself) to promote Christian theocracy in the Arizona legislature.


Cathi Herrod – Arizona's Unelected Legislator-in-Chief
Cathi's pocketbook, sorry, I mean 'tax-exempt nonprofit organization' is ostensibly a "research and education organization committed to promoting and defending the foundational values of life, marriage & family, and religious freedom". One will note the dog-whistle words, which mean that Cathi Herrod is anti-reproductive freedoms, anti-LGBT, and pro-Christian theocracy.
She uses this roughly 2 million dollars a year (that other people I think have more money than sense throw at her) to badger Arizona's already conservative legislature into doing her bidding. This year alone she has successfully killed Arizona's attempt to pass the Equal Rights Amendment. Now she's trying to stop the reinstatement of state funding for Arizona's 2-1-1 Service because last year, of the almost 1 million people the service helped, 3 people asked for directions to Planned Parenthood.
Arizona's 2-1-1 is an Informational Service
Arizona's 2-1-1 is a crisis response directory assistance service which people can call to get information for financial assistance, housing assistance, veterans and disabled services, mental health services, employment services, government services, and family services. During the Great Recession Arizona gutted funding for the program because Arizona's housing bubble collapsed and there wasn't even enough tax revenue to maintain ownership of its own chambers.
So, for the last decade the AZ 2-1-1 has been limping along on about $300,000 dollars a year from private donations. Now keep in mind, these are services provided by a dedicated team of employees and volunteers who answer calls from people in crisis who are seeking assistance and their whole organization is currently running on less than 1.5 times what Cathi pays just herself to run around the Arizona Capitol pressuring lawmakers.
Cathi Herrod's Center for Arizona Policy is a Christian Ministry
Despite the innocuous name, The Center for Arizona Policy is an accredited member of the Evangelical Council for Financial Accountability (ECFA, total revenue in 2017: $3.73 million). ECFA's stamp of approval to 501(c)3 organizations is based on their commitment to"Seven Standards of Responsible Stewardship™". (Yep, they trademarked that phrase.) These standards include a "commitment to the evangelical Christian faith" and that they "shall operate in accordance with biblical truths and practices".
What does that mean? Well …
That means that in order for Cathi Herrod's Center for Arizona Policy to qualify for ECFA approval they agree that "the Bible [is] … the only infallible, authoritative word of god", including the divinity of Jesus, the virgin birth, the resurrection, and that "wacky fire and brimstone revelations ending".
Does that sound like an organization dedicated to preserving the pluralistic society we live in to you?
The Center for Arizona Policy claims to be an organization dedicated to the promotion of 'religious freedom', but based on that ECFA accreditation it sure sounds to me like Cathi and her social club of well-to-do funders are only dedicated to the promotion of one religion's values instead of freedom of religion. Herrod's organization may as well paraphrase Henry Ford and admit that they believe "you can have any beliefs you want, as long as they're Christian".
—
I have a Patreon! Please support my work and get cool extra content. Have a look and check out my two new podcasts Ex Libris Obscura and Live! From the Public Domain in addition to my long running Naked Diner Podcast with co-host Andy Hall. (I mean, look at this article. We're talking about people who get millions and I'm getting by on clicks and patrons. If you value the at least 6+ hours of content I make for you a month consider giving me at least a buck. Hell, you give Netflix least $9 and how many hours do you spend watching that? Is it less than 54? If so then I'm worth at least a buck a month, yeah?)