Two new charity campaigns have been launched by The Satanic Temple (TST) in Minnesota and Arizona with designs to give aid to impoverished individuals and families.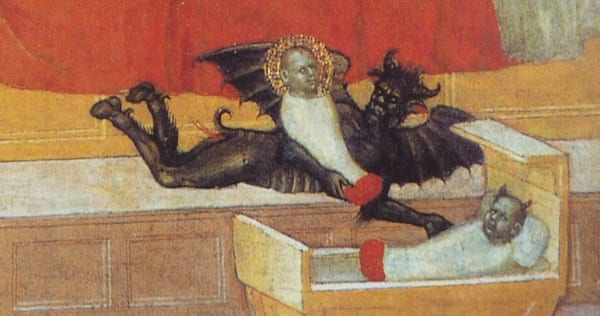 The Satanic Temple-Minnesota 'Diapers for the Little Devils' Supports New Families
TST-Minnesota just recently received official chapter status within the organization at the beginning of February. The Land of 10,000 Lakes Satanists are coming out swinging with a diaper and infant care product collection drive designed to help new parents with the expenses that come with having a new human to care for. I caught up with TST-MN chapter heads Ash Phenex and Asmodeus Sion to ask about the motivations behind the action.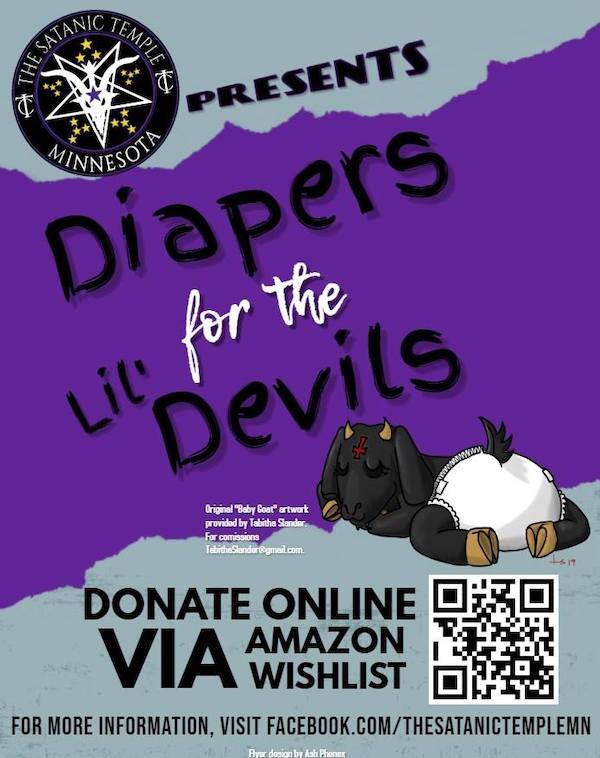 "Many of our members are parents and can understand that raising a child has its own difficulties," says Ash. "Imagine not only raising a child, but at the same time not knowing if you're going to have a roof over your head each day. Helping with some of that burden, even a little could make a difference for so many people."
TST charity campaigns often focus on helping those in need. Such actions were originally spearheaded by collection drives like 'Socks for Satan' to collect winter clothes for the homeless. This is the first collection drive by TST that focuses on the needs of new parents, which just goes to show that while the organization is heavily in support of reproductive rights, they also recognize the needs of those who chose to have children as well. Was this confluence around the issue of reproduction intentional? Well, no say the Minnesota chapter representatives.
"Our initial intent was we wanted to help people. Plain and simple. These are babies and their parents that have been left to fend for themselves. Whatever their situation is, they need help. Could the cause of the issue be related to reproductive rights? Absolutely. But, for right now, I want to focus on the fact there is a way to help these people, and we're doing just that."
As someone who has seen the behind-the-scenes setup that can go with setting up a TST charity drive, I know a lot of businesses can be reticent about allowing a collection box with the organization's name on it sit in their vestibule. It's also often hard to find a charity willing to accept the collected donations. So I asked Phenex and Scion about the local reaction to their efforts and they say the response has been positive.
"So far, so good. I haven't seen any initial issues from the community since we've announced the drive. Though before starting it, it was difficult to find a charity willing to take a donation from a bunch of Satanists. We were always open about who we are and that led to a lot of rejection letters from charities. One even said it might offend the recipients of the donated products. Imagine that, people in dire need of basic care items rejecting them because the people offering them believe something different. Boggles the mind a bit."

What I am impressed and humbled by is the response from the satanic community. Within an hour, it had been shared over 100 times, and already donations were coming in. The generosity of TST members is heartwarming and I'm so proud to be a part of this community."
TST-MN has partnered with Simpson Housing Services, a local non-profit that dedicates themselves to housing, supporting, and advocating for those suffering from homelessness; many of which are families with young children. People around the country who would like to contribute to the drive can check out the Amazon wishlist TST-MN has set up for long distance donations.
'Lord of the Ties' from The Satanic Temple-Arizona Helps People Help Themselves
In addition to the TST-MN drive for wee l'il demons, The Satanic Temple-Arizona is once again collecting goods for the needy. TST-AZ has a strong history of participating in these actions. Most notably by participating in the Menstruatin' with Satan campaign (a program that originated with TST-Boston). TST-AZ mensuration product drives have received local accolades and given support to organizations like the YWCA and the local charity Go with the Flow which provides menstrual products for kids in public schools throughout Arizona.
Lord of the Ties is another different spin on the charity drive concept. Instead of focusing on filling basic needs, the drive aims to specifically help those in need by giving them means to help themselves by collecting and donating business attire and more formal clothing so job seekers have something to wear to their interviews.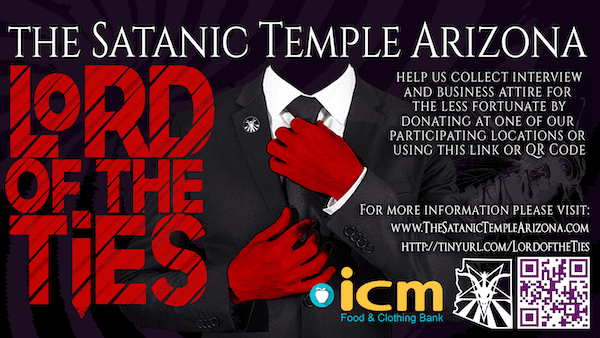 Chapter spokesperson Stu De Haan says the idea for the campaign came from his experiences as a criminal defense attorney.
"As a trial attorney I see people in court every day who don't own proper attire and I lend out ties occasionally for peoples' job interviews. Often these kinds of clothes are expensive or not practical purchases for people who live paycheck to paycheck."
TST-AZ launched the campaign at the chapter's 3rd anniversary party in Scottsdale, AZ (video from that event coming soon) and the response has been impressive so far. The group has donation racks in several locations around the Phoenix and Tucson metros and, of course, also has an Amazon wishlist for anyone else who would like to contribute to the drive. Donations will be going to the Phoenix location of the ICM Food and Clothing Bank.
I have a Patreon! Please support my work and get cool extra content.