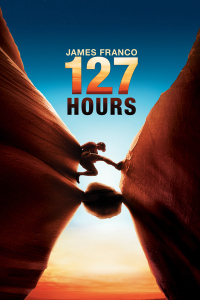 Danny Boyle won the Oscar in 2009 for "Slumdog Millionaire," an exhilarating romance that ranks high on my list of best movies of the decade. Three years later, Boyle got another Oscar nomination for "127 Hours," which, while not quite on the level of breathless greatness that "Millionaire" is on, is still a remarkable film.
Upon rewatching it, I was impressed with James Franco. I tend to see Franco as somewhat overrated in Hollywood, due to his James Dean-looks and disarming persona. But his turn as real life mountaineer Aaron Ralston is powerful and moving.
The film is indeed based on a real survival story, and according to Wikipedia, is faithful to Ralston's memoir "Between a Rock and a Hard Place" (which still occupies my "need to read" list). Going into the film with a familiarity with Ralston's story is not essential, of course, but it will intensify certain moments. I was surprised how strongly I reacted to this movie on repeat viewings.
The movie's climax is graphic. It will be too much for some audiences, which probably renders it unfit for party or mixed company viewing. For those prepared, however, "127 Hours" will be an elevating, exciting picture.