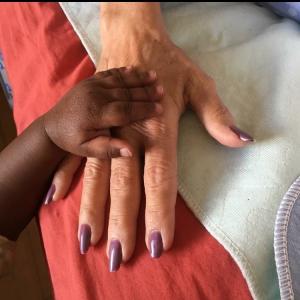 HOW IS IT DONE?
I am not sure how people do this widow/widower thing without God. Let me say I am not sure how anyone does life without God, job loss, illness, anything. Now, maybe this year, you find yourself alone, maybe for the first time in decades.
I was widowed in 2018, twenty-seven days short of our thirty-eighth anniversary and looking back to that dumpster fire of that time, I really cannot see how people experience it without any faith in a God having complete control. But many do.
Not too fond of labels
Being a 'Christian,' that's a label I don't particularly like, except on medical release forms. It is often misused. I raised a family, they married; I have ten grandkids; I had a job—I retired—and here I am. Myself and two large dogs. In my writings, I'm not going to be the guy on your front porch pounding on your door yelling 'what are you doing for Baby Jesus today!?' I want my actions—my walk, to cause you to say 'There is something different about you,' especially when I fall. Oh, and I will fall.
Let me share my experiences and see if any of it helps.
WE GOT LUCKY
I was lucky. I had some transition time. Unlike a quick, unexpected death, which is a whole other learning curve, I spent nights at home alone, while my wife was hospitalized, allowing me that 'oh, so this is how it feels,' moments of riding the ship alone—especially at night. I learned about how to live alone over time. I was able to actually ask questions just to do life without them. You might have to learn about health insurance, death certificates, filing with Social Security, and vacuum bags—when was the last time that was changed? Stuff a team divided up in a partnership and now it all comes to one. Not to mention weaving in hospital or hospice trips, like holding on to the edge of the deep end of the pool.
Like I said, I don't know how people do this without God.
DAD CAN BE A FUNNY GUY
Dad can be a funny guy (I call God, the Father of my Lord Jesus and God of the Universe, 'Dad'). He can be funny like in 'a horse walks in to a bar' kind of way, but He can also be funny as in quirky, unexpected, off-guard way as well. He will do things you don't understand—not until later. When He shows up, usually so simply and so perfectly timed, even in the middle of a raging dumpster fire, it is as if the climax to the play I am watching has revealed something wonderful. Like a child's hand holding the one leaving.
Boom!!
I love the story of the two criminals crucified with Jesus. It's in Luke 23: 39-43. You remember it, Jesus is crucified between two criminals and one of them challenges Jesus to get down if he is truly the son of God. The other simply asks Jesus to remember him when he is in Heaven. BOOM! It was all the guy needed, faith—probably not even 'strong' faith. He dared to believe the guy next to him was who he was claiming and simply asked him to remember him. For him, it was all about Jesus and what he was doing. For Jesus, the Son of the God of the whole Universe, it was all about the man. Jesus was on the cross for that guy.
And me.
And you.
IT STILL MIGHT NOT SMELL PRETTY
The Bible doesn't say our faith will make the world dance with the smell of flowers and rainbows. In many cases; however, the world gets significantly harder. But if we have a faith—a simple faith—the God of the Universe, actually wants to adopt us—you and me—and live in us. We are cleaned of the infection of sin by the giving of the life of his son. God, being God, has a Plan-a perfect plan. Why would we not want to rely on that?
My plan for you and I uses glue sticks and post-it-notes. Tape holds my plans together. God's Plan, well, why would I not trust that over mine-or even yours? I don't know you, but I would guess your plan is worse than my plan because, well, it's your plan.
I can hear Him-in me.
I hear Him. Well, I don't really hear him. But it is the Holy Spirit—Christ in me. I hear simply the start of the phrase. It's soft and soothing and was written on a little chalk board hanging from an IV pole in my wife's hospital room and now in my house, to remind me and others who was and is in charge: 'Be still and know….' It was Psalm 46:10.
In the middle of the trauma and anxiety and fear and anger and frustration that was yesterday and maybe today and definitely sometime between now and the time I go home, there will be more of it, I rely on Dad having a Plan. I hear Him say 'Do you trust me?'
TRUST IS HARD FOR ME
'Frankly, no God, I don't.'
He doesn't get mad or ashamed of my answer. He knew I was going to answer that way before time began because He is, well, God. The fact I can trust him with my doubt is a sign of faith. Me stepping out in His Plan when I am so unsure, is an act he silences the angels for because He is so proud of me and loves me so. "See!" He says to the Heavenly Hosts. "Look at my adopted! He is acting on sheer faith. They are trusting Me without ever seeing Me. Gosh I love this child so!" usually saying it with a Scottish accent.
When I stumble and fail, He is never mad. He helps me up, brushes me off, and whispers in my ear 'Try it again.'
Where you are at is hard. It might get harder; however, the Dad of the Universe is in you. You are not alone, and when you step in to the fire, the Dad of All is stepping in with you whispering in your ear-
'Be still and know.'
Enjoy the ride.
www.markjwilliams.com