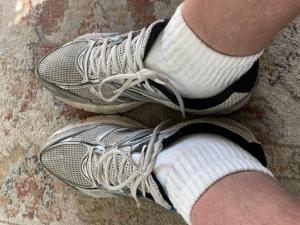 Welcome! Come on in and pull up a seat. Come take a calm walk through our collective minds with me while maybe standing in line at the grocery checkout counter and you have enough time to read this until the woman with twenty-three items in the fifteen-item lane is done, but you will need to visualize yourself sitting down. Grocery stores frown on people sitting in the aisle at the checkout counter.
The last thing you need right now….
If you are a tried and true Christian—going to church, on the board, teaching Sunday school, or your faith has been beat up, talked about, blemished, besmirched, flogged, and you can barely spell GOD let alone believe He exists—welcome. I will create six-hundred to about a thousand words for you each time you come in, twice a week-maybe three if the coffee is strong enough. None of them will light fires in politics, governance, sex-drugs-or rock and roll. All of those are for your twitter account. We get enough of that elsewhere and frankly, that bores me. We will talk about God-Jesus-Holy Spirit, and maybe issues with socks—but no preaching. The last thing you need right now in the grocery aisle is someone yammering in your ear. I don't like to be preached at or do the preaching. It turns me off.
I picked the name, Inside our Gooey Minds, because a thousand years ago, I had a blog with kind of a similar name. So, there ya are. If you believe in God or maybe just looked up the word in the dictionary, you come to realize—or are at least wonder if there is a God-Creator of Everything and whether, in fact, one of his favorite things-if not the favorite thing is His children. When you look at the human body, we are an incredible creation. And at the top of that invention, is our noggin, which holds the 'gooiness.'
It is where we think about, well, God.
We will talk about Him and how he loves us, if He loves us, why we might know He loves us, why He bought us-ramblings while you wait to get that prescription filled for that foot fungus you got. Then, maybe it will hit a note with you, maybe you've been thinking the same thing, especially the sock issue.
I am a sixty-three-year-old widower. I have three grown kids, and there are ten grandchildren out there. Please don't ask me their birthdays or even how old they are. I don't know. That was my wife's job. Sure, it should have been mine too, but I was busy filling the gap somewhere else.  We will talk about where I am, where I was, how things worked—didn't work, but always coming back to God as a Dad—a loving, gracious, fun, caring, sacrificial dad.  That's what I've learned, and keep learning—The Dad part.
What's the story with socks?
There are many things I am still working on and will share those with you. Nope, as you get older, you don't necessarily know all, but eventually, you really start to figure stuff out. Dad is gentle that way. Like about socks. I have worn white socks since grade school. It was a major leap of Old Testament faith to switch from those calf-high socks with three one-inch stripes on them to shorter socks, then to ankle socks and now I am being told I should not wear white socks but something where you don't see the socks–just the shoe. I am navigating this painful piece of style without a wife, only my kids and a few adults I trust and I don't really trust my kids. 'Let's get dad to wear the plaids with the stripes. If we sell it well, he will.' Let me just say, Jesus did not have sock issues.
There are things we can say, things we can do in our life and when we lose our job, or a family member or something which has been in our lives and now is gone, we feel like we are walking with a limp. Sometimes moving from room to room with no real purpose.
We think we are alone, needing to be reminded we are not only not alone, but surrounded by a love we cannot fathom its size.
There, that's it for this one. The woman in front of you is done—oh wait. She has coupons—a whole file folder of coupons. I'm sorry. Here, try skimming through the National Geographic.
Its about dogs.