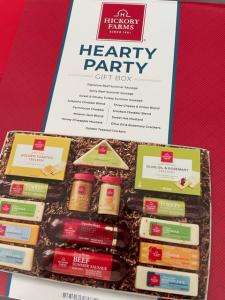 BEST PRESENT EVER
Christmas is over and the survey of best present reached in everyone's brain races through the list of what you received. I received a box of Hickory Farms! Many of you might be questioning my choice, especially when you hear the rest of the list. I also got a gazillion socks, the short ones where you almost don't see the sock. Apparently, that is the trend now and they are not even all white, apparently another trend. I also received a new pair of bike riding gloves. These can actually open up your phone and dial from it while wearing them. I got a new umbrella stand and of course, the famous gift cards and a bottle of fine 'tropical' scotch, whatever tropical scotch is like.
Meat and cheese! Yum!
But the best gift was the box of meats and cheeses and some crackers to put them on.
Some of you, especially if you are younger than, well-me are wondering what the big deal is. If you're my kids ages, you're probably saying I should be eating kale for breakfast and telling me the new trend is no socks. Well, that's fine. You can have your opinion. You just haven't lived long enough to know what it is like to have a HF box under your tree or their significance in life.
Every Christmas, when I was growing up, I would go to Park Central Mall in Phoenix and do my Christmas shopping. I had twenty dollars my mom gave me and whatever I had collected from cutting Mr. and Mrs. Harmon's lawn and would be dropped off with friends to do my shopping for the holiday. Yep, $20 plus for five parents and siblings, seven if you counted my grandparents on my father's side. I would pride myself on doing it in a short amount of time as well, one time doing it in under an hour and a half. Mom would get some piece of cheap jewelry, brothers and sisters something dumb, another piece of jewelry for my grandmother and a box of cigars for my grandfather, but dad would get the box of Hickory Farms. It was really for, well, me.
They would have a display set up in the middle of the open-air mall. A huge display with a cashier and all sizes of boxes and the best part were the samples. My friends and I would hit it first, wander off and buy the other stuff, then come back and I would justify the second sampling with a purchase.
Gone the way of the Dodo
It has been so long since I had received let alone seen a box of Hickory Farms anything I thought they went the way of the Dodo bird. But they haven't. They are still there bringing meat and cheese joy to the world!
I'm sitting here writing this with my fresh socks on and cozied under my sweats, waiting for the sun with my dogs snoring under my desk and I am smiling because I am a Christian, I love Jesus, and he is my best gift. This year, every year, every day. And somehow, on my list of wishes and needs (my gloves had been partially eaten by one of the dogs) He knew I would smile and spend precious minutes tucking away the contents of that box into the refrigerator for a time when I could tear into it like a badger at recess.
EVERY DAY ARE GOD'S GIFTS TO US.
Every day, I wake and make my bed, get dressed, get the dogs' water dish washed and refreshed, light the candles throughout the house and make my coffee. It is a quiet and beautiful time and God and I enjoy it. I enjoy it because it is so peaceful in the morning when I write, and He enjoys it because it brings me joy. He knew, a box of simple meats and cheese would do the same thing.
Enjoy the ride God has for you-wherever you find yourself.
www.markjwilliams.com