I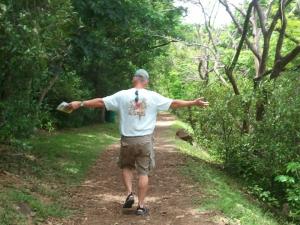 THINK I'M FLOUNDERING
I think we all wonder if we, where we are at, are sometimes floundering. At least I hope I am not the only one with this malady. You know the term. You've heard it used. It's a simple sentence with a noun and a verb-'I'm floundering.' Or another noun-'He/she is floundering.' I guess it's taken from the looks of a fish, the Flounder, as they, well, flounder.
We think we should be in one place at one particular point in our lives and we are nowhere near it. I should have that first million stashed in a vault by the time I'm thirty-five. I should be married by this point, 2.5 children by this point, at least two promotions by this point. You know the drill. We have dreams and ideas and thoughts and a version of it not thought of becomes a reality or worse-none of it comes true.
When I was younger….
When I was younger, I was supposed to go to the Naval Academy, fly jets, rise in the ranks, become the Chief of Naval Operations, then retire to someplace. The retirement part I never clearly worked out, but the rest, yeah, that was done. I was going into that pipeline. Until I didn't. That was Plan A. There was no Plan B.
I was floundering.
How fast could I peddle the bike, how much work can I do, to make something happen. And first of all, where the heck do I start?
That was five decades ago. I remember it like it was yesterday because in my mind, it is that fresh. I see it, smell it. The videos of those days are like I know where I was when Kennedy was shot. Yes, I am that old. But I have to say, I was a real young kid then, so don't judge. The decades since that moment, have flown by. At least they feel that way now. I am sure at the time, they felt like minutes were hours and hours were years. But I look back now and see The Plan was perfect.
His Plan. Not mine 
I did not flounder at all. It was, I believe, part of God's plan to get me here, purified like gold, melted-reheated and tempered with time and events to make me who I am. A pastor told me once and it stuck that God is jealous for me. He wants me in heaven with him. He and his son, Jesus came up with a perfect plan to get me home. I can't go to heaven with sin on me, and if truth be known, I was dripping in it. So, something pure had to take my place. Since it is a father and son figuring it out, the son told his dad to send him. "That Williams kid, we want to buy him,' one of them said to the other.
He bought me
So, I was bought. The price? Massive. It cost God his son. And his son? He stepped up to the cross in my place. By the end of that day, I was clean. I can go home.
But not yet. God's jealousy for me will wait until His Plan for me in this world is over. Then, in an instant, I am home and done-with Him and my Lord. And the Angels scream my name.
So, I guess while I am still breathing, The Plan is still in play. I still have stuff to do-for Him. Through Him. With Him. Huh.
The best is yet to come
So, if you read this and can relate, and if you've been struggling with self-worth or identity or any other of the fancy terms the fancy people spin and sew, there is one thing for certain, you are not done. If you're breathing, you are still very much in the game. Maybe the highest point of the game. You bring a smile to the God of the Universe every moment of every day. Your sins have been washed and are down that floor drain. They don't exist in His eyes, just in yours. You are not that person, but this person. You are the son/daughter of the Daddy of the Universe, and he raises his hands to hush the angels because you are about to awaken, about to speak, about to tell that joke you heard about a bear comes into a bar. He loves that joke and he gave it to you.
So, my brothers and sisters take heart, the best is yet to come!
www.markjwilliams.com
About – Inside Our Gooey Minds (patheos.com)