---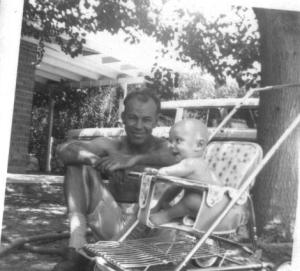 I PUT ON MY SHOES….
I put my shoes on this morning and wondered how many times had I done exactly that-putting on shoes. Then, wondering, how many times I had awakened, got up, and started a morning routine. I start in almost the exact same order since my wife died-the exact same order.
I get up, use the restroom, make my bed, walk through the house after turning off the alarm, open windows, open blinds, change the dogs' water bowl, empty the Keurig cartridge from yesterday, put in a new cartridge, fill with water, then fill the cup I used to fill the water reservoir with sweetener and cream, then start the coffee, then go back and get dressed in the clothes I laid out the night before.
Every day.
For decades.
Today, is Lawn Mowing Day
I can count repetitive activity in my life in the measurement of decades, not years. Today, Thursday, is Lawn Mowing Day. Today I cut the lawn. The same lawn I have cut since my father turned over the self-driving, reel-gas mower to me. I have used up a half dozen mowers since then. But have not used up the lawn. Once or, this time of year, sometimes twice a week, I have mowed the front and back.
I know what you are asking-'Hey, Mark, what the heck are you talking about? Isn't this a God blog? I thought, you know, I come on here and read about God and Jesus and hope and love and you're talking about lawn mowing.'
I like to think it's kind of the same thing. Sometimes, I have an easier time mowing the lawn. Thinking about my problems rather than turning to the God of the Universe who, by my faith, loves me and knows me, greater than my imagination. I have an easier time wrestling with living life on a daily, decades long run, than I do in a simple conversation with the one who wants nothing more than to have a simple conversation with me and show me the flowers He invented in Mrs. Talenbaum's front yard on the our morning walks.
Why do I get so screwed into a life of 'things' and then find myself years down range and look back and simply shake my head?
I think my life….
I think my life, maybe yours too, is a distraction to what we want to do. I think Satan is a sneaky li'l bastard and will use anything-anything to keep me away from even thinking about God. So, he fills my world with distractions. Anything he can do to keep my mind off of Dad, he will do.
'In the plainness of life, true life exists' I wrote on the tag line on the back of one of my books. I wasn't quite sure back then the significance of that line. I am sure I thought it was genius, but looking back on it from here-yeah, I didn't have a clue.
We all could have exciting lives, or just plain lives. We measure those by our own, subjective yardstick. I no more want to dance the Gater at the White House until midnight than the man in the moon. But I know some people who would. If I was president, state dinners would start at 6 and end at 7. Jammies on by 8. My wife, in her much younger-pre-marriage days, would just be getting dressed to go out at 8.
But I am living this life, here-now, because this is the life I was given.
Everyday, I interact with people outside these walls and every day I influence their lives. Maybe it is a simple hello. Maybe it is child care, maybe a sentence of wisdom. It could even be this blog, read by some sheep farmer in Peru. I have no idea. But the one thing I do know, the Designer of The Plan, made a Perfect Plan.
SADDLE UP!
So, saddle up. Here we go again.
www.markjwilliams.com
About – Inside Our Gooey Minds (patheos.com)