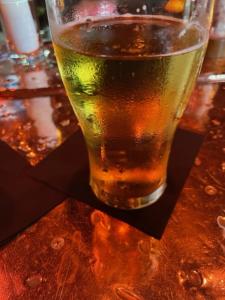 SOMETIMES, IT IS OKAY TO REST
Sometimes, a refreshing beverage is just enjoyed. In the right place, it glows like a welcoming beacon from a comfortable lighthouse to ships at sea for long periods of time. It could be a soft drink, a non-calorie sparkling water, a beer, a glass of wine, or even a good scotch whiskey. The drink signifies a time when rest is in order. When life and the business of it, can take a seat and for a moment or three, it is just us, looking at the gift of time. There is no hurry or place we need to be. That will return soon enough. Today, as I write this, it is Friday. For most, it's the end of the work week. For others, you're just starting. But to all of us, find that moment, that brief respite and allow yourself to just be.
We can get too busy….
We can get so busy, we refuse, actually refuse to enjoy the life we have been given. "I wish I could, but I got too much to do."
We've all said it. Each of us have postponed the enjoyment of life for the struggle of life. I get that. We have to work to eat and sometimes that work is long, hard, and seemingly endless. Jesus got tired, sometimes, of the crowds and the needs demanded of him. He was living in a human body and it had limits. He was experiencing, for the first time since the world began, the demands on his kids and the cost it wrecked on them. I think it caused Him to love us more. If that was even possible. He, I believe, became aware of just how much this world can wear out a body and thus, the heart which drives it.
The picture, yes, I took. It was right before the waiter delivered jalapenos wrapped in bacon and stuffed with cheese. Yes, I am drooling writing you this just thinking of the memory again. I was meeting my son in law, after I talked him into sharing with him the combination of the pepper/bacon/cheese wonderment at a restaurant near us. I sat waiting when the drink came and it looked just like that. Like it was on fire, only—well—colder. For a few moments, the place was empty, the pause between lunch rush and happy hour.
It was peaceful.
The world is spinning
The world is spinning, the clocks are running, and we all have to be or do something in the next day or, as far as we know, the train will wreck.
Or will it?
If you've read any of my posts, I have mentioned The Plan about 700 times. God has a plan specifically designed for us. He is that big. With that, this plan is perfect. The challenge for us, is we want to read the last chapter to find out how it's going to go, how will this race we are in turn out?
Paul is the man!
I love what Paul said. I think he is one person in history I would want to meet. You know the question. We've all been asked it. If you could meet anyone in history, who would it be? The politically correct answer in front of your friends from church is Jesus. Of course, that answer stumbles out right after Abraham Lincoln or Paula Abdul. But Paul, well—he made the big switch. He went from hating Christians to being the critical mass component in the early days for them. I think when he said 'why do I do sh—  I shouldn't do, and not do sh—  I should do?' he became relatable. Yes, I might have empowered the quote a bit.
He was speaking for me, you, the guy on the bus, all of us. Here is a guy who was the tip of the spear for Christianity and he is still asking that question. That made me feel a lot better, about where I was in my faith and life in general. "Oh, the guy who wrote a bunch of the New Testament is struggling too? AND THEN HE ADMITTED IT?" I'm in!
There is much to be done in this life and in The Plan we have signed up for with Dad. All I can say is He is perfect so His plans are perfect and He loves me perfectly. He adores me, even in the middle of my mess ups. He picks me up, dusts me off, and whispers in my ear 'try it again.'
Allow yourself to believe there is a God who loves you like that.
Have it be a game changer
It's a game changer.
www.patheos.com/blogs/insideourgooeyminds/about