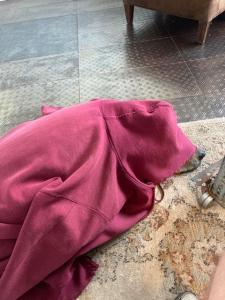 I'M NOT SURE…
I'm not sure anyone exercises for fun. People say they do to make themselves feel better about the suffering. I mean, exercising, really?
"Yeah, that five miles up hill-both ways-yeah it was great. Only two blisters and the cramp wasn't so bad today." It's like no one 'likes' scotch. We do scotch. Because our ancestors, the night before they were to go to war and all they had were sharp sticks, wanted to prepare for that axe wound to the chest, so they drank scotch. We drink it to say we did and to believe we could be sitting around a campfire with a sharp stick someday—with a cramp and some blisters, facing some task the following morning which could take our twigs and berries, metaphorically or for real, and all we have is this sharp stick.
What about that Methuselah guy?
Methuselah lived for almost a thousand years and I bet he was not a jogger. He probably didn't drink scotch either which was his loss, but I can almost guarantee you that guy, who lived a long time, didn't lift weights or jog. As a matter of fact, I think he wore eyeliner. A trend in those days for royalty. And I bet they didn't get that stuff at the local Ultra store. Some slave's whole job was to mix up highlight for the royals. They probably made it from bee vomit and some mud.
They ate weird stuff too. Like 'let's kill this and see how it tastes.' As well as 'don't eat this, it killed Kevin.' They didn't even eat with forks; they ran with sharp knives, and I bet they didn't have butter. How do you make a peanut butter and jelly sandwich without butter? We actually exercise BECAUSE of butter. I would think the dairy industry would be lauding that little point.
We've been told….
We've been told since youth, well, my youth; today's youth needs to come up for air from their Xeee boxes, but from youth we've been told to push the iron and run the route. This was usually followed by the story of someone's Uncle Kyle dying of a heart attack while on the toilet. No real person, mostly men, want to die that way. We want to all die heroically, without any pain of course. God loves us taking care of our bodies. It is a temple where the Holy Spirit lives. He also knows the effects of sin on this rock will take its toll.
Not on a toilet.
"Have anyone of you called your uncle lately?"
"I talked to him last week."
"What about the rest of you?"
"When was the last time you talked to your brother?"
"That's beside the point."
"I'll call him tomorrow."
"I called him yesterday. He didn't answer."
"I'm sure he's fine. I'll call him tomorrow—maybe this weekend."
After decades….
After decades of working out, crap starts to fail. Like hips and knees and shoulders. You realize you can't be that twenty-seven-year-oldWilliams/williamsstallion anymore AT THE SAME TIME you realize you haven't been that stallion for decades. Even today's young, those who do some kind of formal sport, have water bottles they carry. What happened to the community Igloo? With two-ounce paper cups in the shape of a cone? When your pee is the color of amber, that's when you know you've done something right for your body. God built a perfect machine when I comes to the human body. It is the infection of the world with sin which tears it down. It is His son, who makes us white as snow again.
Then, and only then, do you deserve some scotch.
Jes' sayin'.
www.patheos.com/blogs/insideourgooeyminds/about