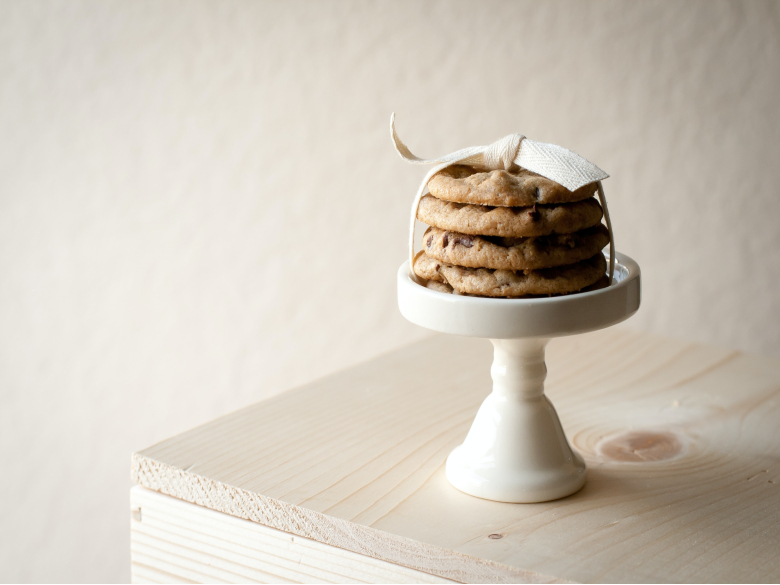 There is something about fall recipes that does the soul good. For some, it's the fact that Thanksgiving and Christmas are around the corner. For others, it's the fact that there will be pumpkin, apple, and chai flavors to make beautiful fall days even better. Either way, you will need some tasty fall recipes to take to your socials. 
Socials just aren't socials without food. Now that it's fall, your days will be filled with more events, so you will need some tasty fall recipes to take to your socials. Here are 14 delicious fall-savory and sweet recipes that will have people chasing you down for the recipe. 
Apple Cider Pulled Pork 
You can eat pulled pork any time of year. But the addition of apple cider makes it perfect for fall. The fact that it's cooked in a slow cooker makes it perfect for a social occasion. This low-stress recipe massages a pork shoulder with a homemade dry rub, then cooks it with onions, garlic, and apple cider until tender. Anyone who tastes this apple cider pulled pork piled on a soft burger bun will come back for seconds.
Homemade Hamburger Helper 
Hamburger Helper is an old classic that never gets old. This homemade version is much more flavorful and comforting than you probably ate as a child. It is made with fresh ingredients like onions, garlic, and cheddar cheese, making it even more delicious. Overall, this homemade hamburger helper will invoke lots of nostalgia. 
Crock Pot Roast
Crockpot pot roast is the perfect meal to take to your next social. It is easy to make. Pot roast is also a meal that can feed a lot of people. The meat is seasoned with spices and brown sugar and cooked until it falls apart with the slightest pull of a fork. The dish is also cooked with potatoes and carrots. Besides bread, you don't need any other side dishes. This crock pot roast will become one of your favorite slow cooker recipes.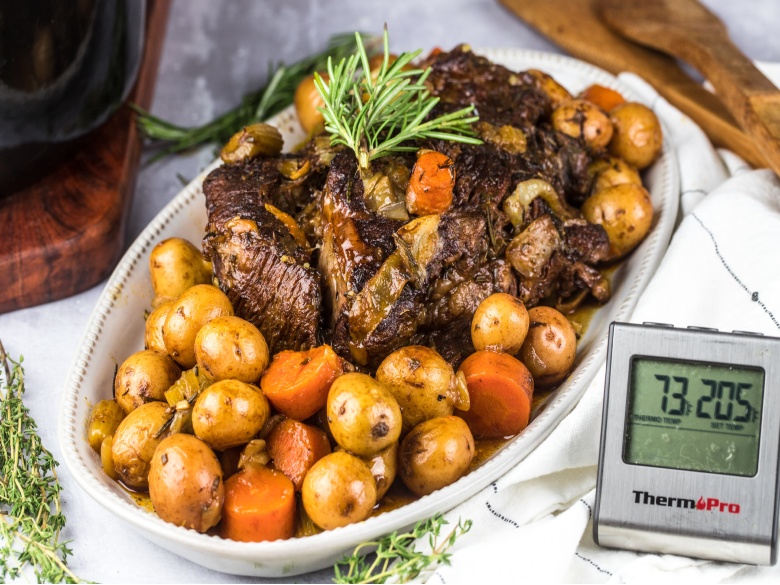 Crockpot Vegetable Lasagna
Crockpot vegetable lasagna is a healthy spin on an old classic. This dish is perfect if you are trying to encourage your faith friends and family to eat healthier. It's made with lots of fresh vegetables, including mushrooms, zucchini, yellow squash, spinach, and fresh basil. You don't even have to boil the noodles since it's made with no-boil noodles. Simply layer the lasagna ingredients in the crockpot and let it cook until the yummy cheese melts. 
Apple Cinnamon Pork Chops
Nothing says fall like apples and cinnamon. Apple cinnamon pork chops are the best of both sweet and savory worlds. The sweet apples and warm cinnamon pair perfectly with the savory, meaty pork chops. It takes less than 30 minutes to make. Moreover, you can easily double or triple this simple recipe so it feeds more people.   
Tex-Mex Chili
This hearty, rich chili is perfect for fall. It's filled with chunks of tender beef, beans, salsa verde, and lots of spices. It's perfect for fall socials because it's easy to make, and the Tex-Mex chili recipe yields 12 servings. Since you will probably be making other dishes, you don't even have to make a double batch. One batch will be enough, plus you can add an extra cup of beans or cut the beef into smaller pieces to stretch the chili even more. 
Cozy Autumn Wild Rice Soup 
This fall soup is loaded with fresh vegetables like mushrooms and sweet potatoes. The wild rice makes this soup filling and hearty, while the coconut milk creates a rich, creamy texture. This cozy autumn wild rice soup is vegan, healthy, and gluten-free. It's perfect for those with dietary restrictions or wanting healthier options.  
Caramel Apple Trifles
These no-bake caramel apple trifles are beautiful and delicious. They are easy to make and taste amazing. All you have to do is make the caramel, apple topping, and whipped cream and assemble the trifles. You can assemble the trifles in small single-use containers so everyone can have a small treat to enjoy! Additionally, you can customize this caramel apple trifle recipe by adding diced store-bought pound cake to make it more filling.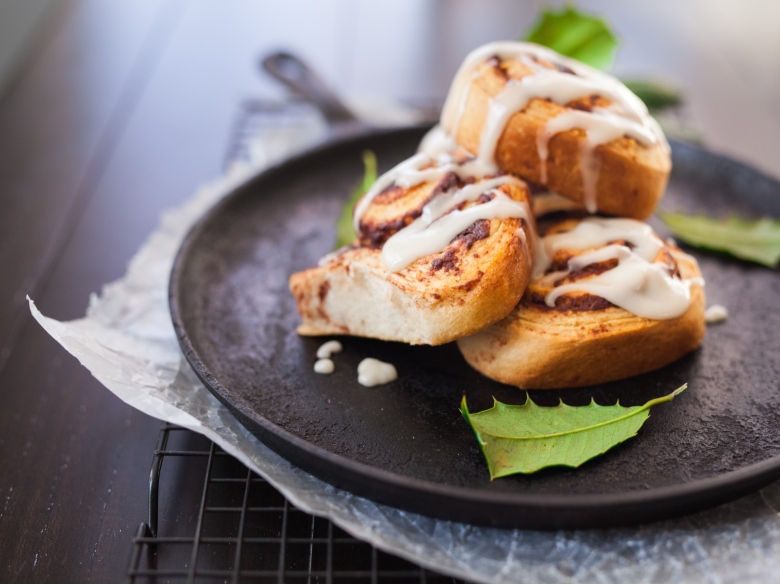 Pumpkin Cinnamon Rolls 
There would be no fall without pumpkin-flavored desserts. People just love recipes with pumpkin. These pumpkin cinnamon rolls are easy to make, and they have the most delicious browned butter cream cheese frosting you have ever tasted. You can assemble the pumpkin cinnamon rolls and store them in the fridge. Then bake them the next day an hour or 2 before your social so that they can enjoy freshly baked cinnamon rolls.
Apple Cider Doughnut Loaf Cake
Apple cider and cake are a match made in heaven. It tastes just like an apple cider doughnut but in cake form. You can easily make a few batches of this apple cider doughnut cake to take to your next social. It has a beautiful apple flavor and soft texture and is coated with cinnamon and sugar. It will definitely be a hit.  
Pumpkin Donuts 
If you are looking for something with pumpkin flavor that's not pumpkin pie, these pumpkin donuts are right up your alley. They are baked, not fried, so there's no need to stand over the stove getting splattered by oil just to fry donuts. The donuts are coated in a sweet maple glaze for double the fall flavor. 
Sweet Potato Pecan Cupcakes
Sweet potato doesn't get as much shine as pumpkin, but it's perfect for making fall treats like sweet potato pecan cupcakes. These rich, moist cupcakes spiced with cinnamon, ginger, and nutmeg are topped with a sweet caramel frosting that makes the cupcakes that much more addicting. Topped with crunchy, nutty pecans, these sweet potato pecan cupcakes are bound to disappear as soon as they hit the table. 
Chai Cookies
If you love Snickerdoodles, you will love these chai cookies. They are soft, decadent, and filled with warm chai flavor. They are ideal because you can make the cookie batter ahead of time and store it in the fridge or freezer. Then, all you have to do is bake them the day of the social, and you will have addictive cookies everyone will love.