By
Ayesha Noor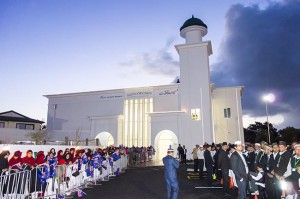 Today I happened to read an article titled "Why are women not made more welcome in mosques" written by Nabeelah Hafeez of Muslim Women Council, UK. The title immediately caught my attention and I agreed with every word she penned. I agreed with her frustration and her annoyance for being considered a second-class citizen at the mosques. I salute her decision for bringing this issue up. Fortunately, my mosque experiences have, without a doubt, always been pleasant and welcoming. Here I present my experiences from the mosques I regularly visited in 3 continents: Asia, Europe and North America. Although extremely diverse in nature and distinctive in design, all the mosques I visited offered the same welcoming aura for the women.
I spent my early childhood in Rabwah, a town spread on the bank of river Chenab in Pakistan. The town's 90% population consists of Ahmadi Muslims. Rabwah is known for two things, its unpretentious mosques and 100% literacy rate among Ahmadi Muslim men and women. One of my most vivid memories is to offer Jumma prayers with friends at Rabwah's largest mosque known as Aqsa Mosque.Aqsa mosque was only a mile away from my house, but we knew a secret short cut through the hill that separated our neighborhood from the mosque. From the hilltop we could see thousands of worshippers – men and women and children, hurriedly making their way to the Aqsa mosque. Those men who weren't lucky or quick enough to make it to the main hall, would offer their prayers outside in the prayer designated area. Women had their own massive hall. Additionally, the entire top floor was designated for women. Most of the times both halls-upstairs and downstairs would be packed and numerous women would have to pray outside too just like men.
My neighborhood's local mosque was a simple single-story edifice. There would be a curtain exactly in the middle, ensuring equal space for both men and women. Rabwah's Mubarak mosque, although smaller in size, still pulls me towards it for its serenity. Adorned with pink marble, the mosque hosts those women who wish to spend last 10 days of Ramadan (Muslims' Holy month) in solitude. I visited several other mosques belonging to the Ahmadiyya Muslim Community in Pakistan and found them all equally remarkable.
It was only during my teen years that I realized that not every Muslim woman could attend the mosque that conveniently. In fact, some of my non-Ahmadi friends would admonish me for attending mosques because they deemed it un-Islamic and unwomanly for a woman to attend any mosque. No amount of Hadith references could make them comprehend that female companions of the Holy Prophet always attended the Prophet's Mosque in Medina. While for me offering Eid prayers at a mosque was the most jovial part of my Eid celebrations, it was non-existent for my non-Ahmadi Muslim friends in Pakistan.
In England, I attended two mosques regularly: Fazl Mosque also known as The London Mosque in Wimbledon and Baitul Futuh Mosque in Surrey. The former one, built in 1924, is London's oldest mosque and is a modest one. Still, women are given adequate space to offer prayers. On extremely busy days, women use an adjacent multi purpose hall while men attend the main prayer hall and the rest pray outside in the driveway. Even in limited space, women's needs are given precedence. The newly built Baitul Futuh Mosque in Surrey is Western​ Europe's largest mosque. The mosque is a state of the art complex that offers huge prayer halls for men and women, library, offices, gym, kitchen, TV Studios, guesthouses and two additional multipurpose halls for social events.
In America and Canada, I have seen at least a dozen mosques belonging to the Ahmadiyya Muslim Community. Some are humble and some are huge purpose built mosques. Without exception all of them are equally appealing for women worshippers. I started my journey of North American mosques at Sadiq Mosque, among the oldest American mosques​, located on the Southside of Chicago. It is small, it is simple and it serves its purpose. I have visited mosques in Los Angeles, New York, Dayton, Miami, Houston, Washington DC, Harrisburg, and Toronto and I regularly attend the mosque in my hometown Richmond.  They may be big or small, purpose built or former day cares, or converted from an old church or a synagogue. But they are all open and welcoming to their worshippers whether they are male or female.
The Ahmadiyya Muslim Community has built over 15000 mosques all over the world. Equal space and similar facilities are given but some offer extra features for women. For example many newly built mosques provide crèche or nurseries for young mothers. If women are not designated the ground floor then elevators are installed for those who may need them. Some noticeable mosques built by the Ahmadiyya Muslim Community are Mubarak Mosque, Qadian, Indian, Baitul Rahman Mosque in Silver Spring, Maryland, Noor Mosque, Calgary, Canada, Baitul Islam Mosque, Toronto, Canada, and newly built Maryum Mosque, Galway, Ireland.
There is another distinct feature of Ahmadiyya Mosques. Women have financially contributed to all 15000 mosques that the community has built​ or acquired. In addition to this there are several such mosques, which have been built solely with the financial contribution of women. For instance, Muslim women wholly financed the construction of ​Fazl Mosque in London, Nusrat Jehan Mosque in Denmark and ​Khadija Mosque in Berlin.
I welcome Nabeelah and all such women who are frustrated for being treated as unwelcomed guests to visit any mosque belonging to the Ahmadiyya Muslim Community for a welcoming experience.  Mosques are the houses of God and God does not discriminate.
​As a final note, it is worth asking- what is it about mosques built by the Ahmadiyya Muslim Community that ensures women receive equal entrance and aren't relegated to a dingy side room? I will answer that in my next post.
For now, I hope you follow @EqualEntrance for a pleasant mosque journey.
Follow Ayesha at @FriendlyMuslim