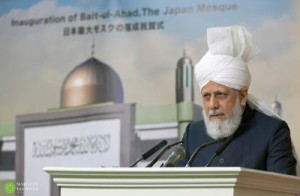 By
Saima Sheikh
I watched with horror the coverage of the San Bernardino massacre. I couldn't believe it. I used to live in greater Los Angeles area! That was my first home when my family and I migrated to America in 1984 from Pakistan. I went to elementary school and middle school there. I attended the Baitul Hameed Mosque in Chino which is the largest Mosque in San Bernardino County. We still have family and friends who live in that area. I condemn this barbaric attack. My thoughts and prayers are with everyone affected by this tragedy.
As I learned the identity of the assailants, I was saddened and outraged that once again 1.7 billion Muslims will be blamed for the barbaric actions of these two individuals Syed Farook and his wife Tashfeen Malik. Calling them practicing and devout Muslims is a slap in the face of all Muslims. As a member of Ahmadiyya Muslim Community, Muslims who believe in the Messiah, Mirza Ghulam Ahmad, I have been taught that true Islam honors the sanctity of life, a basic teaching inherent in all religions.
Islam teaches moderation. It doesn't teach seclusion or extremism of any kind. That's why I find it extremely distressing that the name of my religion Islam is now used as an excuse to harm innocent people. These so called Islamic extremists like Daesh (ISIS), Al Qaeda, Boko Haram and others are using religion as a means for their political gain. These terrorist organizations are using my religion Islam to brainwash young men and women. They are successful because these youths are unaware of the peaceful teachings of true Islam. They are unaware that Islam lays great emphasis on service to fellow human beings.
They are unaware that there is no room for violent 'Jihad' in Islam. As a Muslim, the Quran has taught me that all lives are precious and terrorism of any form is against the basic teachings of Islam. Jihad means to struggle. There are two kinds of Jihad. Jihad-e-Akbar, self reformation and Jihad-e-Asghar, taking up arms in self defense and is only allowed if Muslims are attacked first. Therefore, the 'Jihad' that ISIS and others like them propagate is false and baseless.
That is why I am blessed to be a member of the Ahmadiyya Muslim Community which has been at the forefront of condemning violent 'Jihad' and terrorism for more than 130 years. In its place, we are engaged in a bloodless, intellectual 'Jihad of the Pen' to defend Islam.Ahmadiyya Muslim Community is spread in more than 200 countries with membership exceeding tens of millions. Our members are peace loving and loyal citizens. We champion education especially for women. We are the largest organized Muslim community under a central spiritual leader, Khalifa of Islam, His Holiness Mirza Masroor Ahmad. He is the world's leading Muslim figure promoting peace and inter-religious harmony. Through his many lectures, he continually advocates for the establishment of universal human rights, a just society and a separation of religion and state. Under his leadership, our youth have flourished and are active members of their communities. They actively participate in various charity works, Adopt-a-Highway cleanings, Muslims for Life blood drives, etc.
At a recent Mosque inauguration in Japan on November 21, 2015, Khalifa of Islam, His Holiness Mirza Masroor Ahmad said, "Hence, those people who worship according to the true teachings of Islam will never be cruel nor merciless but instead will be compassionate, loving and those who desire the best for others and who prove to be a never ending source of blessings for mankind." It is this kind of peaceful spiritual leadership or Caliphate the Muslim community needs in order to counter the radicalized and hateful teachings of Daesh (ISIS).
Follow Saima on Twitter @SaimaGSheikh