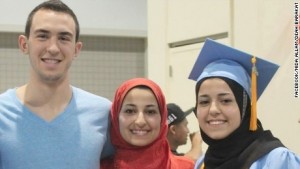 by Seidu Malik
A year ago, in my own neighborhood of Chapel Hill, North Carolina, three Muslims students lost their lives to a hate crime. I feel the pain and anguish of anyone who has lost a dear one to murder, however the circumstances under which my fellow community members lost their lives have been amplified several fold within the last couple of months; we ought to deliberate and separate fact from fiction to prevent future occurrences.
I am the first to admit that, the latest anti-Muslims sentiment has risen partly because of the actions of ISIS at San Bernardino and Paris but the hard truth is that Islam does not condone the murder of innocent souls. As many of you are aware, most religions consider suicide as a sin but you may be surprised to know that prophet Muhammad is reported not to have attended the funeral prayer of an able and sound minded person who committed suicide, as an expression of his disapproval. So why would Muslims abandon this centuries old tradition to support terror groups who do not just commit suicide but carry out the mass murder of innocent souls as well? These terror groups are distorting and exhibiting some absurd philosophy that is contrary to the true teachings of Islam.
In the election year fever, to win votes politicians have exacerbated the hate and fear mongering of Muslims and the general public has bought into it. We love our constitution very much and we will fight tooth and nail to protect our constitution. On the other hand, we are happy to throw our Muslim community under the bus oblivious to the fact that pluralism of faith is guaranteed by the constitution. Our ancestors who fled religious persecution in Europe will be turning in their graves right now for the obvious reason that we have become intolerant.
If it is not due to prejudice or the lack of knowledge of Islamic faith thereof, we know for a fact that Muslims have lived in this country for several decades without any known cases of terrorism. We have completely forgotten that some of the slaves on whose back country of ours was built were Muslims. What about current peaceful and professional Muslims in various field contributing their fair share towards the national development?
It is regrettable that two-thirds of New Hampshire and three-quarters of South Carolina GOP exit polls showed people to favor the idea that non-citizen Muslims should be banned from entering the country. Well my answer is that if this ban were implemented in the 1950s, there would have been no Apple Company to produce our iPhone or Ipad and because Steve Jobs' biological father, Abdul Fattah Jandali was a Muslim immigrant from Syria who studied at Columbia University and the University of Wisconsin.
The problem with ISIS, Al-Qaeda, and Boko haram as I have said before is political in nature and therefore requires the collective effort of our elected legislature and the executive arm of the federal government to find a lasting solution. We should not vent our anger against these groups on peaceful Muslims who actually bare the brunt of some of their atrocities in the Muslim world.
Thankfully, no one has died after the demise of the three innocent Muslims in Chapel Hill, but the hate filled rhetoric, mosque vandalism, discrimination and intimidation have increased especially after San Bernardino. Let's not forget that Muslims are our next-door neighbor, friend, classmates or co-worker and that the better we get to know each other, the more we can build a vibrant society for our future generations. The current state of affairs will only succeed to divide us and could affect national solidarity and development.
All lives matter and we should all do our best not to incite anyone to attack a group of people verbally or physically to maintain the peace and tranquility of society.
Stay in touch! Like Patheos Muslim on Facebook: