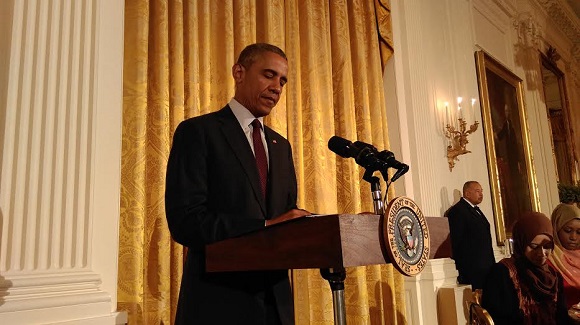 Last week I had the privilege of calling the Adhaan, i.e. The Islamic call to prayer, at the White House for Asr prayers during the Eid-ul-Fitr celebration event. But why is this so important?
Well, because I am an Ahmadi Muslim, this "rebellious" act would have gotten me arrested and imprisoned in Pakistan with up to the death penalty as punishment.
But in my adopted nation of America I am a full citizen with full rights and full religious freedom. So much so that I can proclaim the Islamic call to prayer from the White House itself, and do so without fear. Instead, a special prayer room was provided for me to pray as I wish. I considered it a distinct honor and privilege that I could fully practice my faith as a Muslim in the very center of our nation's Capitol.
Moreover, this serves as another proud reminder that Islam does not hate America nor does America hate Islam. Hatred has no place here.
This is for all my Ahmadi Muslim brothers and sisters in Pakistan and in dozens of Muslim majority nations where they are forbidden from calling the Adhaan.
Know that your voice was heard in the White House. Know that prayers were made for you that one day you are blessed with the same freedoms your Ahmadi Muslim brother has in America. Know that you are loved, remember d, and prayed for. Know that deliverance is coming.
It can happen. It will happen.
By God we are witness that it shall happen. InshaAllah, Ameen.