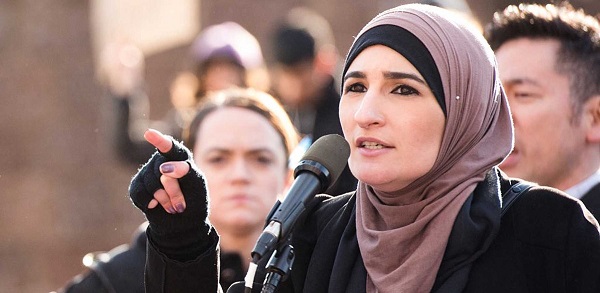 One of the most misunderstood, hotly debated and fear/anger-inducing words in our public vernacular is "jihad," which means many different things to different people, not all of which are true. The word jihad has been commandeered by ISIS and other extremist groups, whipped into a frenzy by various elements in the media and paraded around by many different groups to represent the most fiery version of Muslims – those who "declare a holy war on the rest of the world."
Prominent Arab-Muslim activist Linda recently used the word, defining it as "speaking truth" against oppression and tyranny, in a speech at the 2017 annual Islamic Society of North American convention. That speech was prominently picked up by conservative media outlets, pundits, right-wing types and FOX News, who spun her words to be a declaration of "jihad against President Donald Trump," with the president's own son calling for (in a tweet) the DNC to denounce Sarsour:
Who in the @DNC will denounce this activist and democrat leader calling for Jihad again trump?
This has resulted in attacks and threats against Sarsour, with Twitterverse hotly debating the word and what Sarsour meant in her use of it. Qasim Rashid, who writes for and helps manage the Islam Ahmadiyya blog, said the problem, among many, is that "jihad" continues to be a word misunderstood by the majority of the general population. He broke down the meaning of "jihad" in this series of 21 tweets that are not to be missed:
In light of how Islamophobes & bigots are misrepresenting Linda Sarsour's use the word Jihad—here's a thread on what Jihad actually means /1

— Qasim Rashid, Esq. (@MuslimIQ) July 7, 2017
The word "Jihad" means "to struggle."

It does NOT IN ANY WAY mean to "wage holy war," or "kill the infidel," or "commit terrorism." /2

— Qasim Rashid, Esq. (@MuslimIQ) July 7, 2017
The Qur'an describes 3 types of Jihad (struggles)—0 of them mean terrorism:
1) Against yourself
2) Against Satan
3) Against an open enemy /3 pic.twitter.com/WhWePBlVdv

— Qasim Rashid, Esq. (@MuslimIQ) July 7, 2017
Prophet Muhammad(sa) explained that the Greatest Jihad is the Jihad against yourself. Upon returning from battle he explained: /4 pic.twitter.com/oIuDYOePoW

— Qasim Rashid, Esq. (@MuslimIQ) July 7, 2017
Jihad against yourself manifests in many ways. e.g
—Get your degree
—Quit smoking
—Lose weight
—Learn a new skill
—Parenting
All = Jihad
/5 pic.twitter.com/vMqhff4huf

— Qasim Rashid, Esq. (@MuslimIQ) July 7, 2017
So this First and greatest Jihad is the Jihad to improve yourself & improve all humanity. Quite a beautiful concept, no? /6 pic.twitter.com/NkTka0ysb9

— Qasim Rashid, Esq. (@MuslimIQ) July 7, 2017
Second, Jihad Against Satan is Jihad to preach the word of God through the Quran. You've heard me refer to this as the #JihadOfThePen. /7 pic.twitter.com/xOs1HrEZ4y

— Qasim Rashid, Esq. (@MuslimIQ) July 7, 2017
Satan misleads & promotes fear & hate. He distorts the truth to create violence. This Second Jihad pushes back w/knowledge, truth, & love /8

— Qasim Rashid, Esq. (@MuslimIQ) July 7, 2017
Some say "That's just your opinion. Daesh says Jihad means terrorism." My response is simple—if Daesh had truth, they wouldnt need force /9

— Qasim Rashid, Esq. (@MuslimIQ) July 7, 2017
As founder of Ahmadiyya Muslim Community Mirza Ghulam Ahmad wrote in 1902—ignorant to claim Jihad means "spreading Islam through force." /10 pic.twitter.com/wNnppAubZE

— Qasim Rashid, Esq. (@MuslimIQ) July 7, 2017
Thus Prophet Muhammad (sa) was asked, "What is the best Jihad?" He answered "a WORD of truth."

Not violence. Not terrorism. WORDS. /11 pic.twitter.com/jkNlbAUpDk

— Qasim Rashid, Esq. (@MuslimIQ) July 7, 2017
Finally—the Third or Lesser Jihad—the Struggle against an open enemy. Who is an "Open Enemy?" No guess work—Qur'an precisely defines it. /12

— Qasim Rashid, Esq. (@MuslimIQ) July 7, 2017
For long answer to the Lesser Jihad & definition of "Open Enemy"—see my viral thread on it here: https://t.co/5uKhQqQ5kY

Short answer: /13 pic.twitter.com/yFrhZ3GReb

— Qasim Rashid, Esq. (@MuslimIQ) July 7, 2017
Muslims can fight
1—In self-defense IF
2—Persecuted for faith, &
3—Fled their homes, &
4—Pursued to be killed,&
5—To Protect ALL faiths /14 pic.twitter.com/Tt8QGkllCB

— Qasim Rashid, Esq. (@MuslimIQ) July 7, 2017
The Qur'an then further goes on to explain that "Open Enemy" are only those who have attacked you for your faith & driven you from home /15 pic.twitter.com/diZUCbbriV

— Qasim Rashid, Esq. (@MuslimIQ) July 7, 2017
And even when fighting in self-defense after ALLLL that—Qur'an mandates Muslims MUST immediately forgive if the attacker stops. /16 pic.twitter.com/s4FDjE8BtZ

— Qasim Rashid, Esq. (@MuslimIQ) July 7, 2017
And then for good measure, the Qur'an additionally condemns creating any sort of violent disorder or rebellion against any faith/govt. /17 pic.twitter.com/mfvaKXvj0m

— Qasim Rashid, Esq. (@MuslimIQ) July 7, 2017
And one more thing—while fighting in self-defense—Islam has the most humane rules of war IN WORLD HISTORY

No one else comes even close: /18 pic.twitter.com/mtszCW7pZh

— Qasim Rashid, Esq. (@MuslimIQ) July 7, 2017
So to recap, The 3 Jihads (struggles) are:
1—Improve yourself
2—Promote education (#JihadOfThePen)
3—Protect universal religious freedom /19

— Qasim Rashid, Esq. (@MuslimIQ) July 7, 2017
Remember, the only 2 groups who claim "Jihad = Terrorism" are Daesh terrorists & Islamophobes w/an agenda. Both Are Ignorant & Malicious /20

— Qasim Rashid, Esq. (@MuslimIQ) July 7, 2017
Here's some great resources on Jihad in Islam based on on factual Islamic scholarship—not google or censorship https://t.co/tDZwvKCEBv /21

— Qasim Rashid, Esq. (@MuslimIQ) July 7, 2017