Copyright: Nov 2012
Publisher: Abingdon Press
Summary:
Author, scholar, and speaker James Wellman offers an incisive and critical look at Rob Bell: his influence, his roots, his brand. Wellman's explains Bell's rhetoric, ponders the implications of his creative message-making, and provides an interpretation of his influence that puts Bell at the center of a new American Christianity.
A Global Perspective
Copyright: Aug 2012
Publisher: Oxford University Press, USA
Summary:
Since the1950s the world has witnessed a period of extraordinary religious revival in which religious political parties and non-governmental organizations have gained power around the globe. At the same time, the international community has come to focus on the challenge of promoting global human security. This groundbreaking book explores how these trends are interacting. In theoretical essays and case studies from Turkey, Egypt, Pakistan, the Americas, Africa and Europe, the contributors address such crucial questions as: Under what circumstances do religiously motivated actors advance or harm human welfare? Do certain state policies tend to promote security-enhancing behavior among religious groups? The book concludes by providing important suggestions to policymakers about how to factor the influence of religion into their evaluation of a population's human security and into programs designed to improve human security around the globe.

Copyright: Apr 2008
Publisher: Oxford University Press, USA
Summary:
Drawing on an in-depth study of twenty-four of the area's fastest-growing evangelical churches and ten vital liberal Protestant congregations, Wellman captures the leading trends of each group and their interaction with the wider American culture. He finds a remarkable depth of disagreement between the two groups on almost every front.
Religion and Violence across Time and Tradition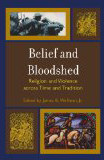 Copyright: Feb 2007
Publisher: Rowman & Littlefield Publishers
Summary:
Intended for students as well as scholars of religion and violence, Belief and Bloodshed discusses how the relationship between religion and violence is not unique to a post-9/11 world_it has existed throughout all of recorded history and culture. The book makes clear the complex interactions between religion, violence, and politics to show that religion as always innocent or always evil is misguided, and that rationalizations by religion for political power and violence are not new. Chronologically organized, the book shows religiously motivated violence across a variety of historical periods and cultures, moving from the ancient to medieval to the modern world, ending with an essay comparing the speeches of an ancient king to the speeches of the current U.S. President.
Christ and Culture in Mainline Protestantism

Copyright: Sep 2007
Publisher: University of Illinois Press
Summary:
'One of the nation's best known churches, Fourth Presbyterian is a thriving mainline church housed in an elegant Gothic building in Chicago's wealthy Gold Coast neighborhood. Less than a mile to the west is another world: the Cabrini-Green low- income housing projects. In this evenhanded account, James Wellman surveys the church's history of balancing its theological aims and its social boundaries and sheds light on the strengths and weaknesses of liberal Protestantism as a modern religious institution. Wellman shows how Fourth Presbyterian has moved from an establishment congregation to what he calls a lay liberal church working to overcome class and race inequality in its urban context while carving out its institutional identity in an increasingly pluralistic environment'.'By examining the church's four main leaders over the course of the century, Wellman tracks Fourth Presbyterian's gradual shift away from an evangelical role and toward the current focus on service, epitomized in the church's main outreach program, an extensive volunteer tutoring program that serves hundreds of Cabrini-Green residents each week. In documenting Fourth Presbyterian's struggle to meet the needs of its privileged congregants while challenging them to move beyond exclusive boundaries of race and class, "The Gold Coast Church and the Ghetto" opens a window into the past, present, and future of the Protestant mainline'.
Staking Claims in American Society (Religion in the Age of Transformation)

Copyright: Aug 1999
Publisher: Praeger
Summary:
Currently, public religion is in a time of flux and the notion of the common good—once associated with the Protestant voice in America—is openly contested by new religious coalitions seeking to communicate their version of the truth and plant their stake in the public domain. This edited volume reflects on the changing tone and form of the public voice of religion, on its function in American society, and on its relationship to the private world of religion. It proposes that public religion, when exercised in a civil and accountable way, can be a responsible and prophetic voice in public life and enrich the American experiment in liberal democracy. The contributors—first-rate scholars including Martin Marty and Robert Belah—focus on public religion's influence on controversial issues such as multiculturalism, economic inequality, abortion, and homosexuality.