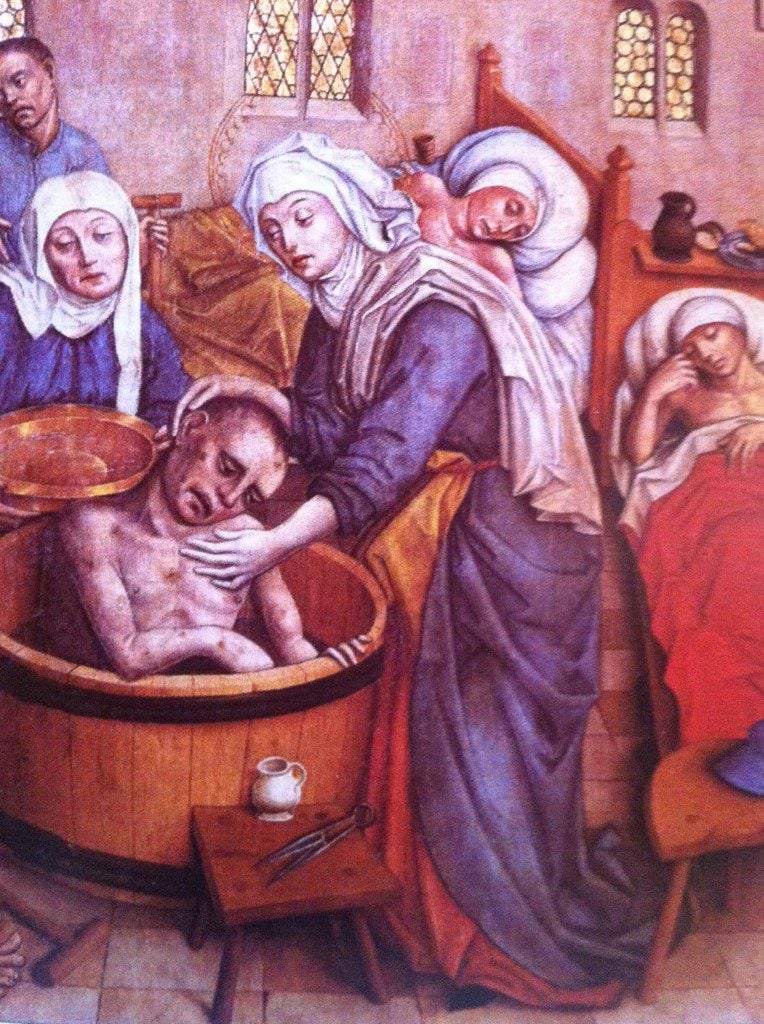 It's the feast of St. Elizabeth of Hungary (1207 – 1231), who, I might add, is a distant, distant relative, based on genealogical research that may or may not be accurate.
Kathryn Lopez has a feature on her, following her usual practice, "10 St. Elizabeth of Hungary Things that Caught My Eye Today" with a number of worthwhile links.  But let me tell my favorite "St. Elizabeth of Hungary things", based on her Life in the Golden Legend, per my copy from 1941, purchased in a used book sale:
1.  She was married, unusual for a saint, to the Landgrave of Thuringia (she herself was the daughter of the King of Hungary), and had three kids, and mourned her husband deeply when he died on his way to the Crusades, leaving her a widow at the age of 20.  Their marriage was happy and her husband supported her devotion even though it made her a misfit among the nobility.  Heck, the Life even mentions indirectly that had sex more than the three times necessary to conceive their three children.
2.  She was devoted to the poor and sick, both during her marriage and as a widow, not just donating funds but caring for them herself.  "Although she was sorely distressed by the least taint of the air, she shrank not from the sores of the sick, even in summer weather, for the love of God.  She applied their remedies, cleansed their wounds with the veil of her head, and handled them with her own hands, paying no heed to the protests of her handmaidens."
3.  She likewise insisted on living modestly herself, turning down jewels and ornate clothing and choice foods.
4.  Because they were, after all, a part of the ruling elite, there's this:
Master Conrad, indeed, forbade her to touch any of her husband's food about which she had the least doubt of conscience . . . For this reason her husband had assigned certain just revenues to her, and of these she lived, as did her chosen serving-women.
Which, many years removed from my earlier study of the middle ages, is particularly interesting:  how did she determine what was a "just revenue"?  I don't recall noticing this, back some 20-odd years ago.
5.  And as a further reminder that this is the middle ages, and a very different time from now:
She also caused herself ofttimes to be whipped by the hands of her serving-maids, in order to repay the Savior Who was scourged for her, and to quell all disorders of the flesh.
Why is #5 a "favorite thing"?  Because it's a reminder that, as much as items 1 – 4 are very modern ideals:  happy marriage, caring for the poor, living modestly and with justly-earned funds, Elizabeth was not a modern woman, and this self-mortification was a part of her world and her way of expressing her faith and her denial of self.