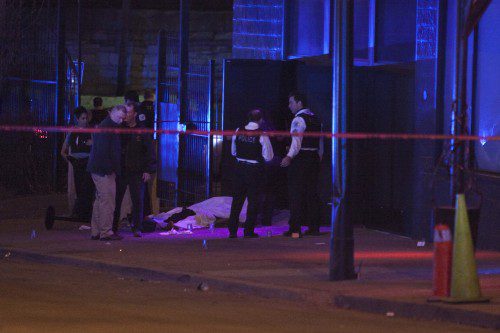 Yes, indeed, while on the one hand Chicago is fretting about violence on its streets, the city is about to celebrate an authentic, unrepentant terrorist, Oscar Lopez Rivera.  As reported by the Chicago Tribune,
Lopez was considered a top leader of the Armed Forces of National Liberation, or FALN, an ultranationalist Puerto Rican group that claimed responsibility for more than 100 bombings at government buildings, department stores, banks and restaurants in New York, Chicago, Washington and Puerto Rico during the 1970s and early 1980s.

The most famous was the still-unsolved 1975 explosion that killed four people and wounded 60 at Fraunces Tavern, a landmark restaurant in New York's financial district.
Now 74, he was granted clemency by President Obama just before he left office.  As reported in a Trib editorial at the time,
FBI agents discovered dynamite, detonators and firearms at two residences occupied by Lopez Rivera. At trial, a cooperating witness from the FALN testified that Lopez Rivera personally trained him in bomb-making.

So Lopez Rivera is neither a low-level offender nor a nonviolent one. Nor, crucially, is he repentant. . . .

In 1999, Lopez Rivera was one of 16 imprisoned Puerto Rican terrorists to whom then-President Bill Clinton offered executive clemency.

He refused, reportedly because Clinton's offer did not include one of the FALN members who had tried to break him out of Leavenworth.  [This individual had subsequently been released.]

In addition, Clinton required the Puerto Ricans to renounce violence as a condition of receiving clemency.

Obama's offer this week came with no such requirement.
Now, one might say that at the age of 74, with FALN no longer operating, he's no longer a threat.  But that's not the issue.  The issue is this: he's being given a hero's welcome in Chicago.
Thousands are expected to attend a Humboldt Park homecoming ceremony Thursday afternoon that organizers said will include a procession along Division Street and a gathering at the Humboldt Park Boathouse.

U.S. Rep. Luis Gutierrez and Ald. Roberto Maldonado are expected to attend the celebration. There will also be a street naming ceremony for Lopez Rivera — an honor that was sponsored in the Chicago City Council by Maldonado.

Supporters also plan to honor him at the June 11 Puerto Rican Day parade along New York's Fifth Avenue.
This is horrifying.  How can Chicago and its politicians preach against violence when they celebrate someone who committed violence and shows no remorse, and, near as I can figure, considers violence a perfectly fine tool to achieve one's objectives?  Lopez Rivera was hardly someone imprisoned for political reasons.  How is the violence of FALN any different than that of Chicago's gangs?
Or, rather, to move past the rhetorical question cop-outs: for Gutierrez and Maldonado to celebrate Lopez Rivera, for the City Council to give an "honorary" street sign, is surely something that the gangs are noticing, and, in a real way, it will set back the message of nonviolence, since the gangs, too, believe that their violence is justified.
Image:  https://commons.wikimedia.org/wiki/File%3ACrimeScene.jpg; By Supaflyrobby (Own work) [CC BY-SA 4.0 (http://creativecommons.org/licenses/by-sa/4.0)], via Wikimedia Commons