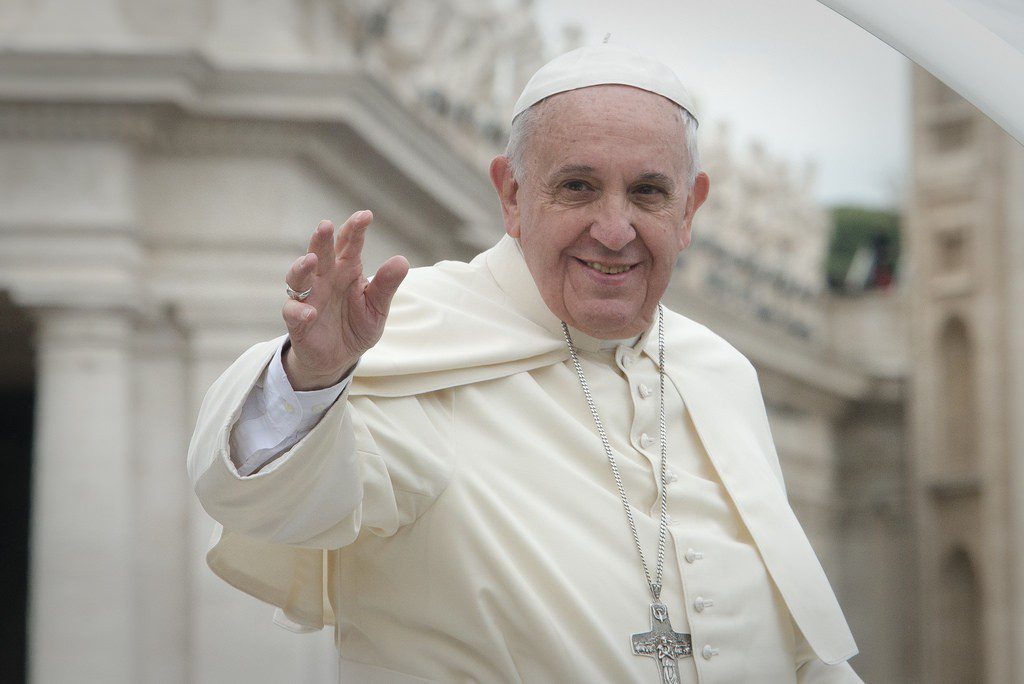 From the Wall Street Journal:  "China and Vatican to Sign Landmark Deal Over Bishops."  This wasn't paywalled when I read it earlier today; it is now, but the first paragraph is the new news part of it, and the rest mostly context:
China and the Vatican are set to sign a landmark agreement later this month ending a long struggle between Beijing's Communist rulers and the pope over who chooses the leaders of Catholicism in the world's most populous country, according to two people familiar with the matter.
A report from Radio Free Asia collects further reaction and provides additional context, and articles in the National Catholic Register, including this one from April, provide more background.  Fundamentally, the Vatican appears poised to recognize past state-appointed bishops and grant the state the power to appoint bishops in the future, with a supposed veto power only, in exchange for some promise of recognition of the underground Catholic Church.
What that really means isn't readily apparent — Cardinal Joseph Zen Ze-kiun of Hong Kong has been outspoken in his opposition, and skeptically says that it really means nothing more than requiring underground worshippers to join the  state-controlled Catholic Patriotic Association, which they have long resisted.  And this comes at a time when, in general, the Communist Party has become increasingly aggressive about using churches to promote party values rather than allowing them freedom to teach doctrine.
After all, it was not long ago that we were seeing reports that China was banning the online sale of Bibles (April), burning Bibles (this past week), and shutting down or destroying churches (also last week).  A year ago there were reports that in various regions children were being prohibited from attending church.  China is becoming more aggressively anti-Christian, not more tolerant.
And that's just with respect to Christianity.
Uighur Muslims are being held in internment camps under the claim of terrorism-prevention.
Conditions in re-education facilities and other internment camps have been described as inhumane. One former detainee said he was forced to wear "iron clothes", an outfit of metal claws and rods that left him immobile, for 12 hours as punishment for disobeying a guard. An ex-detainee of a women's detention centre told the Guardian she witnessed a woman having her feet and hands chained together for four days.

According to a Human Rights Watch (HRW) report on Monday, former detainees described being denied food, being shackled or forced to stand for 24 hours, and being subjected to solitary confinement and sleep deprivation.
And here's another bit of news about China, from The Intercept:  "
Google China Prototype Links Searches to Phone Numbers
."
Not only would the prototype Google China search engine, Dragonfly, link google searches to specific phone numbers, so as to identify who might be using suspect search terms, and directly censor unacceptable searches, but in addition,
Sources familiar with Dragonfly said the search platform also appeared to have been tailored to replace weather and air pollution data with information provided directly by an unnamed source in Beijing. The Chinese government has a record of manipulating details about pollution in the country's cities. One Google source said the company had built a system, integrated as part of Dragonfly, that was "essentially hardcoded to force their [Chinese-provided] data." The source raised concerns that the Dragonfly search system would be providing false pollution data that downplayed the amount of toxins in the air.
and
Meanwhile, Jack Poulson, a former Google senior research scientist, told The Intercept that he was one of about five employees to have resigned from the company due to Dragonfly.

"I view our intent to capitulate to censorship and surveillance demands in exchange for access to the Chinese market as a forfeiture of our values and governmental negotiating position across the globe," Poulson told Google bosses in his resignation letter.
Now, it's not surprising that a corporation, no matter how much it trumpets its virtues and corporate values, would be lured in by the promise of riches.  But it's dismaying when the Pope does so.  And it's very hard to comprehend.
It was in February that the Vatican made news when Bishop Marcelo Sanchez, the chancellor of the Pontifical Academy of Sciences said
they [the Chinese] seek the common good, subordinate things to the general good.

I found an extraordinary China; what people do not know is that the central Chinese principle is 'work, work, work.' … As Paul said: 'He who does not work does not eat.' You do not have shantytowns; you do not have drugs; young people do not have drugs. There is a positive national consciousness — they want to show that they have changed; they already accept private property.
Does the Vatican, does the Pope simply fail to understand the Chinese government's rejection of human rights?  Are they simply blind to what's going on there?  Or do they imagine that whatever is happening to Muslims, to house churches, they will be safe from if only they make nice with the government, and whatever inconveniences Chinese Catholics experience in terms of state interference are worth it?  Or is it about power and the objective to become more influential with the Chinese government, and with respect to issues such as the environment, regardless of how it impacts those Christians in China who attempt to live out their faith?
Image:  from Flickr: https://www.flickr.com/photos/113018453@N05/14037472464