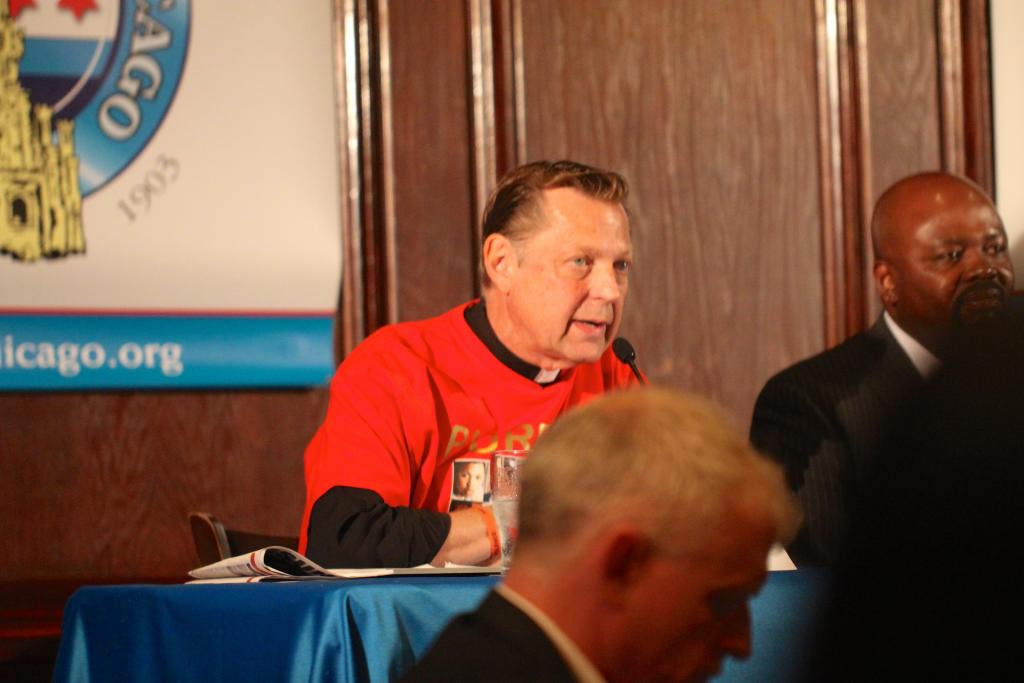 First, an update on the fallout from the Farrakhan speech at St. Sabina's Church in Chicago, as I originally wrote about last week:
As a do-over for the mealy-mouthed statement on May 9th, in which the Archdiocese generically denounced "discriminatory rhetoric," a new statement appeared on the Archdiocese website on May 10th, directly by Cardinal Cupich, in which he explicitly acknowledged and denounced Farrakhan's vile antisemitism, including his labelling of Jews as "Satanic."
There still appears to be no consequence with respect to Father Pfleger, however.  Cupich's statement reads as if he's merely an outsider, a powerless observer:
Without consulting me, Fr. Michael Pfleger invited Minister Louis Farrakhan to speak at St. Sabina Church in response to Facebook's decision to ban him from its platforms. . . .

I encourage Fr. Pfleger to accept the invitation of the Illinois Holocaust Museum and Education Center to meet with their leadership and dialogue with survivors.
But, of course, Cupich is Pfleger's employer.
Perhaps there's something going on behind-the-scenes?  Maybe Cupich is working out a deal with Pfleger that would allow him to save face?  I doubt it.
And Pfleger is unrepentant, by which I mean that his Facebook page seems to be his primary means of public communication and the only item posted since the May 9 speech (other than a generic Mother's Day greeting) is a picture of a banner at a church that reads, "Discipleship will cost.  Are you willing?" A further scrolling down of his page reveals all manner of commentary on racism and justice issues, but not the profusion of pictures and memes, which certainly indicates that this was a very intentional message — and his supporters took it that way, expressing their support for him specifically.  (His twitter feed generally consists of links to facebook posts.)
Pfleger's defense has repeatedly that Farrakhan had been a force for good among young black men in Chicago.  In the CNN article from immediately subsequent to his speech, he's reported as having said,
Farrakhan "has been a bold voice against injustice done against black people in this country and his voice deserves and needs to be heard."
And this is where we see the trains-running-on-time-ism.
Mussolini famously "made the trains run on time."  (Many) Germans who may have otherwise been squeamish about Hitler's totalitarianism felt the improvement in their standard of living, the unemployment rate drop, and the Kraft durch Freude vacations should be credited to him for a balanced assessment.
And Father Michael Pfleger appears to believe that, however much it may be less than ideal for Louis Farrakhan to call Jews "Satanic," since he does such a bang-up job helping young black men, eh, on the balance he's a net force for good.
Now, I admit I'm not sure entirely how to interpret this.  Perhaps he believes that Jews are "safe" and at no particular risk of any harm coming to them so that Farrakhan's words are simply not a big deal.  Perhaps he believes that Jews, as "white people," have an obligation to put up with a few mean words for the greater good.  Maybe Pfleger's constant railing against racism (which can all too easily shift from calling for justice and working for the greater good to preaching hatred and anger against perpetrators or even though who are not deemed "allies") has allowed antisemitism to creep into his own mindset.  I don't know.
And even if one wished to make the case that Pfleger might best dissuade Farrakhan from his antisemitism by working together, that's still a far cry from giving him a platform, let alone calling him "prophetic."
So, again, Pfleger should have been called out by one cardinal or another for his preaching and publicity stunts long ago, but if Cupich lets his actions here truly fade away, it really (further) calls into question Cupich's own judgement, and Cupich's commitment to Catholic doctrine versus merely the political and social activism that Pfleger and Cupich share.