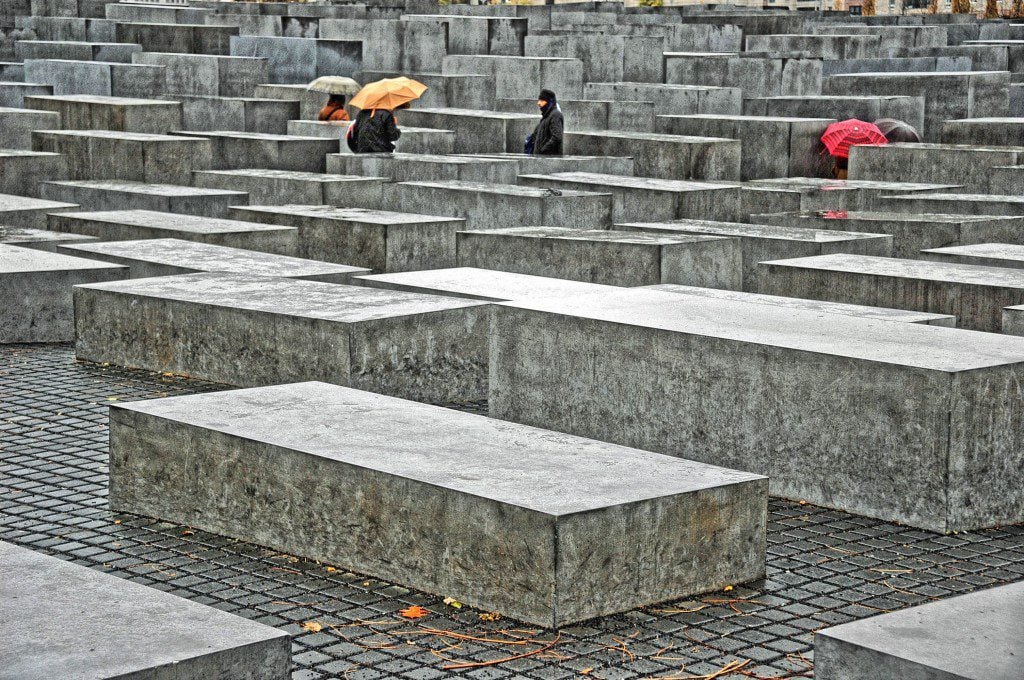 The other day, a tweet came across my feed, in the form of a retweet:
Instagram influencers. pic.twitter.com/XEPPRZFCAA

— Ian Miles Cheong (@stillgray) September 14, 2019
Yes, this is a young woman, posing in what is likely the same manner as she does when she's got a new outfit and wants to show off her curves, her clothing, her hair and makeup. But she's at the Auschwitz train tracks.
Does she fail to recognize the sheer horror of the site she's at? Has she been carted there as a part of a school trip, and is really indifferent to it? Is she, and are a certain slice of her peers simply so conditioned to posing in front of a camera and instagramming the result, that this is simply her instinctive reaction? The individual sharing the picture has simply copied it without any identifying information, which is certainly better than doxing her, but also means we have no idea if the caption to the picture was "love the way the jeans show off my butt" or "what a moving experience to have been here."
At the same time, back in March, as ABC News reported, the Auschwitz Memorial twitter account asked visitors to be respectful by not walking on the train tracks as if a balance beam:
When you come to @AuschwitzMuseum remember you are at the site where over 1 million people were killed. Respect their memory. There are better places to learn how to walk on a balance beam than the site which symbolizes deportation of hundreds of thousands to their deaths. pic.twitter.com/TxJk9FgxWl

— Auschwitz Memorial (@AuschwitzMuseum) March 20, 2019
And the report also referenced complaints I'd read before, regarding the Berlin Holocaust Memorial:
One of the hot-spots on the debate surrounding inappropriate social media behavior is Berlin's Memorial to the Murdered Jews of Europe, comprised of 27,111 cement slabs of different heights. Its uneven concrete floors and vast expanse give visitors the feeling of losing themselves inside the labyrinthine interior. And its abstract design has prompted debates over how visitors should interact with it, as many choose to sunbathe on the stones or use them as a picnic spot. . . .
The memorial's designer, New York City-based architect Peter Eisenman, intended the space to be used freely, not necessarily as a sacred space.
"The concept is that it's an open place and that visitors experience it for themselves and see what they want to do in this space, what it does to them," Felizitas Borzym, a spokesperson for the memorial, told ABC News.
And one can, indeed, see plenty of Instagram photos at this memorial in which the subjects do their best to look sultry, or stylish, or simply artistic.
For example:
View this post on Instagram
View this post on Instagram
Now, granted, these are a bit cherry-picked. Most of the photos were simply of the memorial itself. Whether the photographers were feeling contemplative or simply liked the look of the lighting and the shadows, who can say?
But recall again the description of the intent of the memorial:
Its uneven concrete floors and vast expanse give visitors the feeling of losing themselves inside the labyrinthine interior.
Seems to me, if visitors instead perceive of it as a "fun" place to be, with interesting photographic possibilities, the architect, however highly-praised, has failed in his creation.
And talking to my son about this, he said, "mom, take a look at the lynching memorial."
Now, the site, the National Memorial for Peace and Justice, is about more than just lynching. Located in Montgomery, Alabama, it is a memorial and a museum about slavery and the Jim Crow legacy, and the tagged photos on Instagram encompass both elements. Now, the two sites aren't entirely comparable as Berlin is a tourist attraction drawing visitors from across the globe for whom this is a quick stop among many other sites to be checked off in a busy day, and the National Memorial for Peace and Justice visitors have made a point of visiting this site because of its history, but I think there's also something about the design of the site that provokes contemplation, and those the photographers showed visitors who were serious and contemplative rather than sultry or playful:
So, again, I'm no expert, but it appears to me that the second designer/design team was far more effective in their mission.
Memories will face. Historical events will recede into the past. If we want future generations to remember them and to truly feel their significance, current generations have a responsibility to share that story effectively, rather than just griping about the insensitivity of Kids These Days.
And this is where I invite reader comments. What memorials are particularly moving to you? Which ones appear to be more about the prestige of the designer than anything else?