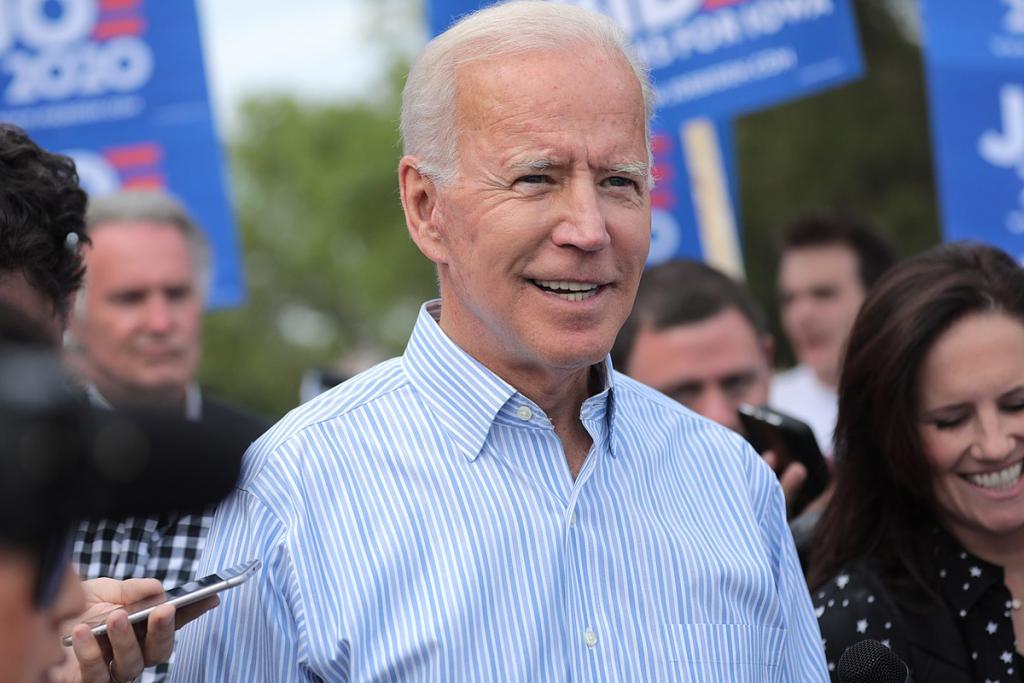 Will Joe Biden govern as the moderate that he presented himself as? Or will he succumb to the temptation to try to be the "next FDR" to be remembered by posterity? Or is he, in fact, so frail that he has no control over anything at all, and it's all a matter of who, behind the scenes, is controlling him?
There's a new document out, the Unity Task Force Recommendations, which is an extended policy platform and which should provide some more concrete insight. So let's read it, focusing on the specific plans rather than the expansive statements of intention:
Climate:
the United States—and the world—must achieve net-zero greenhouse gas emissions as soon as possible, and no later than 2050.

To reach net-zero emissions as rapidly as possible, Democrats commit to eliminating carbon pollution from power plants by 2035 through technology-neutral standards for clean energy and energy efficiency. We will dramatically expand solar and wind energy deployment through community-based and utility-scale systems. Within five years, we will install 500 million solar panels, including eight million solar roofs and community solar energy systems, and 60,000 made-in-America wind turbines. . . .

Democrats will lower families' energy bills by making energy-saving upgrades to up to two million low-income households and affordable and public housing units within five years, creating hundreds of thousands of jobs and promoting safe, healthy and efficient homes. . . .

We will reduce harmful air pollution and protect our children's health by transitioning the entire fleet of 500,000 school buses to American-made, zero-emission alternatives within five years.
Note that nowhere in this and other such promises is there any comment on the cost of these actions.
Criminal Justice system:
End the school-to-prison pipeline by better funding schools. . . invest in after-school programs, etc.
Democrats will establish strict national standards governing the use of force, including permitting deadly force only when necessary and a last resort to prevent an imminent threat to life. . . .

Democrats will decriminalize marijuana use and reschedule it through executive action on the federal level.
Economy:
We will reform the current unemployment insurance system to enable more workers to remain attached to their jobs, including by promoting payroll support and work-sharing programs with generous rates of wage replacement and requirements that employers maintain workers' benefit programs. For those workers who do lose their jobs, we will expand the unemployment insurance system to cover more workers, including independent contractors, gig, part-time, and tipped workers, and raise wage replacement rates, which are far too low in many states. Democrats will also make long-overdue investments to upgrade states' technology to make sure that unemployed workers can quickly and efficiently access the benefits they are owed. . . .

We will immediately enact robust paid sick leave protections as part of the COVID-19 response for all workers in the economy, including contractors, gig workers, domestic workers, and the self-employed. . . .

Democrats will fight to raise wages for working people and improve job quality and security, including by raising the federal minimum wage to $15 an hour. . . .

We will repeal so-called "right to work" laws that undermine worker power and lead to lower wages and less protection for workers across the economy. . . .

And we will strengthen labor rights for the more than 20 million public-sector employees in the United States, including by providing a federal guarantee for public-sector employees to bargain for better pay and benefits and the working conditions they deserve, and vigorously protecting all private-sector workers' right to strike without fear of coercion, interference, and undue delay. . . .

Democrats will implement a high-quality paid family leave system that protects workers from the unfair choice between attending to urgent health or caretaking needs and earning a paycheck. We will fight to ensure all employers provide at least 12 weeks of paid family and medical leave for all workers and family units, to enable new parents to recover from childbirth and bond with their newborns or adopted children and allow all workers to take extended time off to care for themselves or an ailing relative. Democrats will also work to enact universal, high-quality prekindergarten programs for 3- and 4-year-olds, and expand the Child and Dependent Care Tax Credit to help make child care more affordable, and make significant new investments to increase quality child care options for parents and improve compensation and benefits for child care providers. . . .

A guiding principle across our tax agenda is that the wealthiest Americans can shoulder more of the tax burden, including in particular by making investors pay the same tax rates as workers and bringing an end to expensive and unproductive tax loopholes. . . .

Democrats believe the COVID-19 pandemic, and President Trump's recession, demand unprecedented, transformational federal investments to create family-sustaining and union jobs. . . .

We believe that the world's richest nation should have the world's best infrastructure system. That's why we will invest in resilient, sustainable, and inclusive infrastructure. Democrats will launch a clean energy revolution through historic investments in clean energy, clean transportation, energy efficiency, and clean and advanced manufacturing. We will repair our highways, roads, bridges, ports, and airports, and launch our country's second great railroad revolution by investing in high-speed rail. We commit to public transportation as a public good, including ensuring transit jobs are good jobs. We will make sure that every community in America has access to clean, reliable drinking water and safe wastewater systems in their homes. We will modernize our schools and end the digital divide that deprives more than 20 million Americans of access to broadband internet. . . .

Democrats will supercharge investment in the Housing Trust Fund to greatly expand the number of affordable housing units on the market, reduce home prices, and create jobs. We commit to providing Section 8 housing support for every eligible family. . . .

Democrats commit to the important first step of supporting H.R. 40, which would establish a commission to examine how the legacy of 246 years of slavery and another century of Jim Crow segregation continues to impact the economic prospects of Black Americans today, and to recommend remedies.. . .

Democrats will pursue a trade policy that puts workers first. We will negotiate strong and binding standards for labor, human rights, and the environment in the core text of our trade deals, including enforcement, because having fair trade means that no trading partners should be able to capture market share by undermining our product, consumer, environmental, or labor standards. . . .

Democrats are proud to be the party of Social Security, the most enduring thread in our nation's social safety net. We will enact policies to make Social Security more progressive, including meaningfully increasing minimum benefit payments, increasing benefits for long-duration beneficiaries, and protecting surviving spouses from benefit cuts. In light of weakened retirement security for unpaid caregivers and caregivers for family members, who sacrifice not only wages but Social Security benefits when they swap paid labor for unpaid care work, Democrats support Social Security reform which better accounts for the challenges facing unpaid caregivers— including incremental reforms to the benefit formula to mitigate the penalty for unpaid care. Democrats will reject every effort to cut, privatize, or weaken Social Security, including attempts to raise the retirement age, diminish benefits by cutting cost-of-living adjustments, or reduce earned benefits. We will put Social Security on a path to solvency and strengthen it in perpetuity.

We will also make it easier to save for retirement beyond core Social Security programs. Democrats will act to protect public and private pensions to ensure workers keep the benefits they have earned. We will eliminate penalties for retirement benefits that unfairly punish educators and other public-sector workers. And Democrats will equalize the network of retirement saving tax breaks so that working people can build their nest eggs faster, while also providing more equitable access to these accounts through automatic enrollment and relaxed contribution restrictions for unpaid caregivers.
(Some commentary on the retirement paragraphs: "eliminate penalties . . . that unfairly punish educators" means the removal of the Windfall Elimination Provision." "Equalize the network of retirement savings tax breaks" means eliminating the tax deduction and moving to a credit system so that everyone gets the same fixed government benefit into their retirement account.)
Again, no comments on where the money comes from to implement these promises, especially the infrastructure spending.
Education:
"Universal early childhood education" — pre-K for all, plus unspecified boosts in subsidies for childcare.
We will act expeditiously to reinstate Department of Education guidance protecting transgender students' rights under Title IX and make clear that schools shall not discriminate based on LGBTQ status. . . .

we will fight to make public colleges and universities tuition-free for students whose families earn less than $125,000—roughly 80 percent of the American people. . . .

Democrats support making community colleges tuition-free for all students, including Dreamers. Our nation's network of two-year community colleges provide accessible, high-quality education for students of all ages. . . .

Democrats will work to authorize up to $10,000 in student debt relief per borrower to help families weather this crisis. . . .

Democrats will also take steps to ease the burden of high monthly student loan payments by pausing monthly billing and stopping interest from accruing on federal student loans for people earning less than $25,000, and capping payments at no more than 5 percent of discretionary income for those earning more than $25,000. After 20 years, remaining federal student loan debt should be automatically forgiven. . . .
Health care:
To achieve that objective, we will give all Americans the choice to select a high-quality, affordable public option through the Affordable Care Act marketplace. The public option will provide at least one plan choice without deductibles, will be administered by the traditional Medicare program, not private companies, and will cover all primary care without any copayments and control costs for other treatments by negotiating prices with doctors and hospitals, just like Medicare does on behalf of older people. The lowest-income Americans not eligible for Medicaid will be automatically enrolled in the public option at no cost to them, although they may choose to opt out at any time. Everyone will be eligible to choose the public option or another Affordable Care Act marketplace plan, even those who currently get insurance through their employers, because Democrats believe working people shouldn't be locked in to expensive or insufficient health care plans when better options are available. . . .

We will empower Medicare to at last be able to negotiate prescription drug prices for all public and private purchasers—for families and businesses, as well as older Americans—no matter where they get their coverage. We will also ensure and enforce that the price of brand-name and outlier generic drugs cannot rise faster than the inflation rate. . . .

we can reduce out-of-pocket costs for families while improving the quality of health care for all. We will make it easier for working families to afford high-quality insurance in the Affordable Care Act marketplaces by ensuring that no one pays more than 8.5 percent of their income in premiums and eliminating the cap on subsidies . . .
Immigration:
Democrats believe it is long past time to provide a roadmap to citizenship for the millions of undocumented workers who are an essential part of our economy and of the fabric of our nation. We will fast-track this process for those workers who have been essential to the pandemic response and recovery efforts, including health care workers, farmworkers, and others. We will also eliminate unfair barriers to naturalization, reduce application backlogs, and make our immigration processes faster, more efficient, and less costly. These reforms will strengthen our communities, our families, and our country. . . .

We support legislation to treat the spouses and children of green card holders as immediate relatives and end their unfair separation. We will work with Congress to eliminate immigration barriers, such as the 3- and 10-year bars, and remove the 10-year waiting period for waivers to the permanent bars that keep loved ones apart. . . .
From here there are extended versions of the initial summaries. I'm getting tired, so I'm scrolling through and see, for instance.
Allow student loans to be discharged in bankruptcy (p. 86).

Increase the current home care workforce by at least 600,000 at positions that pay at least $30,000 annually and offer benefits. (p. 95).
So there you go. He doesn't promise a single-payer healthcare system, nor a complete loan forgiveness or free tuition for all. But these are pretty substantial promises, relative to the more moderate positions he took, especially in the debates.