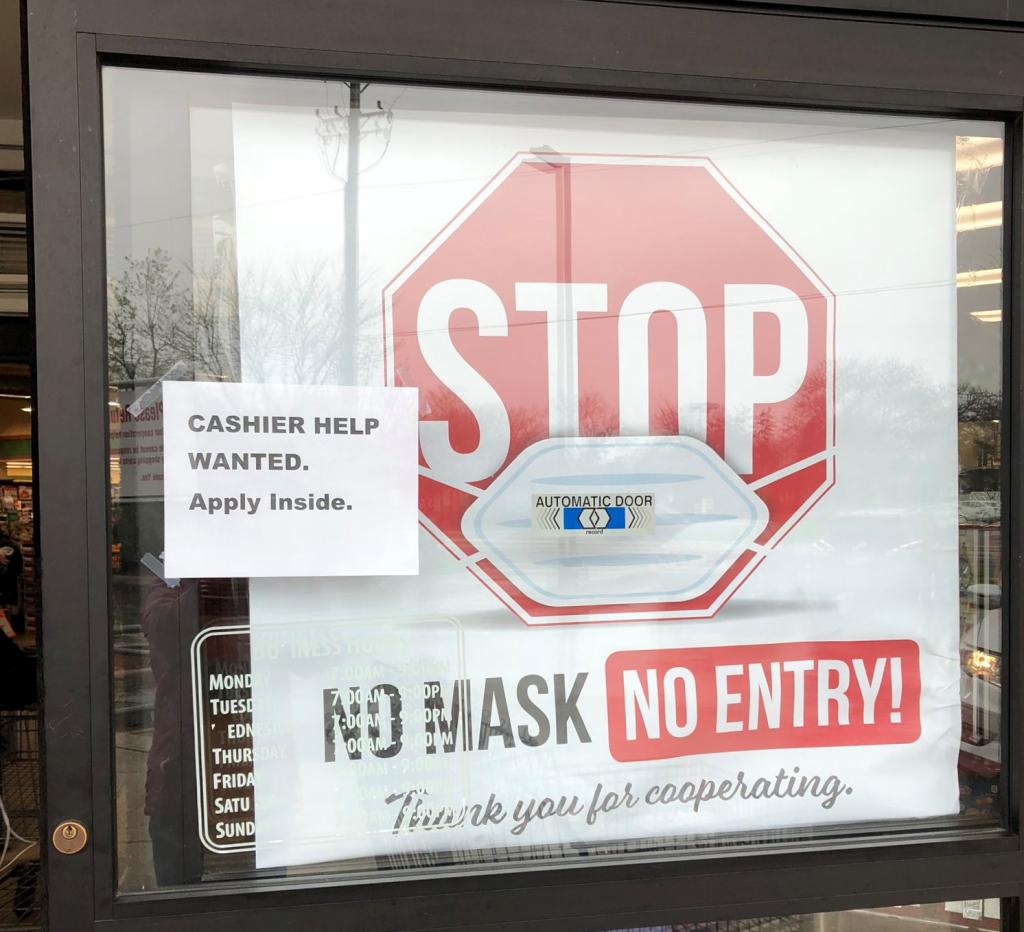 To start, a disclosure: a little under two years ago, I was most definitely an "early adopter" of mask-wearing, even to the point of sewing several dozen for the staff at Mom and Dad's assisted living community.  Since then, I have not seen a study demonstrating the cloth masks are effective, and I have seen studies that mask-wearing proponents claimed to be solid evidence, turn out to be deeply flawed, with results that do not reach statistical significance thresholds or with lack of a proper comparator group.  (For example, studies showing lower-than-the-community transmission rates in schools using mitigation strategies including masks were cited as proof even without evidence of the particular effect of face masks, and other studies discarded the fact that face mask-wearers were also likely to follow other precautions such as avoiding crowded indoor spaces.)  It is also becoming increasingly clear to me that it is simply not right for children to be obliged to mask 5 days a week, for seven hours a day (or longer for small kids in daycares or older kids in aftercare) for such a long period of their life, that the harms of masking are accumulating even if there is not necessarily a calculable cost that can be assigned to it, and that the harms are worse for the youngest children.
All of which means I was pleased when Gov. Pritzker's indoor mask requirement was lifted over the summer, dismayed when it was reimposed in the fall (first for schools and then for all indoor spaces), and pleased again when, quite to my surprise, a downstate judge ruled last Friday that the school mask mandate was invalid.  Although the Attorney General is appealing, for the time being, school districts, and most Catholic schools, have acceded to the ruling and stated that masks are optional/recommended for students and teachers, though most students, either out of conviction or peer pressure, wore them today anyhow.
But despite the announcements from one school district after the next that they would abide by the ruling, the Archdiocese of Chicago has refused to, and, what's more, has provided one justification after the next for its decision.
Let's review these.
Recall, to begin with, that last school year, Catholic and other religious schools stood almost alone in their commitment to staying open all year long.  In fact, that commitment saw boosted enrollment numbers both last and this year.  But now, under a new superintendent, they seem determined to throw all this goodwill away.
First, as unearthed by twitter, the original announcement from August 17:  they had conducted a survey showing 60% of parents wishing mandatory masking for unvaccinated students, and a similar 60% wished mask-optional for vaccinated students.  But
It is clear that opinions vary on the subject and that no one approach will satisfy all families.  It is important to note that the survey was administered prior to the recent Delta variant surge in Illinois, so it is possible a survey taken now would indicate a higher preference for universal masking. . . .

The survey was also completed before the governor's Aug. 4 Executive Order mandating that masks be worn indoors by all teachers, staff, students, and visitors to public and private schools, regardless of vaccination status.  We will follow this mandate.  We believe it is the right thing to do to provide a safe learning environment at this time.  We have also learned that the Illinois State Board of Education will revoke the recognition status f any school — public, private, or parochial — that violates the mandate.  Loss of recognition would prevent students from participating in the state's Tax Credit Scholarship program, affect the status of diplomas for high school graduates and prevent schools from participating in Illinois high school and elementary school association athletic competitions.
And here things sat, though there were rumblings of parents protesting, letter-writing, etc.
Then, on Friday, when the ruling came out, the Office of Catholic Schools sent an e-mail to parents, which said, in part:
The Governor has already indicated he will appeal this ruling, which might lead to its immediate reversal. We are closely monitoring the case, which will likely involve continued litigation. Because future court rulings may go back and forth, and because changing our policies back and forth would create confusion and disruption in our schools, we will continue the current mask policy for now.

Once the case is concluded and a final decision is rendered, we will determine if we are able to make masks optional in our schools based on several considerations, including:

the outcome of the court case and subsequent appeals,
other public health mandates that may affect our schools, such as local indoor mask requirements, and
school- and community-level transmission rates at that time.

If these conditions allow, we will make masks optional in our schools. All of this could take a little time, so we ask for your patience as we work through all of the issues. We will keep you informed as developments warrant. . . .

We would like nothing more than to return to a day when our teachers, staff, students and families can remove masks and relate once again to one another with visible smiles. We hope that day is coming soon.
The letter also repeatedly reminded families that the schools had provided in-person instruction — but, with the exception of a Chicago teacher's strike, this is no longer a means of standing apart from public schools.
Two days later, on Sunday, after various school districts and, indeed, most other dioceses in Illinois declared they would be mask-optional at least while the appeals play out, the diocese issued another e-mail, taking a harder line.
How Can We Require Masks?
The judge's Temporary Restraining Order (TRO) was issued in a case involving students in several public school districts across Illinois. The Archdiocese of Chicago and other Catholic dioceses across Illinois are not parties to that lawsuit and thus, the Sangamon County Circuit Court has no jurisdiction over Catholic schools. The TRO does not affect our archdiocese.

Further, regardless of that case, a nonpublic school can require masks independent of the status of a governor's order. We required masks in our schools last year without an executive order and have the legal ability to continue to do so now.

Why Are We Still Requiring Masks?
We are continuing to require masks in our schools because we remain concerned about the number of COVID-19 cases in our schools and communities. Nationally, according to the American Academy of Pediatrics, over 3.5 million coronavirus child cases were reported in January. In addition, many teachers tell us that they have concerns about working in a mask-optional environment. . . .

We are studying the numbers closely and we will lift the mask mandate in our school as soon as we believe it is safe to do so. When we do, we will be confident that we are safeguarding the health of our students, teachers and staff. We look forward to that day and hope it comes soon.

In the meantime, including tomorrow morning, we will continue to apply the same mask requirements that have been in place for the past year and a half.
And to this they added a letter by the Archdiocese's General Counsel, with an even more aggressive tone:
To Whom It May Concern,

The schools of the Archdiocese of Chicago are privately owned and operated by the Catholic Bishop of Chicago, a corporation sole, under the religious authority of the Archbishop of Chicago.  These private religious entities are not parties to the ongoing litigation surrounding the governor's executive orders related to masking and are not bound by court orders issued against the State of Illinois in that litigation.

To the extent the State issues a valid order to require masks in all pubic and non-public schools, that order could bind the archdiocese, but the absence of such a government order does not prevent the archdiocese from requiring all who enter school property to wear a mask.  Thus, while the State's current appeal of the ruling staying the State's mandate could result in a reinstatement of that mandate, the policy of the archdiocese does not depend legally on such an outcome.

The Archdiocese of Chicago has made its own determination, based on medical advice and its own religious teachings, to require that masks be worn in its schools until further notice.  As a private religious institution, the archdiocese has the authority to exclude persons from its property who do not comply with this requirement.  The archdiocese is authorized to utilize private security or to call the police to remove persons who refuse to leave its premises after having been instructed to do so.

James Geoly

General Counsel

Archdiocese of Chicago
In other words, they've gone from "our hands are tied," to "it would be confusing," to "it is our choice to mandate masks for as long as we want to."  Whether they fully understand exactly how many parents are vowing to pull their kids from Catholic schools, and how fragile their enrollment numbers are, I don't know.  Sometimes, honestly, I think that Cardinal Cupich views his mission as that of winding down the Catholic Church in Chicago, with as gentle a transition as possible.  A church with declining attendance is a win, because that takes away their ability to complain about being closed to solve a priest-shortage problem.  If that's true, this action certainly accelerates that change.
Gov. Pritzker has previously doubled-down on "I alone will decide when masking is done."  There is no off-ramp for the state of Illinois.  And it certainly appears as if the same is true for the Archdiocese of Chicago, where it is apparently now an article of faith that we mask — and where, indeed, the Cardinal insists that we must all mask whenever we leave our homes and even, in some circumstances, within our own homes ("Please wear a mask every time you leave your home and inside your home if there are vulnerable individuals in your family").
This is maddening to watch.  The Cardinal's "it's my way or the highway" approach to running the diocese, so evident with the treatment of Latin mass Catholics, is all the more evident here — and he fails to recognize that people will, in fact, choose "the highway."