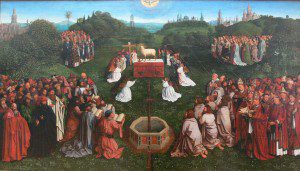 "Hate" might be too strong a word. Say "dislike," "display skepticism towards," even "avoid." Think of the pacifist faced with St. Joan of Arc, or, by contrast, the crusade-minded Christian who has to reckon with Abba Moses the Ethiopian or St. Martin of Tours. This is, often, even true of our political commitments: the Right-leaning American wrestles with Blessed Óscar Romero while the Left-leaning one contends with, say St. Junipero Serra.
But typically our resistances to specific saints are not so obvious or engrained. We grow up around particular devotions and others pass from our minds, perhaps even become associated with those of our cultural, ideological, or political opponents: "oh, those people are into Fatima" or "of course, he's talking about Francis of Assisi." You might say that time and distance make this less pronounced: the radical poverty of St. Clare can be effaced or made to fit American conservative ideology while the warrior-king St. Louis can be fitted into a Left-leaning American mold. We prefer the Dominicans or the Franciscans, and so on, and so on. Regardless however, we find ourselves liking and praying to specific saints over other ones, not just in an exclusive way, but often in a way that demarcates certain holy people as the property of our "foes."
This, however, must be wrong; God's love is too strong for such dislike. Or will we ignore the Johannine author?
In this is love brought to perfection among us, that we have confidence on the day of judgment because as he is, so are we in this world. There is no fear in love, but perfect love drives out fear because fear has to do with punishment, and so one who fears is not yet perfect in love. We love because he first loved us. If anyone says, "I love God," but hates his brother, he is a liar; for whoever does not love a brother whom he has seen cannot love God whom he has not seen. This is the commandment we have from him: whoever loves God must also love his brother. (1 John 4:17-21)
If these people are the holy ones of God's Church, they must fit into our lives somehow.
Thomas Merton provides the beginning of an answer in his autobiography, in which he reflects upon the sort of saints he loved and one in particular whose sainthood perplexed him. The monk venerated the poor and the outcast: he had immense respect for people like Sts. Damian of Molokai, John Bosco, Francis, Jerome, and Simon the Stylite. For him, this was an age of decadence that demanded "spectacular heroism."
But, in St. Thérèse of Lisieux, he saw something quite different:
But what astonished me altogether was the appearance of a saint in the midst of all the stuffy, overplush, overdecorated, comfortable ugliness and mediocrity of the bourgeoisie. Therese of the Child Jesus was a Carmelite, that is true: but what she took into the convent with her was a nature that had been formed and adapted to the background and mentality of the French middle class of the late nineteenth century, than which nothing could be imagined more complacent and apparently immovable. The one thing that seemed to me more or less impossible was for grace to penetrate the thick, resilient hide of bourgeois smugness and really take hold of the immortal soul beneath that surface, in order to make something out of it. At best, I thought, such people might turn out to be harmless prigs: but great sanctity? Never!
I can identify. When I was younger, feeling out my faith, I found out about the Little Flower online (because, well, she's such a popular person to whom to be devoted). As time went on, it became clearer to me that she and I were not, necessarily anyway, seeking the same road to sanctity (my inner contrarian likely played a role too). I appreciated her emphasis on the minutiae of life, but my heart was on fire for the dirt-caked, foul-smelling medieval friars in the slums, the Desert Fathers sweating into sackcloth beneath the hot Nubian sun.
I was wrong and so was Thomas Merton. He says as much:
As a matter of fact, such a thought was a sin both against God and my neighbor. It was a blasphemous underestimation of the power of grace, and it was an extremely uncharitable judgment of a whole class of people on sweeping, general, and rather misty grounds: applying a big theoretical idea to every individual that happens to fall within a certain category!
In fact, Merton came to love her, to be truly devoted to her: how? Well, he recognized that she took what she was given, took the world she knew, and sanctified it. Even if she "kept everything that was bourgeois about her […] her nostalgic affection for a funny villa called 'Les Buissonnets,' her taste for utterly oversweet art, and for little candy angels and pastel saints playing with lambs so soft and fuzzy that they literally give people like me the creeps," she transcended these things. Merton struck up a spiritual friendship in appreciation precisely of his differences with the Little Flower, and this blossomed into fruit in his own life; he entrusted his brother to her and came to see her as "the greatest saint there has been in the Church for three hundred years."
In other words, it is true that she was bourgeois, comfortable, and horribly sentimental: but are those not things to see her redeem, qualities to inspect and understand from within, instead of cynically write-off from without? One may dislike bourgeois sentimentalism and still discern how the Little Flower's spirituality bears fruit from it. Merton found the willingness to look past her honey-sweet poetry and her red-cheeked Christ childs to the truth of her sanctity, to the blessings God worked in her in her particularity as a human being—and he grew because of it.
I know that I need this reminder; I know that the irony and the cynicism of this age have too often made me a judge without thinking, a prideful wretch without listening. Thomas Merton has helped me see another way, the way of non-judgment and of charity, the way of God's infinitely diverse Church, for "[t]here are no two saints alike: but all of them are like God, like Him in a different and special way."