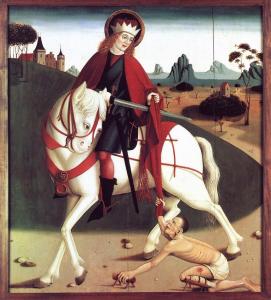 "A dog is better than I am, for he has love and he does not judge." – Abba Xanthias

"The books of conscience are opened, and the judgment begins." – St. Alphonsus Liguori
I tend (perhaps like most people) to think of myself as a decent judge of character. I think I can sniff out those are arguing in bad faith, those who don't want to reflect on the conversation at hand, those who will never give an inch in any discussion. I am, of course, often quite wrong in my estimate of myself. What I see as a keen eye, I can only imagine God and my neighbor see as pomposity, something altogether silly and inflated. In re-reading Marilynne Robinson's Gilead, this has only become clearer and clearer to me, nearly to the point of self-disgust. The narrator, speaking of his one-eyed, abolitionist pastor of a grandfather, reflects:
Well, I'll confess I did feel a certain embarrassment about him. It may even have been shame. And it was not the first time I had felt it, either. But I was a child at the time, and it seems to me he might have made some allowance. These people who can see right through you never quite do you justice, because they never give you credit for the effort you're making to be better than you actually are, which is difficult and well meant and deserving of some little notice. (98)
On considering this passage, I've come to think it pairs well with something St. Teresa of Ávila once wrote: "Be gentle to all, and stern with yourself." It seems to me a humbling reminder of what Solomon prays in 1 Kings:
Render to each and all according to their ways, you who know every heart; for it is you alone who know the heart of every human being. (1 Kings 8:39)
Only God knows the hearts of human beings. He will judge them. But we know not even ourselves: "Mihi quaestio factus sum," writes Augustine. "I have become a question to myself."
I needed this reminder because I feel an awful lot like the old reverend in Robinson's novel. I'm confident, perhaps too confident, in my own ability to judge. I am (though often not enough) strict with myself; I extend this strictness to others. I ruminate: "why must I always be the one extending my hand? Why does this person always simply get his or her way? Why is it that I must sacrifice? When will they grow? When will they learn to be even a little bit selfless?" Too often I ask myself this without the least hint of irony—I become (in some unfortunate twist on Augustine's words) the butt of my own joke.
I fail even to judge myself. What business do I have attempting to judge the dispositions and efforts of others? All my education, my years of schooling, my years of going to Church, my time spent in prayer: has this prepared me to judge my neighbor? It seems, at times, that in spite of my own religiosity, I allow myself to slip into an insidious pride; I allow myself (and I should really go to church more, pray more) to consider myself something more than others. In time, I find my heart searching out others, detecting their supposed lack of effort, but rarely do I make myself "gentle to all, and stern with" myself.
The old reverend in Robinson's novel is a better man than I. In the story, he's an eccentric, but unequivocally good-hearted, stealing from his own family to give to the poor, making himself available to any and all in need, defending the basic dignity of all people regardless of skin color. If he, a man of good morals, something of a holy fool, can fall into this trap, what hope is there for me?