Galatians 6:1-5 Partners and Mentors
I want to talk to you today about the various responsibilities of a Christian father. While I will use Father's Day as the theme for today's sermon, the principles can apply to the church in general as well.
Galatians 6:1-5 is a passage which describes two different words. A "load" is like someone's backpack. You carry various things with you every day. For example, in my pocket, I carry a wallet for identification and to hold my money and credit cards. I also have my keys and my smartphone. I could put all of these items and place them in a backpack and carry them. The idea of the load is that I carry things with me everything which I am expected to carry.
My load is whatever responsibilities God gives me. In the following diagram, I want to show you various responsibilities: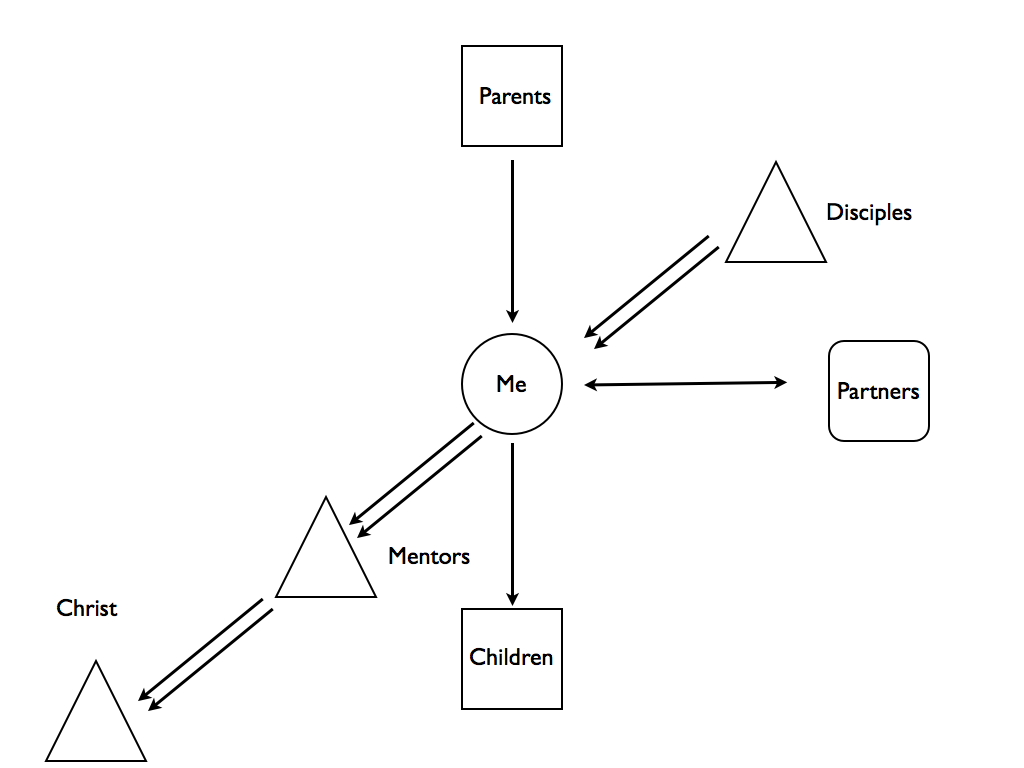 All men are called to be children of their parents. As they grow up, they become parents to other children. This is the physical family realm. In this realm, I am responsible to listen, and to teach. At the same time, I work with others. Either I work with other people at my place of work, or I work with others from time to time at various tasks. These are my partners. If I want to get things done, I need to work with others. My partner in my family realm is my spouse. My wife is my best friend and my partner. I work with her, not against her. I don't treat her like a child, but as an equal partner. In the spiritual realm, my partner (who could include my wife, but not always) works with me. We work together. Then there are the spiritual responsibilities. I have partners whom I work with – they are called my partners. I follow other Christians as they follow Christ. I also have people who follow me. The people who follow me are called my disciples. The people who I follow are called my mentors. I will seem more "spiritual" to my disciples. I will also notice that my mentors are more "spiritual" than me.In the church, therefore, everybody has a partner, and everybody has a mentor, and everybody has a disciple.
So everyone has their own load. They have their own responsibilities. The Bible says that we are called to carry our own load.
Carry your own load.
"For each person will have to carry his own load."
(Galatians 6:5, HCSB)
Your load is whatever responsibilities God gives you
However, sometimes we encounter sins that become like heavy burdens. These burdens are too hard to bear. Sometimes, I need to call on others when I have a burden.
Get help with your burden.
"Brothers, if someone is caught in any wrongdoing…" (Galatians 6:1, HCSB)
The word for wrongdoing here means to "relapse" or as we would say: "fall off the wagon."
wrongdoing = sin relapse or to "fall off the wagon"
It is like having a monkey on your back. This monkey on your back (which is a reference to having a drug habit or problem which you can't kick) is so heavy that you can't get it off. Sin is like this. Even for believers.
So some believers are going to have to reach out to their partners and their mentors to get the help they need. The church should be designed to help one another when this happens. When you get the help you need, you should know that you now have gone through an experience which will equip you to mentor someone else when they encounter the same sin.
The Bible says here in Galatians that we should help others when they encounter their burdens.
Offer to help someone with their burden.
"Brothers, if someone is caught in any wrongdoing, you who are spiritual should restore such a person with a gentle spirit, watching out for yourselves so you also won't be tempted." (Galatians 6:1, HCSB)
""If your brother sins [against you], go and rebuke him in private. If he listens to you, you have won your brother." (Matthew 18:15, HCSB)
Galatians 6:1 is similar to Matthew 18:15 in revealing the process of restoration. The spiritual people (more mature people) should restore those who have fallen gently. When Jesus spoke to His disciples about the process of restoration, He gave an instruction about the same process and He said similar things. In the original language, "against you" is not there. So it doesn't matter if the sin happens and you are offended. It matters when someone comes to you. If you are the mentor and you see your disciple in a sin, Jesus says to go in private and "rebuke." To rebuke means to expose a fault.
rebuke = expose a fault
Not everybody has the right to expose other people's faults. In other words, you have to have permission to expose the fault of a brother or sister. The problem with this type of accountability is that we let it get out of hand. We avoid people whom we have identified as mentors because we don't like the sin we are in, and we don't like the guilt and shame we will feel when we let ourselves get exposed.
The other problem is that some people are very legalistic and want to point out everyone's faults. The problem with this is that I don't have the right to point out everyone's faults in the church all the time. I can't go around pointing out what is wrong with you. That is not my job. That is not your job. Our job as Christians is to help people. So either the person who sins comes to the mentor for help. A partner can bring the person who sins to the mentor, or a disciple can point it out.
But in each of these cases, we are called to go personally to them in private. We get ourselves into trouble when we gossip, assume half-truths without all the facts, and more importantly when we speak out of turn.
This law of Christ calls us to come alongside the person in sin and carry the burden. I pick it up and help you get cleaned up until you are able to carry your load again. We help you get the "monkey off your back" as a partner until you can take on the load that God calls you to have again.
Now it doesn't mean that we take up your sin, but because of the sin, you can't carry your load. So we carry what we can so that you have the strength in Christ to get the sin off of your back. Then we stay with you until you are ready to pick up your load again.
"Carry one another's burdens; in this way, you will fulfill the law of Christ."
(Galatians 6:2, HCSB)
The problem comes when we abandon one another, even when they need help. We have to stick it out as mentors and partners. When I am overcoming my sin, I also have to stick it out. Why? Because others are watching. Disciples are watching. Partners are watching. Parents are watching. Children are watching.
As a father, my kids watch what I do. They watch who helps me and how I overcome my problems. These lessons are passed down. As we continue our walk with Christ, we are visually showing the law of Christ, which is the idea that we love God and love one another. This includes carrying our loads or our backpacks, as well as getting the monkeys off our back.