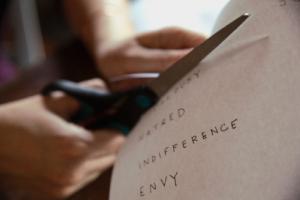 Jealousy Makes You Do Strange Things
"Now his brothers were really jealous; but his father brooded over the whole business."
(Genesis 37:11, The Message)
God gave Joseph a set of dreams. God gave him prophetic insight. This prophetic insight was actually given to the Joseph for the benefit of the family. Whoever God placed in Joseph's path would benefit from the dreams that he was having. Instead of seeing how God was helping the family by giving the younger brother dreams, the brothers were jealous.
"The brothers were saying, "Here comes that dreamer." (Genesis 37:19, The Message)

And jealousy makes you do strange things. Before the story is over, the brothers plot to kill Joseph. Yet God places an Ishmaelite caravan in their path to give Joseph an opportunity to be used by God.

"Let's sell him to the Ishmaelites, but let's not kill him—he is, after all, our brother, our own flesh and blood." His brothers agreed. By that time the Midianite traders were passing by. His brothers pulled Joseph out of the cistern and sold him for twenty pieces of silver to the Ishmaelites who took Joseph with them down to Egypt." (Genesis 37:27–28, The Message)
In the end, the brothers give Jacob the impression that Joseph was killed by wild animals without admitting their guilt in the matter.
"They took the fancy coat back to their father and said, "We found this. Look it over—do you think this is your son's coat?"" (Genesis 37:32, The Message)

So the brothers sold their brother to slavery, lied about it, and even went to extreme lengths to make their lies believable – all because they were jealous of what God had given their brother.
Jealousy can make you do strange things.

Photo by Pro Church Media on Unsplash